Boston Marathon
Think running the Boston Marathon in these conditions is brutal? Try running four in a row.
Through snow and freezing rain, this Waltham native ran more than 105 miles in roughly 24 hours.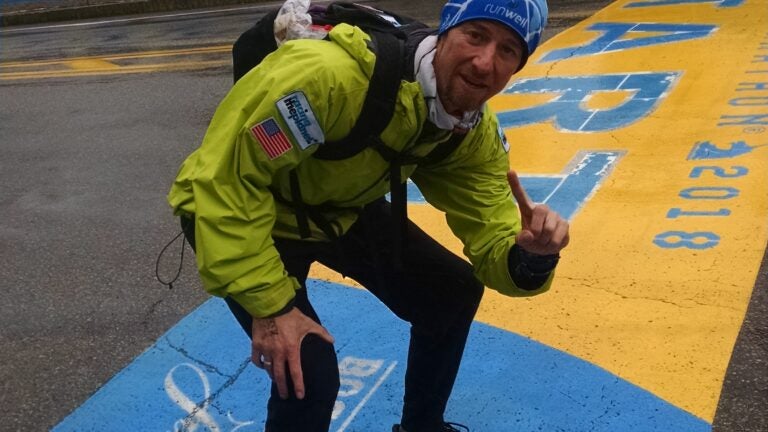 In a sense, Henry Ward puts Double Boston runners to shame.
Shame probably isn't the right word. Completing not one but two successive marathons is the opposite of shameful. But even in the rarefied context of ultra-running, what Ward accomplished is extraordinary — and it's not all about the miles he logged.
A recovering alcoholic, the 47-year-old Waltham native finished what he dubbed the Boston Marathon Quad, a baffling 24-hour, 104.8-mile display of as much sheer willpower as physical endurance. Starting at the Boylston Street finish line Sunday afternoon, Ward ran the marathon course out to Hopkinton and then back. And then out. And then back again.
And did we mention the weather was less than ideal?
"It could rain glass, it could rain nails," Ward told Boston.com in a recent interview.
After all, he's been through worse.
Ward, who now lives in Tempe, Arizona, says he struggled with drug and alcohol addiction for more than two decades, years that included addiction related arrests and nearly losing his family. It wasn't until he received what he said was some "tough love" from his wife that he sought help and checked into an addiction center in Arizona in 2008.
But even after breaking free from addiction, he found himself searching for an outlet. In May 2013, Ward approached a runner friend, who suggested he sign up for an 8K in his hometown with him, which Ward did.
"I hated every minute of it," he said.
And yet, Ward says he felt fulfilled from the accomplishment and began competing in more and more races in Waltham area. It became a new addiction, albeit a much healthier one. Within a year, in May 2014, he finished his first marathon in Pittsburgh. Soon after, he took up ultra-running, races longer than the traditional 26.2-mile marathon, typically 50 kilometers and up.
In 2016, Ward ran the Double Boston Marathon, in which runners begin at the finish line early in the morning and run the course in reverse before turning around and running it again with the rest of crowd. Last year, his plan was to run the course four times straight over a roughly 24-hour period two weeks before the marathon to raise money for Runwell, an addiction treatment center that encourages healthy lifestyles. However, Ward says he was able to finish only three marathons — "only" being a relative term here — before foot problems cut his challenge short.
So this year, Ward returned to Boston to run four straight marathons, the last of which he qualified for. If running 26.2 miles takes planning, the logistics of running 104.8 is quadruple that, if not more.
After having a nice big breakfast Sunday morning, Ward took to the finish line around noon, his time goals charted on a spreadsheet and accompanied by alternating runners along the way. Ward said he planned to run the first two marathons at "relatively slow" five-hour paces, in the hopes of making it back to Copley Square around 10 p.m. Sunday.
Despite the weather, everything went mostly according to plan, even if there were hiccups. Ward says they were running late on Sunday and got dropped off a mile and a half from the finish line, so the 104.8-mile run became a run of more than 106 miles. He also missed a connection with his companion runners when he first made it out to Hopkinton, so he had to run solo for about 12 miles of his second leg.
"I could have gone a little bit faster, but I wanted to save energy for the actual marathon," a tired and water-soaked Ward said Monday afternoon.
Running before the marathon's water and medical stations were set up, he used the firehouse in Newton as an aid station, where he also stopped off to rest and drop off some supplies during his way back on his second leg Sunday night. Despite running through snow and freezing rain, he mostly hit his five-hour targets in his first two marathons, before taking it slower and walking a few miles during the third early Monday.
"You can't control the weather, but I had a pretty good plan," he said.
Ward said he arrived at the Hopkinton starting line (for the second time) Monday at 7:10 a.m., just 10 minutes behind schedule. Ironically, it was the waiting around for the fourth and final leg that proved the most physically taxing.
"When you're not moving that fast, you're not generating any heat. So I was cold," he said.
Having already gone through about 80 miles and three pairs of shoes, he took off on the last leg at about 10:30 a.m. Even though the weather wasn't letting up, this time he had a lot more company on the course.
"It was absolutely pouring out, and the crowds would get louder," he said.
Ward says he saw dozens of friends and family along the course, cheering him on through the elements. Despite his own exhaustion, he said he enjoyed those last 26.2 miles more than any before it — a far cry from the feelings he had about that first Waltham 8K. Ward admits he even shed a few tears amid the raindrops, overcome by the support.
"It was so surreal," he said.
Ward finished the marathon in the fastest of the four legs with an unofficial time of 4:48:20. Speaking after the race, he could only reiterate how much he was thankful to those who supported him in both his journeys, on the course and off it. He was also pretty tired.
And what does one do after running more than four straight marathons in unforgiving conditions? Ward said Monday he planned to "eat like a pig" and probably go to sleep a little earlier than normal — and also some chores.
"It looks like I'm doing laundry," he said. "Right now everything is completely soaked."
Gallery: The Boston Marathon through the years
[bdc-gallery id="138482″]