Boston Marathon
Marcel Hug wins Boston Marathon men's wheelchair division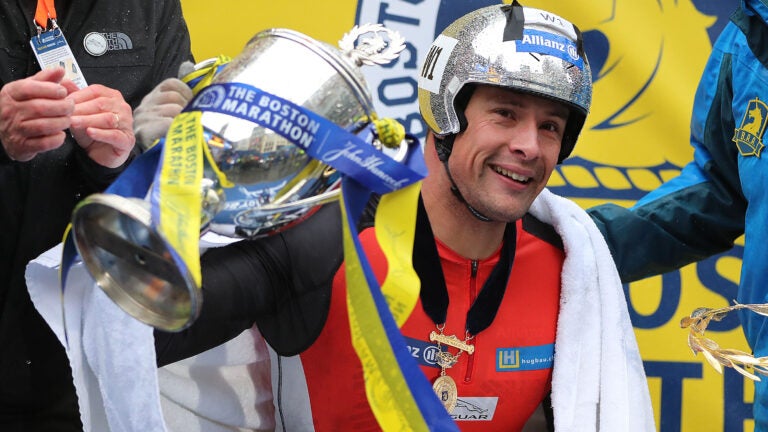 Marcel Hug and Ernst Van Dyk. It was a common refrain through 19 miles of Monday's Boston Marathon, the two former wheelchair champions neck-and-neck amid treacherous elements on the road to Boylston Street.
Hug began to pull away on Heartbreak Hill, creating eight seconds of separation by Mile 20 en route to his fourth consecutive victory. Hug's time of 1 hour, 46 minutes, and 26 seconds was the slowest winning mark in 31 years in the men's wheelchair division.
"It was so tough,'' said Hug, a Switzerland native. "I was so freezing.''
Van Dyk, a 10-time winner in Boston, finished second, 48 seconds behind Hug. Daniel Romanchuk, a 19-year-old from Baltimore, was third (1:50:39).
Hug took advantage of the hilly terrain in the final third of the course, using Van Dyk's broad frame against him on the uphill portions and maintaining his distance on downhills. A drenched Van Dyk cited difficulty maintaining his grip on the wheels for his inability to surge back into contention.
Hug enjoyed yet another victorious ride down the homestretch, surrounded by an admirably peppy contingent of fans.
"I was just so glad that I finished the race, I didn't realize that I had won the race,'' Hug said. "I just went as fast as possible. I wanted to go home.''
Hug's title is the 11th for Switzerland in the men's wheelchair division, second only to the United States (12).
Hug and Van Dyk have a storied history on these roads, finishing first and second, respectively, the last four years. The two notched identical times in 2017, finishing in 1:18:04 to shatter both the course and world records.
On Monday, water splashed back into Hug's face with each rotation of his front wheel.
"I think it was the toughest race I've had in my career,'' said Hug, who owns the world record for the 800 and 10,000 meters and won two gold medals at the 2016 Rio Paralympics. "I don't remember winning [in] a slower time than today.''
Hug is no stranger to the Copley Plaza podium, and the 32-year old has earned the right to be frank when peppered with questions by media. So was "The Silver Bullet'' able to enjoy himself at any point Monday, given the
conditions?
"To be honest, not really,'' he said.
Despite wet weather, runners are thrilled to cross Marathon finish line
https://secure.brightcove.com/services/mobile/streaming/index/master.m3u8?videoId=5771493894001&pubId=245991542&secure=true
Runners crossed the Boston Marathon finish line Monday afternoon limping, shivering, grimacing, and even weeping, looking like they had survived a tremendous physical ordeal — and, of course, they had.