Boston Marathon
Meb Keflezighi says the rainy 2018 Boston Marathon shows the race is still about 'resilience'
"This is the toughest conditions I've ever run in."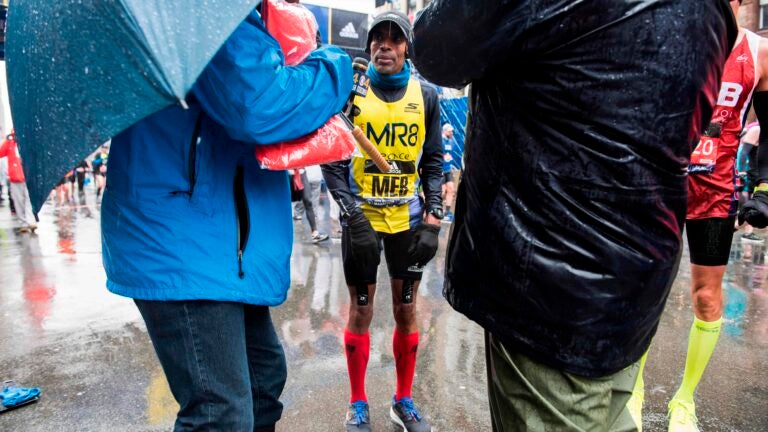 Meb Keflezighi raced in 26 marathons during his professional career. But it was the 2014 Boston Marathon winner's first non-competitive race that he said provided the most difficult elements.
"This is the toughest conditions I've ever run in," Keflezighi told WBZ's Steve Burton at the finish line Monday. "Can't avoid the puddles, and it's windy and cold."
Having finished with an official time of 3 hours and 13 seconds, the shivering Eritrean-born American runner said the conditions highlighted how the marathon continues to be a race of "resilience."
"Boston Strong 2014 and 2013, and Boston Strong today," he said.
MEB KEFLEZIGHI
2014 #BostonMarathon winner @runmeb talks with @STEVEBURTONWBZ after finishing the race. #Boston2018 #BostonStrong #WBZ pic.twitter.com/JeDfcq5YhE

— Scott Sullivan (@SullyBunz) April 16, 2018
Keflezighi was running to raise money for the Martin Richard Foundation, the charity established in memory of the 8-year-old boy killed in the 2013 marathon bombing. The 42-year-old ran the following year wearing a bib with the names of all four victims killed in the attacks. After winning the 2014 race, Keflezighi bonded with the Richard family and embraced them at the finish line in 2017.
Despite finishing with a time nearly an hour slower than his 2014 finish, Keflezighi said he was "honored" to be wearing the Richard Foundation's jersey, adding that he would "love" to continue running Boston, though hopefully in better conditions.
"Great to be in Boston and to be able to run," he said. "Hey, tough day, but at the same time, we got to the finish line."
Gallery: The Boston Marathon through the years
[bdc-gallery id="138482″]