Boston Marathon
This former Patriots lineman is running the Boston Marathon: 'Everybody thinks it's a terrible idea'
Ryan Wendell is one of the 19 runners for the Joe Andruzzi Foundation.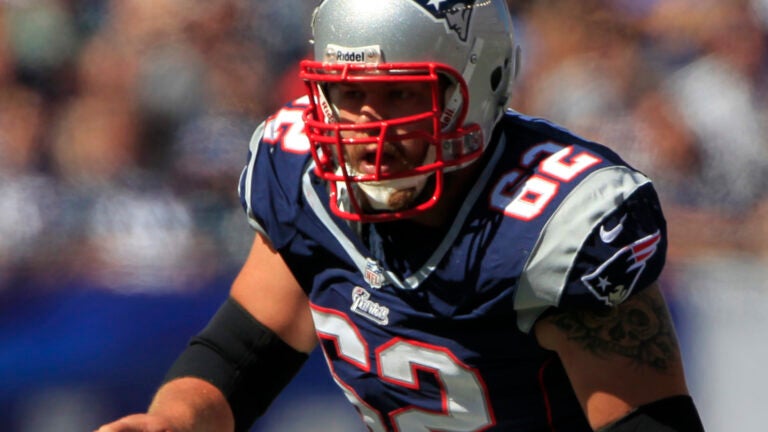 It's been less than a year since Ryan Wendell retired from professional football.
On Monday, the former Patriots offensive lineman is going to be running a marathon.
"Everybody thinks it's a terrible idea," Wendell told Boston.com. "Objectively looking at it, if I were looking at somebody else, I'd probably say the some thing."
Running 26.2 miles is no walk in the park for the average person — let alone a 305-pound lineman who, when he retired from the game in July, couldn't remember the last time he ran a mile from start to finish. Wendell said players in his position group can easily log two or three miles in practice, but the mileage is an accumulation of quick start-and-stop movements.
"It's never a continuous thing," he said.
Wendell's intention to run the Boston Marathon was accordingly met with a mix of doubt, disbelief, and hesitation. He said Patriots strength training coach Moses Cabrera told him, "You're a totally different kind of athlete. You're never going to be able to do that."
But the lure of the race's tradition has always been appealing to Wendell. After playing in New England for seven seasons, he said he felt like the Boston Marathon "defined" the city more so than any of its five professional sports teams. The race never started out as a bucket list item, but, as the years went on, the feat slowly crept into his mind as a potentially "cool thing to do" in the future.
Upon retiring in July, Wendell didn't waste any time and decided in October he was going to officially start training for the 2018 Boston Marathon. His first step? Run a mile without stopping. Wendell walked 5,280 feet away from his California home and told himself, "I'm just going to run back to the house."
Sounds easy enough, right?
"It was brutal," Wendell said. "I thought I was going to have a heart attack."
Wendell said he's always been active, although he's never been much of a runner. He always wanted to play football as a kid, but his mom wouldn't let him start until high school because she was afraid he would get hurt. While he gained some additional athletic experience through soccer, wrestling, and other sports, Wendell said he knew endurance running was not one of his specialties.
"I had to really start from Ground Zero," he said. "The most I ever ran, as far as any kind of distance running, was for wrestling in high school. I would have to run to make weight and stuff like that, but at the most that was just like a couple miles."
So, the 32-year-old got to work.
Much of his marathon training was focused on retraining his heart outside of football, as he needed to find alternative methods of getting his cardiovascular level up. He talked to the Patriots' team cardiologist, Dr. Aaron Baggish, who told him a reasonable first goal would be running for 30 straight minutes. How fast or how far didn't matter. Just become comfortable with a half hour of steady-state running.
The undertaking got off to a slow start, but Wendell said he liked the challenge. Every day he'd return home and his wife would ask him, "How far did you go today?"
"In the beginning, it wasn't very impressive to say, 'I went 10 minutes,'" Wendell said. "But at least I was able to come back and report to her and say, 'I did 15 minutes a day, I did 20 minutes a day.' It was amazing how quickly my body started to adapt, especially as I was losing weight throughout the whole process."
Once he had 30 minutes under his belt — it took a couple of weeks — he adopted a formal training plan. Wendell said he scoured the internet for the right program and found several on the Boston Athletic Association's website.
"It was fun for me because I felt like a newbie at a sport," he said. "Trying to just learn the basics and get off the ground."
Wendell selected an option that involved running a few days per week, with a "long run" scheduled for every Saturday. In addition to sticking to a rigid outline, he also worked with coach Susan Hurley who helped keep his training fluid. Hurley would step in and adjust Wendell's goals as needed. For example, he was slated to run 14 miles a couple of months ago, but could only manage 11, so the pair re-evaluated his hydration and fueling so that he was able to hit 14 the following weekend.
"Each week you push that long run out a little bit further," Wendell said. "Depending on how you did, you go back to the drawing board to tweak the nutrition and hydration to do better the following week."
Hitting double-digit mileage for the first time in his life offered Wendell a major sense of accomplishment. Once again using landmarks as distance markers, he mapped out the perfect 10-mile route.
"Huntington Beach Pier is about five miles from my house, so I know if I could run to the pier and back, that would be 10 miles," Wendell said. "That was big, getting the 10 miles, because it was just a physical benchmark that I drive by every day. Knowing that I could get there and back on foot, that was a nice 'prove it' moment to myself."
He reached his longest distance when he hit 20 miles three weekends before the race. The milestone was reassuring because Wendell said he was told: "If [he] could log 18 miles, [he] could make it through the marathon without dying."
Wendell said he's mainly been training solo, just putting his headphones on and listening to books on tape. He's worked his way through "The Corrections" by Jonathan Franzen as well as "Rabbit Run" by John Updike, and recently started listening to a Brown University college course, "Classics of American Literature."
While he's certainly happy with the progress he's made, Wendell admits he might have been "more naïve" than he initially realized — in regards to the type of training a marathon requires.
"When I first went into this, I was like, 'Oh yeah, maybe a four-hour marathon would be pretty good. I'd feel good about that, maybe four and a half.' And then I realized that's not how the marathon works," Wendell said. "You're just trying to survive. For me, I'm just trying to get out there and finish in time."
"My goal is to be the second to last one to finish," he continued. "I just need to beat one person out there and then I'll feel good."
The biggest surprise for Wendell has been the differences in how one prepares for distance running and football. Weight-lifting, for example, was a central component to his workouts with the Patriots, but he had to pause his strength training about a month and a half ago in order to conserve energy for his long runs. His overall approach to the two sports is on opposite ends of the spectrum.
"It's just a completely different kind of training," he said. "There's an aerobic component to football because you play for such a long time, roughly three hours, but it's an anaerobic sport where you have these short, powerful bursts that take 100 percent of your energy — especially as an offensive lineman, you're trying to move or stop another 300-pound man from moving."
"In the NFL, Tom Brady gets rid of the ball in two seconds, but in those two seconds, you expend all of your energy and then you rest for 40 seconds before you do the next play," he continued. "My body was trained for that for 15 years. What it wasn't trained for was staying at a very steady state for a long period of time. It was just totally new to me, but it was exciting. I got to learn about a new kind of athlete."
Despite the differences between the sports, Wendell said his background as an athlete likely helped him through much of the marathon training. He said he was always looking for ways to improve and tried to gather as much information as he could to deepen his understanding — a mindset he developed while playing with the Patriots. Pinpointing appropriate resources to consult with any questions is another tactic he said he learned from football.
Wendell said the value of nutrition also proved to be just as important in his marathon training, but he's been afforded the flexibility to incorporate a little bit more variety into his diet.
"While you're playing professional football — and it's your job — you really can't experiment with your diet too much because that's part of your job," he said. "I had to be able to maintain a certain weight, I had to be at a certain health and ability to be able to do the sport. When I was done playing, there was a freedom to be able to do whatever I wanted."
After experimenting with a handful of different regimens, Wendell said he primarily focused on eating real foods and maintaining a plant-based diet. While in season, he would often eat protein (e.g. roasted or baked chicken, salmon, or a leaner cut of pork or beef) and complex carbs (e.g. sweet potatoes or quinoa), but skip right past the "dark leafy greens." As he's been training, however, Wendell said he's trying to get down more and more of those vegetables, with a focus on "eating simply."
Throughout the process, he's dropped 45 pounds and intends to continue to lose more weight after the marathon.
"Around 260, I hit this wall where to get in the fuel to train and recover properly and to feel OK, it was difficult for me to keep losing weight," he explained. "I'm just going to get my miles in and I'm not going to worry about the weight. But when the race is done, I'm going to try and kick it back in."
The Patriots typically start their offseason workouts around the same time of the Boston Marathon, so — despite wanting to — Wendell never was able to watch the runners compete. Come Monday, he'll get to experience that opportunity after crossing the Boylston Street finish line himself.
Upon completing the course, Wendell said he'll be excited to greet his wife and five-month-old daughter. He doesn't have lofty plans to celebrate his accomplishment, but he most definitely wants to document the finish: "I don't think I'll ever run another marathon, so I'm going to need to take a picture with her during all the festivities, so one day I can tell her, 'Look, I did this.'"
The Andruzzi Foundation is hosting a watch party at UNO Pizzeria & Grill, so Wendell already knows what he's going to have for his first meal following the race.
"I'm already thinking about crushing a whole pizza by myself," he said.
As for any advice for other lineman thinking about following in his footsteps?
"It's good to have the goal," Wendell said. "Maybe do it two years after you're done. Go run one mile before you commit to doing this."
Even if he wasn't running a marathon, Wendell said he knew he wanted to stay active after football and train his body with the same kind of intensity, just in a different way, to reach a point where it could stay healthy in the long run.
"I've seen guys do one of two things when they're done playing: They stop working out completely and they end up getting big — even bigger than when they were playing — or they immediately get into some sort of different kind of training and immediately try to lose as much weight as they can."
Wendell said he talked to fellow offensive lineman, including Jeff Saturday and Nick Hardwick, who had already retired and successfully made the transition out of professional football. He said he knew when he was finished playing, he wanted to mimic their models. He just didn't know running a marathon would be how he'd jumpstart the process.
Throughout his journey, however, the humor of an offensive lineman running a marathon isn't lost on Wendell.
"When I'm running, I'm always looking at other people. I'm always looking at them, and I'm going, 'Man, that girl kind of runs weird or man, that guy looks terrible, like he looks like he's hurting.' Then the other day, I was thinking, 'Man, I wonder what other people think when they see me running around.'"
Gallery: The Boston Marathon through the years
[bdc-gallery id="138482″]