Boston Marathon
Second-place finisher Sarah Sellers was a 2018 Boston Marathon surprise
So... Who exactly is this year's second-place finisher?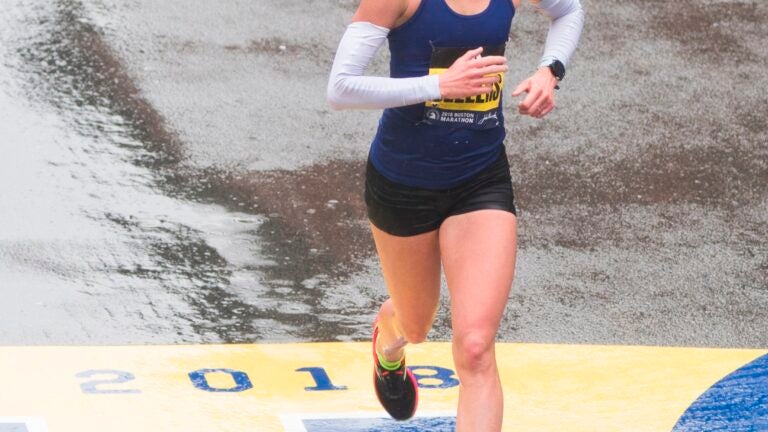 Who is Sarah Sellers?
That's the question everyone wanted to know the answer to Monday afternoon. Roughly five minutes after Desiree Linden became the first American female to win the Boston Marathon in 33 years, Sellers crossed the finish line with a time of 2:44:04 to take second place. Unlike Linden, however, nobody knew who she was.
The first question at Sellers's press conference was quite literally a request that she introduce herself: "Tell us who you are."
Turns out Sellers is a 26-year-old Utah native who works as a full-time nurse anesthetist at Banner Health Center in Arizona. Her busy schedule affords only narrow windows of time to train, and she told reporters that she often runs late in the evening (around 8 p.m.) or early in the morning (around 4 a.m.).
More #MondayMotivation: Runner up Sarah Sellers (left), 26, is a nurse who trains at either 8 pm or 4 am, and her coach is Paul Pilkington! #BostonMarathon pic.twitter.com/WXhWODqQQl

— USATF (@usatf) April 16, 2018
Sellers attended Weber State, where she graduated with a 4.0 GPA in Nursing and was a member of the cross country and track and field teams. During her collegiate career, she earned Big Sky All-Conference honors 15 times and was named an Academic All-American three times. But she was not considered a member of the elite field ahead of the 122nd Boston Marathon.
According to her husband, Blake, Sellers's race Monday was her second-ever marathon — and her time was a personal best. Sellers was in 25th place at the halfway point before slowly, but surely, gaining ground on those in front of her. At the 20-mile mark, she moved into 13th before eventually claiming second.
Sellers didn't even know she had placed so well until someone notified her after the finish — and still wouldn't believe the news.
"She was in disbelief," her husband told the Boston Globe.
With her impressive performance, Sellers earned $75,000 in prize money and also qualified for the Olympic trials.
"I think I'm going to wake up and this will be a dream," she told Weber State's Paul Grua. "It was like a hurricane out there."
Photos: The Boston Marathon through the years:
[bdc-gallery id="138482″]