Boston Marathon
Tatyana McFadden claims fifth title in Boston Marathon women's wheelchair race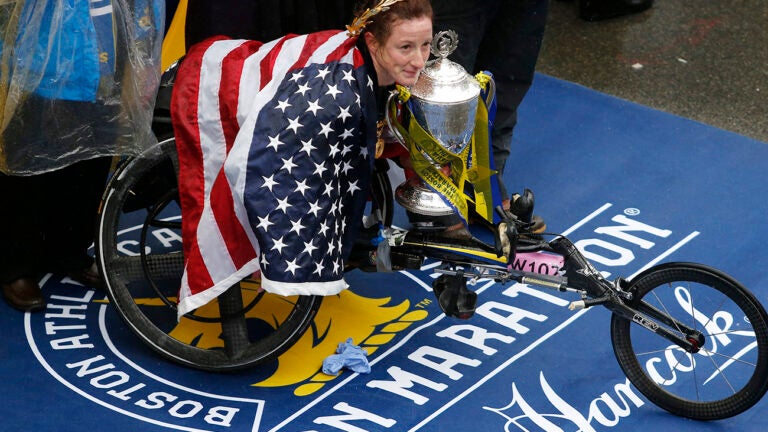 Tatyana McFadden made her decisive move at the 11-mile mark, overtaking defending champion Manuela Schar, and went on to win the women's wheelchair division in Monday's Boston Marathon.
McFadden pulled far ahead by Mile 13 and went on to win in 2:04:39. The cold and rainy conditions made for the slowest winning time in 30 years.
"I am so happy and so overwhelmed,'' McFadden said. "The past month, I've been putting in a lot of hard work, lots of two-a-days. I just kept consistent speed and I'm so, so happy. I was really patient with myself.''
It was McFadden's fifth Boston victory and a gratifying return to the top spot after finishing fourth in 2017 during a year in which she battled blood clots in her legs that could have been fatal.
Schar, who set the course record last year in 1:28:17, led for the first 10 miles.
The rest of the race belonged to McFadden, who won four consecutive titles from 2013-16.
Perhaps her most memorable victory came in 2015, when she competed for Team MR8, the charitable foundation started by Bill and Denise Richard after their 8-year-old son, Martin, was killed in the 2013 Boston Marathon bombings.
After McFadden won that race, she gave her olive wreath to Bill Richard, a moment that brought him to tears.
McFadden won four gold medals at the 2016 Olympics and three in 2012, to go along with five victories in the New York City Marathon.