Boston Marathon
This wasn't the finish Shalane Flanagan wanted
The Marblehead native says the 2018 Boston Marathon was most likely her last as an elite runner.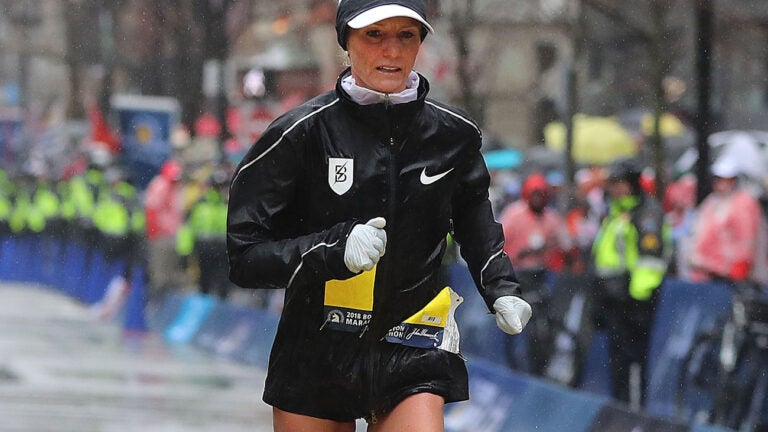 Shalane Flanagan said more than once during the prologue to the 122nd Boston Marathon that she expected this to be her final shot at winning her home-state race, the one she cherishes most.
"I don't know if this will be my last marathon, but I think this will probably, most likely, be my last Boston as an elite runner,'' the Marblehead native said Friday. "I just feel like it's the time.''
Turns out it was not her time Monday, at least in pursuit of a Boston victory and a final scene so perfect it would have passed for a long-recurring daydream come true.
Flanagan finished sixth among American women and seventh overall, an honorable showing but not her desired one. Her countrywoman Desiree Linden stole the show, pulling away from the pack to become the first American woman to win Boston since Lisa Larsen-Weidenbach in 1985.
Linden won in 2 hours 39 minutes 54 seconds, or 6:37 ahead of Flanagan.
It was hardly a poor performance for Flanagan. Just an anticlimactic one in which her most memorable moment was a 13-second pause for a bathroom break at Mile 11, while Linden, ever the good sport, waited for her.
For those familiar with her history in Boston, it doesn't seem appropriate that she would end her quest to win Boston like this, under miserable conditions and without much suspense.
Fellow US marathoner Kara Goucher tweeted Monday morning that the race "will be one of those days when it truly comes down to who wants it more,'' but it's hard to believe it played out that way. Linden was exceptional en route to victory, but it's hard to believe anyone in the elite field wanted to win more than the 36-year-old Flanagan.
So then . . . maybe there's a chance that the outcome convinces her to put her farewell on hiatus for one more year?
Whaddaya say, Shalane?
One more shot?
"As of right now,'' she said, standing in the lobby of the Fairmont Copley Plaza hotel a couple of hours after the race, "this is my last Boston, at least competitively.''
Is it subject to change?
"I don't think anything changed today,'' she said. "I left it all out there and used up everything I had. Those were tough conditions.''
She was pretty convincing. Her father, Steve, more so: "This is her last Boston!'' he said with a hearty laugh upon hearing the question.
Flanagan is the rare elite athlete who seems to find time to appreciate the moment even in the midst of competition.
After she won the New York City Marathon in November, the four-time Olympian acknowledged how she tried to savor the scene even while she was still running the final miles of her first marathon victory.
"I tried to soak in every second,'' she said. "I looked around in the stands for people I know, people I love. I never felt more American than in that moment.''
Nothing changed about that Monday. She had plenty to be aware of — the lousy conditions, her various competitors — but she still found time to appreciate Boston's unique experience, even during her fourth time running the race.
"The crowd was so great and friendly toward me,'' she said, "that it actually felt like I was winning. The outcome wasn't what I hoped for, but it still was special.''
That's no surprise; Flanagan is a favorite daughter of the marathon, especially since she emerged as a heartfelt voice of Boston in the aftermath of the 2014 race, the cathartic but intensely emotional first race after the 2013 bombings.
Flanagan spoke the language of the city, captured the mood of resilience and defiance, recalling that when she learned of the bombings, she was "just pissed off that someone did this.''
She didn't just understand all of the nuances that make Boston unique. She lived them, viscerally and repeatedly.
She described running the course so many times — six by her count — in the six months leading up to the 2014 race that she knew every Dunkin' Donuts along the 26.2 miles.
Flanagan has run Boston four times (2013-15, '18), with her best finish coming in her first race when she took fourth. She missed last year's marathon because of a back injury, and skipped the 2016 race because it landed between Olympic time trials and the Rio Games. She said she was back this year in part to avenge her "stinker'' of a race in '15, when she finished ninth.
After finishing seventh Monday, she says she's done now, though she'll probably return to run Boston in a charity capacity, as 2014 men's winner Meb Keflezighi did this year for the Martin Richard Foundation.
It's easy to believe her, especially since her victory in New York was a culmination unto itself.
Still, New York is not Boston in the minds of New Englanders. Flanagan is a New Englander at heart, one of us. And even as she says with some conviction that this was it, a quote from four years ago keeps coming to mind.
"I'll keep running until I win,'' she said.
She was not talking about New York.
Gallery: The Boston Marathon through the years
[bdc-gallery id="138482″]