Boston Marathon
What it was like running the 2018 Boston Marathon on my 18th birthday
"Going full stride and eyes on the finish line, I knew I was going to make it."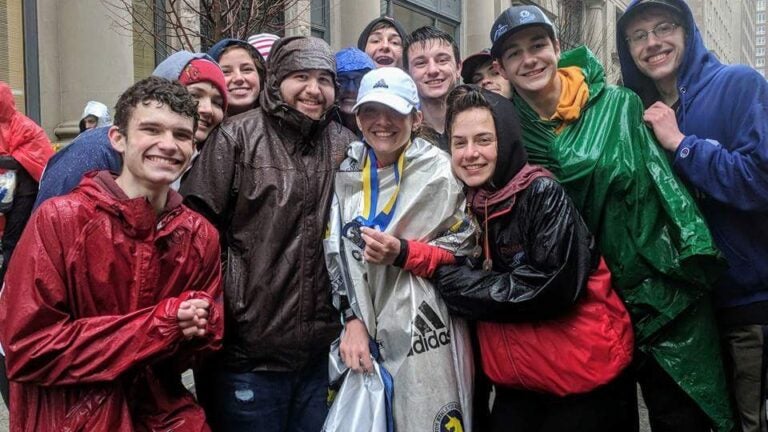 Not many teenagers can say they made history on their 18th birthday, but I humbly can say that I did. After hours of sitting around while waiting to begin, I finally jumped into the starting coral. I knew that "all I had to do was make it to the finish line" to make history. Despite the gusting winds and powerful rain, nothing was going to stop me from crossing that finish line. With my dad by my side, we powered over the starting line with our ponchos trailing behind us.
As each mile passed, I began to become more excited to cross the line. Around the halfway point, I saw my aunt, uncle, and cousin standing on the side, screaming and holding a happy birthday sign that reminded me that this was also a birthday celebration. Seeing them with their smiles and poster made me only want to run faster. It was at this point in the race that pain began to take over. Aching and freezing, I realized pain is only a state of mind. Knowing there were 30,000 runners feeling the same pain I was, I knew that with the right positive thoughts I could conquer the marathon. That's when I shook off the pain and moved to the left side of the course to where all the spectators held their hands out. I put a smile on my face and put out my hand to give out endless high-fives. Smiling is a mask for pain. If you look happy on the outside, then you feel the same on the inside.
When I hit mile 20, I knew I had one hill to go. My friend Sam, who has always been one of my biggest supporters, was there, and I knew I couldn't just run by him. I ran to the side and gave him a huge hug.  That's all I needed to get through the last six miles. Remembering it was my birthday, I ate my birthday cake flavored GU since that's all I could eat while running. With the power of the sugar, I crossed onto Boylston Street and saw the finish. Going full stride and eyes on the finish line, I knew I was going to make it. The roaring crowds contained many of my friends and family, which helped me to get through to the end even though I felt there was no end.
Crossing the finish was like no other feeling I have experienced. Considering the horrendous conditions and all the training I did for that moment, it all paid off, especially knowing I did it for my grandfather. Seeing many of my friends with excitement on their faces while holding posters they made for me (posters that were completely destroyed through the horrid weather conditions) made me feel like the luckiest person in the world. Realizing that I made history as the youngest registered marathon runner while helping a great cause was the icing on my birthday cake.
Caitlyn Callinan is a senior at Campbell High School in Litchfield, New Hampshire. She ran the 2018 Boston Marathon as her senior project and for the American Liver Foundation in support of her grandfather.