Boston Marathon
Mary Shertenlieb finished the 2018 Boston Marathon after midnight
"But I told myself, no matter what, I'm running down Boylston."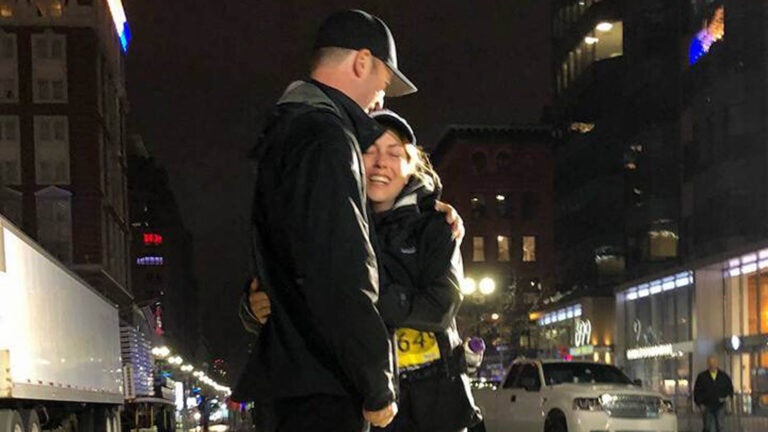 She was soaked to the bone — her teeth were chattering, lips turning blue.
At the 15.5-mile mark of the 2018 Boston Marathon, Mary Shertenlieb realized she had to stop running. Her body — which over the last five years had endured round after round of chemotherapy and a bone marrow transplant to fight off cancer three times — was being overtaken by the cold.
"It was bad from get-go," the 42-year-old mother of two told Boston.com. "But I was just chugging along and didn't start feeling that bad until mile 12."
Shertenlieb said her sneakers were already drenched by the time she took off from the starting line around 11:15 a.m.
Monday's race was Shertenlieb's first time running the marathon. She chose to run for Dana-Farber, where she was a patient, to mark the five-year anniversary of learning she had leukemia.
She wanted to show others that there is hope with a cancer diagnosis.
Shertenlieb already knew she needed to be careful running in the driving rain and cold, since she's still on immunosuppressants from her 2014 bone marrow transplant. A poncho over a rain jacket kept her chest dry for a while, but the wind kept blowing off her hood, dumping water down her back.
Soon her jacket, and her chest, were soaked. She made her first stop into a medical tent at 13.4 miles.
"I happened to see a nurse that used to treat me back in 2013," Shertenlieb said. "And she was like, 'Oh, Mary.' I was just chattering, and my lips were purple. She was like, 'Why don't you sit down and get warmed up and you can get going.' But at that point I just felt like I had to still keep going. So I kept running, but my chest was so wet."
Her doctors had given their "blessing" for her to run the 26.2 miles with the caveat that if at any point she felt sick, she walked, and that she would stop the race if it started to become too much.
At mile 15, Shertenlieb went into another medical tent.
"Mentally, I was so prepared to finish that race," she said. "But physically my body just started to give in with just being so cold. So mile 15 I popped into another med tent, and they were like, 'You don't look so great. You might want to get on the shuttle to go back to Boston.'"
The mother of two continued a little longer with her friend, Vanessa Kline, jogging along the sidewalk since the course had been opened up to traffic. They met Kline's father not far away — he shepherded them into a nearby Dunkin' Donuts for some coffee to warm up.
Shertenlieb said she realized at that moment it wasn't smart for her to continue. She'd been running for five hours already.
"I thought about how much farther I had to go, and I looked at the weather forecast hour-by-hour and it was supposed to pour until 8," she said. "It seemed not that far in my mind because I've been training, and I've done that easily, but I haven't done it soaked for hours in the pouring rain."
Her husband, Rich Shertenlieb, one of the hosts of 98.5 The Sports Hub's "Toucher & Rich" show, came and picked her up.
But he had an idea.
"He goes, 'Why don't you go home, take a shower, change into warm clothes, eat dinner, and then we'll go back out? We'll finish it together,'" Shertenlieb recalled. "'We'll take a cab back to the Dunkin' Donuts at 15.5, and run the whole way back, or jog or walk, however we need to get there.'"
The minute he suggested it, Shertenlieb knew she didn't want to give up on finishing the race.
"We're high school sweethearts," she said. "We've gone through a lot together with all this cancer stuff, and he continues to amaze me every day by how supportive he is."
So that's exactly what they did, with the radio host updating followers on social media of the progress along the way. Friends showed up for the Boston couple along the route to cheer and offer granola bars and water.
— Toucher and Rich (@Toucherandrich) April 17, 2018
Heartbreak Hill let's go. pic.twitter.com/bbywROXHKZ

— Toucher and Rich (@Toucherandrich) April 17, 2018
Cleveland Circle, gettin there pic.twitter.com/ENgbVgq81V

— Toucher and Rich (@Toucherandrich) April 17, 2018
Here we come pic.twitter.com/27lx4cGdPG

— Toucher and Rich (@Toucherandrich) April 17, 2018
Shertenlieb said she was so exhausted, she had to walk the last two miles.
"But I told myself, no matter what, I'm running down Boylston," she said. "I don't care how wrecked I feel, I'm turning that corner and running. And we ran down Boylston, and, as we got closer, I could hear people screaming and I could see that people were actually still there."
Right on Hereford pic.twitter.com/BrIjCPsDBw

— Toucher and Rich (@Toucherandrich) April 17, 2018
A group of her friends were there waiting, as were race volunteers and police officers who cleared the way for the couple to run across the finish line together.
"I just burst into tears, I just couldn't believe it," Shertenlieb said Tuesday morning. "And I asked somebody, 'Am I truly the last person to cross the finish line?' and they said, 'Yeah, you are.' But I couldn't have done it without my friends and family just really helping me out."
Mary final update: at 12:18am Mary Shertenlieb completed the 122nd @bostonmarathon with husband Rich by her side! Mary raised over 30-thousand dollars for @DanaFarber – @Toucherandrich @KenGriffeyRules @wbz #WBZ #BostonStrong pic.twitter.com/ACRNs59cN4

— Dan Roche (@RochieWBZ) April 17, 2018
So damn proud of her. 26.2. pic.twitter.com/svGj9MZj1p

— Toucher and Rich (@Toucherandrich) April 17, 2018
Here's Mary Shertenlieb receiving her ceremonial medal from her friend(who had run it earlier) after Mary's @bostonmarathon journey ended at the finish line shortly after midnight. Mary raised nearly 35-thousand dollars for @DanaFarber #RunMaryRun #BostonStrong @Toucherandrich pic.twitter.com/zeDdDvbGmQ

— Dan Roche (@RochieWBZ) April 17, 2018
Shertenlieb raised more than $35,000 for Dana-Farber, and she said she's been "blown away" by her experience Monday.
"If somebody told me I was going to finish the marathon last and that I would be happy about it, I wouldn't have believed you," she said.
While the first-time Boston Marathon participant said she isn't sure if she'll run the race again, she definitely wants to volunteer in the future. She wants to give back — grateful to all the volunteers who held water and Gatorade out to runners in the pouring rain.
And even for all the rain and wind and cold, Shertenlieb said she loves how her first race played out.
"When you train for a marathon, you imagine finishing it over and over and over again," she said. "But it turned out even better than I could have thought. Sometimes things don't play out as you imagined them to be, but then they're actually better in the end."