Boston Marathon
He was freezing. She had a jacket. How 2 strangers connected after a moment of kindness on Marathon Monday
"He struck me as a person who was drowning and reaching his hand out for somebody to save him."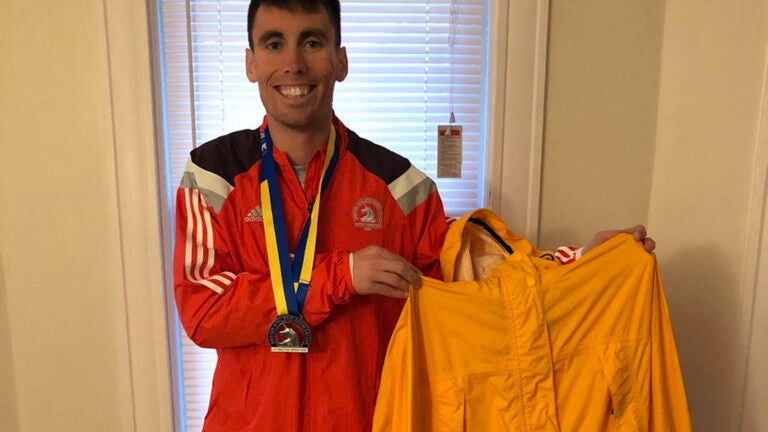 Renee Bercury didn't think much of it when she handed her yellow raincoat over to a freezing runner in the Boston Marathon on Monday.
The 62-year-old was standing with her husband, daughter-in-law, and nephew along the route of the marathon, waiting to see her son who was in the race. They were watching the runners go by — struggling through the rain and cold — when a man stopped in front of their group.
"He had just such a look of despair and desperation on his face," Bercury said. "I remember him asking, 'Can I have a jacket? Can I have a jacket?' And I felt like he was looking at several people."
The resident of Slippery Rock, Pennsylvania, hesitated for only a second. She wasn't sure if her jacket would fit the runner, but she took it off and her nephew handed it to the man. They helped him slip into it when he struggled to put it on.
"He just said, 'Thank you,' and took off," Bercury recalled Friday. "I remember seeing my jacket kind of flapping in the wind as he took off and thinking, 'Boy, I guess I didn't have to worry about it fitting because he's got it on and it looks OK.' And then we kind of all looked at each other, the group I was with, and we said, 'Boy, I don't think he's going to make it.' He looked really bad."
When her son, Gar Bercury, ran by later, she said he looked just as bad. Her husband, Bill, tried to get him to take a jacket, but he didn't. He was later forced to drop out of the race.
It wasn't until later that she realized she probably wasn't going to see the jacket ever again, but she didn't mind, she said.
"He struck me as a person who was drowning and reaching his hand out for somebody to save him," Bercury said. "It was that dramatic. It hit me that hard. It was so dramatic. So I had no qualms. It was just instinct to take the jacket off and hand it to him."
There was no other option in that moment, she said.
What Bercury didn't know on Monday is that the runner, Steven Stallis, finished the race and posted a plea on social media that night with the hope that he could find the woman who gave him her jacket. Multiple media outlets, including Boston.com, wrote about his quest.
On Wednesday, Bercury said she woke up to find that she had several texts from her son sharing the story that Stallis was looking for her.
This story is about my mom-this is my mom's jacket-incredible https://t.co/B0OIUZP5tD

— Gar Bercury (@GarBercury) April 18, 2018
"I looked at the message with the story from my son Gar, and I just burst into tears," she said. "I was just kind of overcome that he managed to finish and what he said — that it made the race for him and he got through the race. I was just really happy."
On Wednesday, Stallis sent her a text.
"I said, 'Hi, my name is Steven Stallis, and I think I have your jacket,'" the 27-year-old teacher in St. Louis told Boston.com Friday.
The two talked on the phone, exchanging their own versions of what happened on Marathon Monday.
"It was just really nice to hear from him, what it meant to him to have that jacket, and, obviously, I told him he could keep the jacket, if he wanted to," Bercury said.
Stallis is sending the jacket back to her, though.
"She said she's had the jacket for over 20 years, and it's been all over the country on really cool trips," he said. "Now it's crossed the Boston finish line, so it's a new story for her to have that jacket back."
Even without having the jacket as a keepsake, Stallis said he won't forget the act of kindness.
"The Boston Marathon 2018 is always going to be memorable, for many reasons, but I'll always remember the jacket and the story behind it and what happened," he said.