Boston Marathon
After Boston, Desiree Linden tries to conquer New York
She's trained about 120 miles per week to get ready.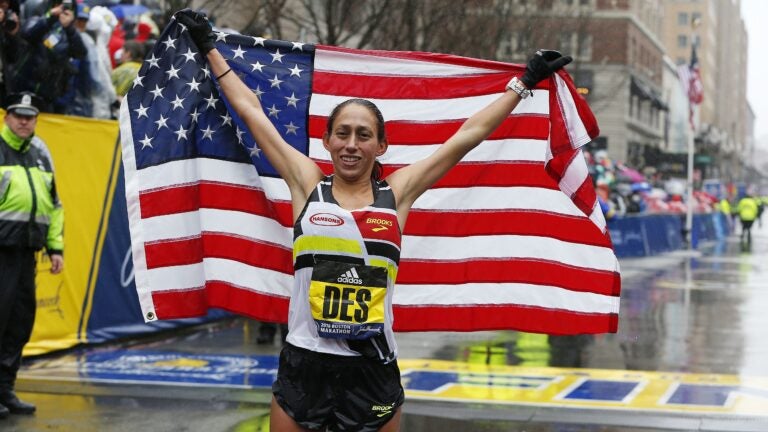 Ten miles into the Rock 'n' Roll Philadelphia Half Marathon in September, Desiree Linden was about 50 seconds ahead of the second-place women's finisher, Kellyn Taylor. A half-mile later, though, she touched a hand to her right side, and her flat raceday expression turned into a grimace. She slowed. She walked. She stopped.
A lot of professional runners would have dropped out. Don't hurt yourself on a sweltering day when the goal — the New York City Marathon — is less than two months away.
But as Taylor started to catch up, Linden began to run again, beating her by 17 seconds, with a time of 1 hour, 11 minutes, 50 seconds and a side stitch that made it hard for her to breathe after she crossed the finish line.
Finishing "was the easiest way back," she said in October from her home near Lake Michigan.
Linden is 5-foot-1, but the sharpness of her quads gives her away as one of the world's fastest marathoners. She is also a hunting dog owner and a bourbon collector, and she favors running in shorts and tank tops instead of the briefs and sports bra kits of most other professional female marathoners. She is known for her consistency, a metronome-like ability to find a pace and maintain it mile after mile for an entire race. Steal her watch and ask her to run a 5:34 mile, and she can nail the time within a second or two.
Philadelphia in September was the inverse of the Boston Marathon in April, which came with sheets of rain, temperatures in the 30s and winds gusting past 25 mph. Linden, who finished second in Boston in 2011 and had run in two Olympic marathons without a top-three finish, finally had her day. She became the first U.S. woman to win the Boston Marathon since 1985 and credited her win in part to training in miserable weather in Michigan and in part to not wearing the minimalist uniform of her competitors.
"I think everyone was feeling bad based on the conditions," she said. "But I was like, 'Are you going to feel sorry for yourself, or are you going to compete and get this done?'"
Linden, 35, was a good runner at Arizona State, but not the best — a two-time All-American, but not an NCAA champion. She went right into marathoning without stopping first on the track, as many professional marathoners do. (Her top U.S. competitors in the New York City Marathon on Sunday will be Shalane Flanagan, who won the 2017 race and won silver in the 10,000 meters at the 2008 Olympics, and Molly Huddle, who holds the U.S. record in the 10,000 meters.)
"She just wasn't good at shorter distances," said Josh Cox, her manager and a former professional runner. "She skipped over that part and focused on the marathon pretty early in her career."
That is why she has been called a blue-collar runner, Cox said, because she took a different route and worked really hard. But, he added, "to say she doesn't have a lot of talent — I don't buy that for one second."
Amy Cragg, the American who won bronze in the marathon at the 2017 world championships in London, was Linden's teammate at Arizona State and then on the 2016 Olympic marathon team. In college, they would do their medium-long runs — about 12 miles — very early Wednesday mornings. "We'd talk about becoming Olympians and just being competitive with the best in the world," Cragg said. "It was before either of us had any right to even be talking about it. We were so far from that stage."
After winning Boston, Linden has enjoyed herself. She drank Champagne from a shoe, then was honored at a Boston Celtics game. She was a presenter at the Billboard Music Awards. Weeks before the New York City Marathon, when a lot of runners might isolate themselves to avoid trip hazards and germs, she traveled to Austin, Texas, for the Formula One U.S. Grand Prix. (She said she and her husband, Ryan Linden, are huge fans.) She has become an "it" woman to those U.S. runners, especially women, who are more into the grit of the sport than any glamour it brings. Fun fact: Women now run more races than men in the United States.
For New York, she took a risk. After Boston, she left the Hansons-Brooks Original Distance Project, the program she had been with since college. Walt Drenth, her college coach, who is now at Michigan State, is guiding her once more.
To get ready for New York, she has trained about 120 miles per week, the same as at Hansons-Brooks. She also does "some shorter bouts of exercise, some things with a little bit higher intensity but not necessarily threshold pace," Drenth said. She has done stints at altitude before, for example, in Kenya in 2014, but opted this time to stick closer to home, running along the shores of Charlevoix, Michigan. There, neither snow nor rain nor heat nor gloom of night keeps her from the swift completion of her appointed rounds.
"I felt like I'm at the point where I'm at a plateau, and this is a chance to really take a risk and see if I can't hit a little higher peak," she said. "Let's see if there's something else we can squeeze. Having fresh eyes on it is helpful."
She also said that the current makeup of the Hansons-Brooks team did not suit her. In April, right before the Boston Marathon, the team signed Dathan Ritzenhein, who, according to the U.S. Anti-Doping Agency, had violated drug protocols while with Nike and the Oregon Project.
"I wish Des the best on Sunday and hope she does great," Ritzenhein said. "She is a fantastic competitor. The field is amazing as usual, and I will be cheering for the American field, especially Des."
At the time, she told LetsRun.com, which is how the sport talks to itself in this country, that she was "not especially" supportive of Keith and Kevin Hanson's move to bring him on board and that she wasn't consulted about the decision.
Asked recently whether the addition of Ritzenhein affected her decision to make a change, she said, "Yes and no." She said the group was set up for success after adding Ritzenhein; Shadrack Biwott, 33, a Kenyan-born American; and Mohamed Hrezi, a native of Connecticut who competes for Libya. "They should have three Olympians in 2020," she said. "They're in a really great place." The Hanson brothers declined to comment.
Linden ran the New York City Marathon in 2014. She finished fifth, but after Boston, she is one of the most talked-about runners in a stacked field this year. She doesn't mind. There is a camaraderie among elite marathoners because they know how hard the race is, she said. "I'm pumped for whoever has the breakthrough just because you know what goes into it."
After New York, Linden will focus on the Olympic Marathon trials in Atlanta in March 2020. She has no concrete plan for her running career after the Olympics, assuming she makes the team, which is hardly a lock given up-and-coming talent like 27-year-old Jordan Hasay. Also, Kenyan-born Sally Kipyego, a standout in the half-marathon, is now a U.S. citizen and could be formidable competition.
Linden swears she will not overstay her welcome and allow people to talk about her in terms of what she used to be.
"I don't want to be a person who's hanging on, slowly declining and just sort of showing up for the sake of being there," she said. "If the goal doesn't make sense, I see myself maybe moving to different races like the ultra stuff or the mountain stuff, where you can't compare yourself to the past."