Boston Marathon
Heading to watch the Boston Marathon? Leave these banned items at home.
Organizers are asking spectators to leave backpacks, handbags, coolers, and blankets behind.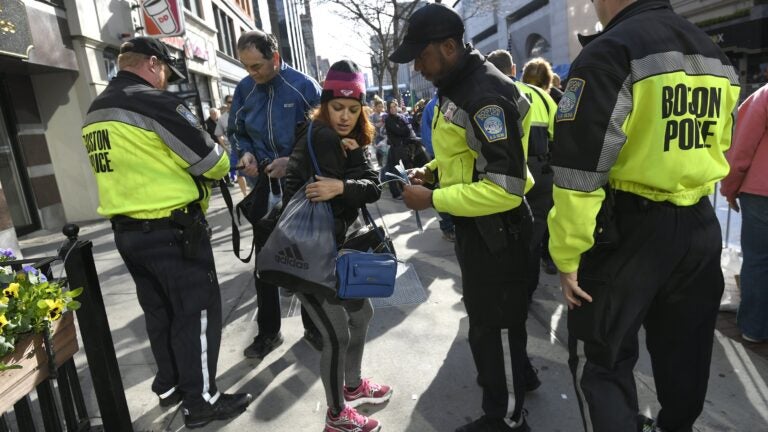 If you want to snag a choice viewing spot for the 2019 Boston Marathon, you'll want to get through security checkpoints as quickly as possible, which means being prepared.
The Boston Athletic Association has offered a list of items banned from the route and any official BAA venues. Spectators should expect plenty of uniformed and plainclothes police officers along the entire 26.2-mile course and at security checkpoints.
"Spectators along the course, or within any official BAA venue are discouraged from possessing any of the items listed below," the BAA says on its website. "Possession of any of these items may result in delays when passing through security checkpoints and enhanced screening."
Weapons or items of any kind that may be used as weapons, including firearms, knives, mace, etc.

Backpacks or any similar item carried over the shoulder.

Suitcases and rolling bags/rollers.

Coolers.

Glass containers or cans.

Flammable liquids, fuels, fireworks or explosives.

Any container capable of carrying more than 1 liter of liquid.

Handbags or packages or bulky items larger than 12 inches x 12 inches x 6 inches.

Large blankets/comforters, duvets, sleeping bags.

Costumes covering the face or any non-form fitting, bulky outfits extending beyond the perimeter of the body.

Props (including sporting equipment and military and fire gear).
Public safety officials have also called the entire race course a "no drone zone," so spectators will have to skip the aerial snapshots of those running and watching below.
Photos: The Boston Marathon through the years:
[bdc-gallery id="138482″]