Boston Marathon
'Pulling a Rosie': The legacy of Boston's most controversial marathon runner
"I saw a woman stumble out of the crowd. She looked like she wasn't a runner."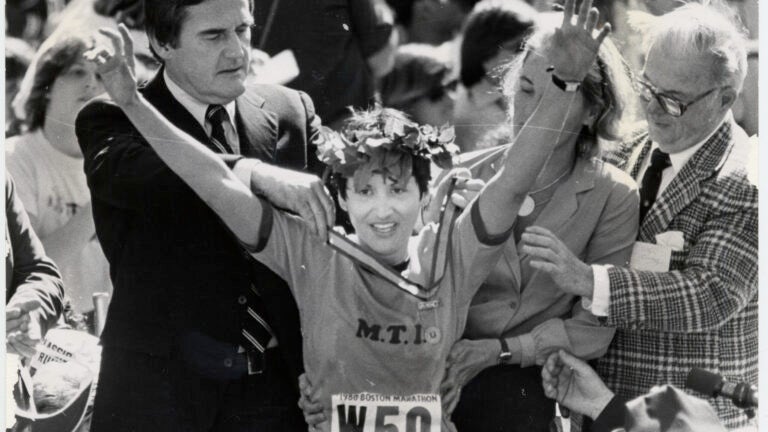 In the spirit of March brackets, Boston.com launched its own: Voting to decide who is Boston's biggest sports villain. The Boston sports villain bracket continues with round-by-round voting, so head over and let your voice be heard.
"Rosie Ruiz is the most famous runner of all-time," Bill Rogers once said in an interview with sportswriter Bill Burt. The four-time Boston Marathon winner was possibly exaggerating, but his quip retains a measure of validity. Decades after the two runners were briefly linked as champions in Boston in 1980, Ruiz's name remains relevant.
Her reign lasted a mere eight days. Questions began instantly after a baffling appearance as the first woman to cross the finish line with a supposed American women's record of 2:31:56. Media experts were stunned. Other runners had no memory of seeing her. Patti Lyons of West Roxbury, thinking she was finishing second behind Canadian Jacqueline Gareau, was immediately skeptical.
"I never saw her," Lyons said afterward. Asked if she thought Ruiz had won by other means, Lyons didn't hold back.
"Do I doubt that she was the winner?" Lyons pondered. "I doubt it now. I doubt it very much."
The 26-year-old's only other marathon was in New York City the year before. There, she recorded a much slower 2:56:29. Such a vast improvement over such a short period of time was suspicious.
Kathrine Switzer, the first woman to officially run the Boston Marathon in 1967, quickly identified the issue in a post-race interview she conducted for local TV with Ruiz.
"What do you attribute that improvement in time to?" asked Switzer. Ruiz said she didn't know. When Switzer followed up by asking if she had been training with the use of "heavy intervals," Ruiz confessed that "I'm not sure what intervals are."
That Ruiz lacked answers to such basic questions — she was also unable to recall particular parts of the course — supported the quickly developing belief that she was not just a fraud, but a blatantly unconvincing one.
Several days later, witnesses came forward saying that they had seen Ruiz jump into the race with about a mile to go.
"I saw something right across the street that was sort of strange," said Harvard senior John Faulkner to the Globe. "I saw a woman stumble out of the crowd. She looked like she wasn't a runner. Her arms were flying around. She was wearing a number. I didn't take her very seriously."
But after Faulkner picked up the newspapers the next day, he was shocked.
"[I] saw the picture of the girl that came out of the crowd," Faulkner explained. "I can't believe she was still recognized as the winner. What happened was so obvious."
Still, the Boston Athletic Association took a measured look at the events, deliberating for over a week. What made the process so difficult was that Ruiz seemed to genuinely believe she had won.
"I ran the race," Ruiz insisted in the face of increasing scrutiny. "I cannot stand there and say I did not."
Finally, on April 29 — eight days after the marathon — the BAA officially (and unanimously) awarded victory to Gareau over Ruiz.
"I would rather hail Gareau," said BAA president Will Cloney, "and do as much as possible to let Rosie fade into the background."
Yet as the decades have passed, Ruiz's name has endured in the running world. In 2015, after Kendal Schler was found to have snuck on the course to "win" the St. Louis Marathon, Runner's World labelled her the "Rosie Ruiz of St. Louis." The term "pulling a Rosie" has become shorthand for cheating a marathon's distance, as Switzer pointed out in her 2006 book.
After the fact, Ruiz's finish in the New York City Marathon was also called into dispute. When race officials began looking into her story — Ruiz had finished 24th in New York in the fall of 1979 — a witness came forward saying that she had seen and spoken to a runner on the subway who had dropped out after twisting her ankle but still wanted to see the finish line.
The witness, Susan Morrow, said that she was certain who the runner on the subway was: Rosie Ruiz.