Boston Marathon
3 ways to keep track of your favorite runner during the Boston Marathon
You don't want to miss them at the finish line.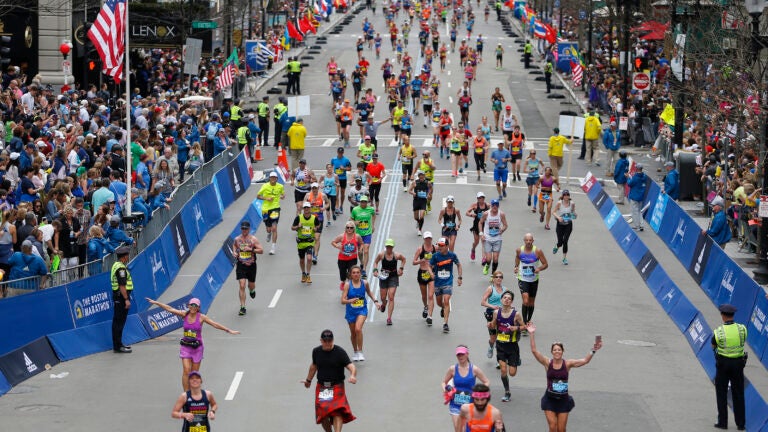 Once you leave your favorite Boston Marathon runner at the Hopkinton start line, you'll have several hours to hit the coffee shops or bars — whatever your style — and still make it to Copley Square in time to see them cross the finish line.
In between, the Boston Athletic Association (BAA) has several methods to allows fans to track their favorite runners' progress.
Mats located along the course retrieve and relay data from runners' bibs. Notifications are sent out at specific benchmarks; how many notifications you receive will depend on which tracking option you use.
Option one: Download the BAA's mobile app
The BAA's mobile app is available for free for iPhone users in the Apple app store and for Android users in Google Play. To sign up for in-app notifications for a specific runner, select "live tracking" and "find a participant."
How it works:
Push notifications are sent out on the app for every 5K completed by the runners you track.
Option two: Sign up for text alerts
Sponsored by AT&T, the BAA will send you text messages tracking your favorite runners' progress. No app needed.
How it works:
Text "runner" to 234567 to receive six text notifications between 10K and the finish line (10K, half, 30K, 35K, 40K, finish). Once you send the text, follow up with the bib numbers of the runners you would like to track. If needed, you can search the BAA's entry list for your runners' bib numbers.
Runners can also be tracked on the BAA's website on race day.
How it works:
Enter your runner's bib number or name at baa.org, and you'll receive the same information as with the other methods.
Photos: The Boston Marathon through the years:
[bdc-gallery id="138482″]