Boston Marathon
Running helped Kerri McGrath cope in her grief. Now she's running the Boston Marathon to build her son's legacy.
"I would never in a million years be running the Boston Marathon if what happened to Colin didn't happen."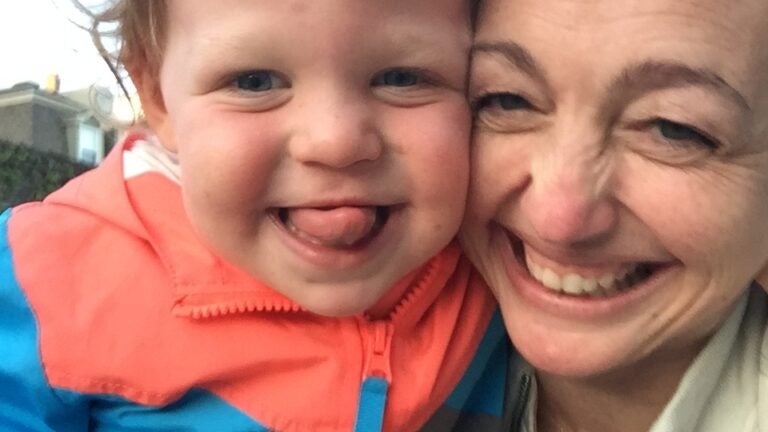 Kerri McGrath was running near Castle Island in September when the wave of emotion hit her.
It was her first time running since her son, Colin, was killed when two cars collided in the street. One of the vehicles jumped the curb and crashed into the stroller carrying the almost 3-year-old. McGrath's 4-year-old daughter, Sloane, was also injured but survived.
"In those first days when we were home from the hospital and trying to get through the day with the fog that was hanging over us — your whole body just feels like stone," McGrath told Boston.com. "You just can't even move."
But her husband, Brendan, had pushed the family to go for a walk and get out of their South Boston home every day. She said there were days when it felt impossible, but eventually she found herself going for walks on her own for miles. She started to feel like maybe she had some energy.
She tried taking a workout class.
"My heart rate went up, and as it did I got really emotional," McGrath said. "This flood of visions and memories and emotions. And I started crying."
She took another class but, once again, found herself crying.
So she decided to try running.
After a few minutes, as she made her way around Castle Island, she felt the tide of emotions rising.
She said she decided to stop and "give in" and let herself cry and feel the emotions enveloping her.
"I was just looking ahead of me, and I saw this woman bent over by the grass," McGrath said. "And my initial thought — she was an older woman — was, 'Oh God, this woman's about to fall over or something,' and, 'I should go make sure she's OK.'"
The 39-year-old primary care doctor at Massachusetts General Hospital made her way over to the woman.
But before McGrath could ask if she was all right, the older woman looked up at her.
"[She] said, 'It's so beautiful, I almost missed it,'" McGrath recalled.
Confused, McGrath looked down and saw it in the grass — a monarch butterfly.
"We had been seeing butterflies everywhere after Colin died," she said. "The next thing I knew I wasn't crying — I was distracted by this experience. And I thought to myself, maybe he spared me that experience today.  
"So I was like, 'Well maybe running is good for me, I can do this more,'" she continued. "And then I was like, 'I should run the Boston Marathon!' Which, at that point, I'd done like a mile and a half. So it was not a very logical leap."
McGrath went to her friend, Allyson McDonald, and shared her idea of running the historic race. McDonald said she'd run, too.
"Next I knew all these people were like, 'I'll do it with you,'" McGrath said.
With the help of the Boston Athletic Association, they were able to form a team of 11 runners, she said.
It coincided with another effort the McGraths had been exploring — the formation of Colin's Joy Project. The idea of the project began after the couple started a GoFundMe page, wanting to raise money for the community after the support that was shown to their family following the tragedy.
They thought they'd raise enough to rehabilitate a playground in the neighborhood — maybe more to build a new playground.
But the fundraiser exploded.
"We then said, 'Wow, this could be a lot bigger if it were a nonprofit. People would give a lot more and companies and things like that would donate,'" McGrath said. "But we knew we didn't have it in us to run our own nonprofit."
Instead, they teamed up with the Boston Foundation to form Colin's Joy Project. As a fund within the Boston Foundation, Colin's Joy Project is managed by the foundation, but the McGraths are able to control how the money is distributed in the community.
McGrath said it has been powerful to see the outpouring of support — both in funds donated to Colin's Joy Project and with the runners who have signed up to run for the foundation.
"To be honest with you, Brendan and I sit there —  you say thank you so much, but then you're like, 'I don't want any of this,'" McGrath said. "I don't want to be running the Boston Marathon. I would never in a million years be running the Boston Marathon if what happened to Colin didn't happen. So it's this weird situation where you're really grateful for something you don't want at all. But it's really moving to have strangers joining your team, family, friends, some people we've only recently become friends with doing this with us and taking it so seriously and really feeling passionately about it. And seeing the different ways that what has happened to our family is touching their lives. And that they want to be a part of it."
In addition to supporting spaces that Colin loved — like the library and playgrounds — the McGraths plan to partner with organizations like the Julie's Family Learning Program and the South Boston Neighborhood House to help families in the community through Colin's Joy Project.
"When you're worried about money and you're worried about your job security, it's really hard to have fun with your kids," McGrath said. "And these programs help people to either build on the life that they have, so that there is less stress or to enable them to have fun with their kids and find that joy. So if we could help bring that to other families, that was something that really felt meaningful to us."
It is also a legacy for their son that they can be an active part of, "almost like we were still taking care of him," she said.
"Colin represented everything that's pure — that pure joy of childhood and of looking at the world," McGrath said. "Everything was interesting and everything was fun. He was so curious and so smart. He's so smart. And because he was so smart and articulate, not even 3, he could share with you all that he was seeing in this world, so that you saw it, too. And I wish that more people could experience the insight that comes from that pure joy and that perspective."
Since that day seeing the butterfly, the 39-year-old said exercise has become her "most reliable coping mechanism," allowing her to focus on her physical feeling for brief periods rather than her grief and emotional pain.
The emotions and memories still overtake her sometimes, though not as often so it catches her by surprise.
"It was really hard to find anything to be motivated about after the accident," she said of running. "Other than taking care of our daughter and taking care of each other. And this was the first thing that really gave me anything to work toward or feel better about. So to actually see this all the way through will feel like the biggest personal accomplishment that I've had since the accident, aside from just the accomplishment of getting out of bed every day and living our life."
Brendan and Sloane, along with all the McGraths' extended family and friends, will be there to cheer her and the rest of the Colin's Joy Project team.
"We feel so supported by the people in our lives as well as people in our community, [and] people we don't even know," McGrath said. "Knowing that there's all these people thinking of us that day. Cheering us on from wherever they are and praying for us — you really feel it. So I think we feel as supported as any team could ever feel."
The marathon team has raised more than $100,000 for Colin's Joy Project in two months. The goal is for the project to raise $600,000 by next summer.
McGrath said her 4-year-old daughter has been the biggest salesperson for the project. Sloane loves fundraising and is always the first to ask people if they have a beanie with the Colin's Joy Project logo.
She also has been encouraging her mother during training.
"The night before my 20-mile run, she was like, 'Mommy, why are you nervous about this run?'" McGrath said. "She was like, 'Look it's really easy.' And then she went and ran 20 laps around our kitchen island. And she goes, 'See Mom? Twenty miles right there.'"
<subheading> Photos: The Boston Marathon through the years:
[bdc-gallery id="138482″]