Boston Marathon
It started because of the jackets. But more than 30 years later, he is still volunteering for the Boston Marathon.
"It's like getting ready to compete in an event because you want to make it the best that you can."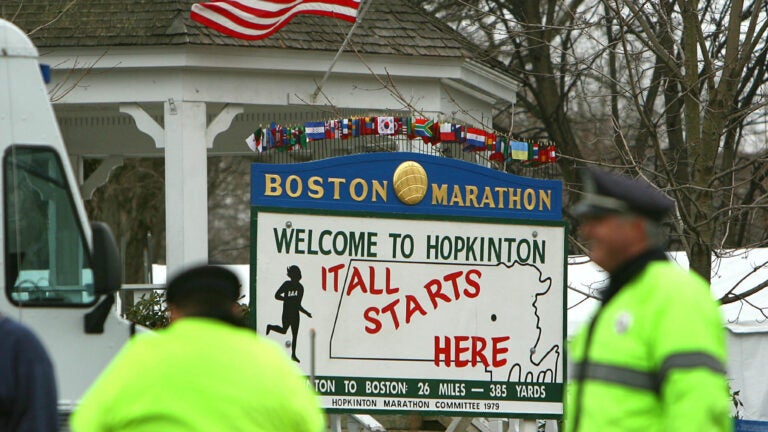 Carlton Pickron will be up before dawn on Patriots' Day.
In what has become an annual routine, the 61-year-old and his wife, Lisa, will be in the car at 4:30 a.m. to head to Hopkinton. But unlike the thousands of others who descend on the town each year, the Amherst couple won't be there to run the Boston Marathon or cheer.
In fact, they haven't seen the race in years. That's because as the runners and spectators alike arrive and make their way to the starting line or the best viewing spots, the Pickrons will be at work, along with 80 other volunteers, giving out information and providing directions.
"Somebody will have a radio on, and they'll tell us what's going on in the race," Carlton Pickron told Boston.com.  
Pickron is the co-captain for the Boston Marathon's Start Ambassador team, a role he estimates he took on about 10 or 15 years ago. But he and Lisa started volunteering with the Boston Athletic Association for the Boston Marathon in the '80s.
"The funny thing was the initial interest was, 'Wow, they've got some really nice jackets,'" he said, laughing.
Pickron was a counselor for the Urban Education Program at Westfield State University at the time — now he serves as vice president of student affairs at the college — and he said it was through one of his students that he and a small group of acquaintances connected with the Boston Athletic Association.
As a former track athlete, coach, and a runner of marathons himself, Pickron said he saw volunteering with the BAA as a way to "give back and be part of the whole running movement."
In 1988, Pickron got his first marathon assignment as a checkpoint volunteer.
"This was after the Rosie Ruiz incident where she took the T and cheated in the marathon," he said. "They needed to have checkpoints along the course so they had a way of verifying who was actually the winner."
Pickron and his group were stationed at the 35K — 21.7-mile — checkpoint, where their assignment was to record the first 100 men and first 100 women, as well as the first 15 wheelchair athletes that went by them.
Their documentation was then sent downtown for race officials to review once the runners crossed the finish line.
After that first year, Pickron said he knew he wanted to return the next year and volunteer.
"I knew I was hooked," he said. "I wanted to keep doing it and trying to help them become better at what they were attempting to do, putting on this international, this worldwide event and offering up one of the best races in the world. [I] was really hooked into that and seeing some of the behind the scene aspects in putting on the event and the work that goes into it. I was like, 'Hey, this is something. We can do this.' So we just continued to do it."
Pickron and his group returned year after year, with Lisa joining in too after a couple years. Eventually their daughters, too, started giving their time on Marathon Monday. Each year a few students from Westfield State would join them to volunteer.
"It was a nice community service type of a thing," he said. "But it was a lot of fun."
After "a number" of years, the group got moved to the 5K checkpoint, which is 3.1 miles from the starting line. They were still assigned the same task of recording the first 100 men and women and first 15 wheelchair athletes.
"They're all jammed together in a bunch," Pickron said of the runners at the earlier mile mark. "That was a whole lot harder. And we did that for a few years. Then they switched over to the electronic chip that the runners have in their shoes."
Checkpoints manned by volunteers became defunct. But it was at that point when Pickron said he got a call asking if he would like to continue volunteering with a new group being put together that was being called "ambassadors."  
He did.
"We are roving or moving information people for the runners and spectators that are there to see the race, be in the race," Pickron said. "We have some responsibility around key property points around Hopkinton because unfortunately sometimes some people will try to take advantage of you know cutting through someone's backyard or utilizing someone's bushes in a way that is inappropriate."
The ambassadors arrive by 7:30 a.m. and are on site until around noon or 1 o'clock, he said. But being a team captain, Pickron begins attending organizational meetings to prepare for race day in December and January.
"That morning you're wide awake at 3 o'clock in the morning, dumped in the car, ready to go and get to Hopkinton," he said. "So yeah, we're usually pretty pumped up and ready for it. But it's like getting ready to compete in an event because you want to make it the best that you can."
He said the biggest thing that has changed since he started volunteering with the marathon in 1987 is the sheer growth of the program.
"I think from an organizational standpoint you really feel this worldwide event is well organized, as best it can be, to make it one of the most meaningful days for those people who come to run the Boston Marathon," Pickron said. "That they have a great day and a meaningful experience. And that's something that all the volunteers that I work with, that's our goal. For the folks who come to Hopkinton and are looking to finish in Boston to have a phenomenal day. To absolutely have a great day. And you really feel that sense of people working to do that."
Mary Miller, manager of the BAA's volunteer program, told Boston.com the majority of the organization's volunteers have been helping put on the race for "many years."
"Their experience is extremely valuable to us and we love having such strong continuity from year to year to bring our participants the best possible race experience," she said in an email.
She said for the 2019 Boston Marathon, the BAA was unable to accept more than 2,000 applicants who applied for the 9,700 volunteer positions. Registration for the 2020 Boston Marathon will open in January of 2020.
"We are humbled by the outpouring of interest we receive each year when volunteer registration opens," Miller said. "We truly wish we could include all applicants and do our best to include as many volunteers who are interested as possible."
She said the best way to increase your chances of being selected is to volunteer first for the BAA's 10K in June or the October half marathon to "build volunteer history" with the organization.
Of the more than three decades Pickron has spent with the marathon, there is one moment involving a runner — a mentor and "great colleague" of his at Westfield State who died in 2016 — that he said he'll carry with him always.
Teresa Fitts had been training to run the 2014 Boston Marathon for Dana-Farber when she was diagnosed with thymic carcinoma and had to begin treatments.
"It got to the point where it was realistically — we knew that she was not going to be able to run the race," he recalled.
But she still had her bib number, so she came down to Hopkinton to achieve her goal of starting the race. The moment Pickron treasures came as he was carrying out his duties as a member of the ambassador team — greeting runners and spectators alike.
"When she came down Grove Street, came right by me, and gave me a really big hug on her way up to the start," he said. "And that to me was one of the main [memories] for me. Forever."
Pickron made sure his mentor and colleague got a finishing medal. And he said he plans to continue to help all those participating in the Boston Marathon, "as long as the good lord will let me stand upright and do quality work."
<subheading> Photos: The Boston Marathon through the years:
[bdc-gallery id="138482″]