Boston Marathon
Joan Benoit Samuelson on running Boston again, her most satisfying marathon, and her love of skiing
"I caught her with 100 yards to go. I didn't know it was her from behind and I had just passed her, and then I heard this voice, 'Mom. Mom!' I looked over my shoulder and there she was."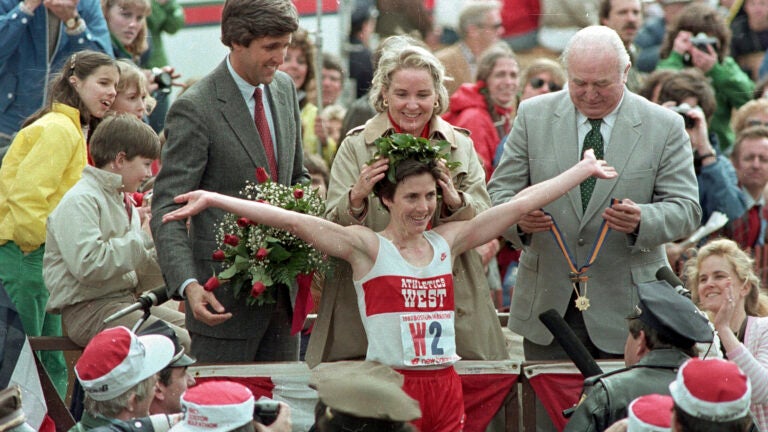 Forty years ago, the Boston Marathon women's course record and American women's marathon record were shattered by a relative unknown from Cape Elizabeth, Maine. The 21-year-old finished the 1979 edition of the Boston Marathon in a time of 2:35:15.
That was how much of the sports world was first introduced to Joan Benoit Samuelson.
Forty years later, Samuelson is coming back to the scene of her original marathon triumph. Her goal this year is to run within 40 minutes of her '79 time.
For Samuelson, who still lives in Maine, the passion for running has never dwindled. After her emergence on the marathon scene, she would go on to win in Chicago and again in Boston in 1983 (running it in 2:22:43 to set a world record). Samuelson also became the first women's Olympic marathon winner at the 1984 Los Angeles Summer Games.
Even after retiring from high level races, she's continued to run both the Boston and Chicago marathons, and is looking forward to another challenge starting in Hopkinton on April 15. Despite her busy schedule and perpetually active lifestyle ("I'm a moving target," she admitted), Samuelson recently paused long enough to answer a few questions for Boston.com.
This interview has been lightly edited and condensed for length and clarity.
How's your preparation for Boston going?
Joan Benoit Samuelson: It always comes down to the tapering period for most marathoners, and we all try to walk that fine line to the starting line in that you don't want to do too much, but you want to make sure you're ready. Especially at my age, I don't recover from injury or workouts like I once did. So it's challenging. My hope is to get to the starting line on April 15.
Your last marathon was in Chicago in 2018. That one seemed to go better than some of the previous ones, health-wise?
JBS: Yes, I had a knee issue that forced me to drop out of Chicago in 2017, and I had to pull out two years before that. So I felt like I needed to get back to Chicago. I was just really getting back into form going into Chicago. My knee was better, but I had an Achilles issue that really slowed me down during the summer months, so that's behind me and I'm just trying to hold it together. I must confess that I have more kilometers on my legs than miles, meaning that I've done a lot of cross-training with Nordic skiing in winter just to avoid all the pounding on my knees. So we'll see how that works.
You've run with family in marathons before. Is that going to happen again in Boston?
JBS: I'm not sure yet. Abby (Benoit Samuelson's daughter) just ran a relay from LA to Las Vegas, so she was up really the whole weekend running different legs. She said she's pretty beat now, but if she rallies…anything's a possibility. I just want to get the finish line, and if I can get to the finish line within 40 minutes of my time 40 years ago, that will be my story.
You mentioned 40 years ago. How often do you think about your first experience of winning in Boston, and what comes to mind when you do?
JBS: Well it was truly my first marathon. I'd run the distance in Bermuda in January of that year, but I did it as a training run and I'd anticipated stopping at the halfway point. I was running with several others who had run the 10K before as I had, but when we got to the halfway point, we were told by the race marshal that if we wanted to get to the finish line, we'd have to wait for the last runner to come by and then we'd be picked up by the "sag wagon." We thought we'd just get there faster if we kept going, so that's what we did. So I did complete the marathon distance there, but my first true marathon run was in Boston in '79.
I'd never seen the course, I'd never seen the marathon. I had run a local Patriots' Day race at the Portland Boys & Girls Club up until that point, so it was really sight unseen.
You know I've been thinking about it recently. Here I am 40 years after that win. I believe I was 21 at the time, soon to be 22, and now I'm soon to be 62 in May. Most athletes retire before the age of 40 and I'm still going, so I don't know, maybe I'm crazy. But passion really heats everything up, so I just hope to stay healthy and we'll see what happens.
You won as a relative unknown in 1979. Do you think that the days of an unknown winning in Boston are gone?
JBS: Well there have been runners on the radar screen who've come [to Boston] to run the race of their lives somewhat unexpectedly. I think to take somebody that nobody has tracked at any level to come in and win, it's highly unlikely.
When you won your first time, one of the memorable parts of that story was the Red Sox hat you picked up from the crowd. Do you know what happened to that hat afterward?
JBS: It's funny you ask about that Red Sox hat, because I get that question all the time about the white hat I wore in the Olympics. That hat I think wound up in a landfill in LA county because I put it down after drug testing because I was so ravenous and hungry and went to a buffet that Nike had sponsored. I put it down not thinking anything of it and who knows where that went. The Red Sox hat hung around for a while, but I don't know what ultimately happened to that hat. I wish I did. We have a son, and he might have worn it for a while. You know I track a lot of my memorabilia and I have a lot of it, including the Bowdoin [College] singlet I wore that year, but I don't have that hat.
Do you have a particularly satisfying marathon moment that stands in your mind?
JBS: I would say running Boston with my daughter, running a marathon with a child was very emotional. To have a child who shares a similar passion for sport, who does it as part of her lifestyle, and to see her together to the finish line. And then this past fall in Chicago, Abby also ran. We actually started separately and we didn't see each other the morning of the race, then I caught her with 100 yards to go. I didn't know it was her from behind and I had just passed her, and then I heard this voice, 'Mom. Mom!' I looked over my shoulder and there she was. So we ran into together, but she actually beat me on the time because she started from behind. But that was moving.
And then the year after the [bombing], our son ran as well. That was his first marathon. I really felt the need to go back to help out with the healing process.
I know that you have a history with skiing as a hobby. How often do you still get out there?
JBS: I do a lot of it. It's not a perfect weekend if I don't get up and run, and then ski for the morning, and then go cross-country skiing in the afternoon. That ranks me as a triathlete? I guess that ranks me as a triathlete. We go up to Sugarloaf. My father was in the 10th Mountain Division during the war, so when we were able to walk, he put us on skis. We're very passionate about the sport, my whole family. He passed on a couple of years ago, but skiing is a very big part of his kids and all the grandkids' lives. It's very important.
There were two years where I didn't do any alpine skiing just because I didn't want to get hurt. My father kept reminding me of Jim Lonborg's story when he went skiing. But life is short, and you've got to live it fully and with passion, and that's exactly what I try to do. Keep the balance and keep on going.
<subheading> Photos: The Boston Marathon through the years:
[bdc-gallery id="138482″]