Boston Marathon
6 questions with 2014 Boston Marathon winner Meb Keflezighi
"I remember getting a phone call from President Barack Obama the next day, and I said, 'I guess this is a big deal.'"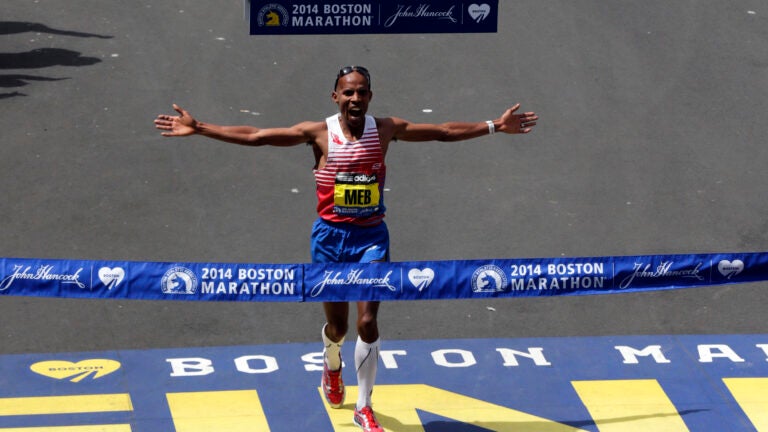 Meb Keflezighi's journey just to reach the starting line of his first marathon was a distance that spanned multiple continents, and years of uncertainty.
Born in Eritrea, he arrived in the United States (via Italy) in 1987 with the rest of his family as refugees from civil war. But Keflezighi and his nine siblings acclimated quickly to their new home in San Diego. By 1998, Keflezighi became a naturalized U.S. citizen, eventually running in the Olympics for Team USA.
Bostonians known him for his dramatic marathon win in 2014, a year after the tragedy of the bombings near the finish line. Keflezighi was the first American man to win in Boston for 31 years, and is the only runner to have victories in Boston and New York as well as win an Olympic medal.
In 2019, he's back as the grand marshall for the 123rd Boston Marathon, having retired from elite level marathon competition in 2017. In March, Keflezighi published his third book, "26 Marathons: What I Learned About Faith, Identity, Running, and Life from My Marathon Career."
He recently answered a few questions for Boston.com about his journey, his 2014 win, and some advice for first time runners.
This interview has been lightly edited and condensed for length and clarity.
What advice do you have for first-time marathoners heading into Boston this year?
MK: Marathons take a lot of patience. And Boston is especially a test of patience. We all make mistakes, but at the same time, if you can heed someone else's advice, my advice would be enjoy the run but make your last two or three miles your fastest. If you can make it that fast, especially in Boston, you're going to have a major time. But most people, including myself, have made the mistake of going too early.
And as a person doing a first marathon, remember that you have a watch. Keep an eye on your watch. Go slower than your race pace, at least 10-15 seconds per mile for the first 10 miles. You'll be OK. You'd rather make that up over the second half of the marathon, because the second half of Boston is much harder.
In the book you describe the scene before the 2014 Boston Marathon when you were waiting to go. You noted how relaxed you were. Why exactly was that?
MK: There were emotions, absolutely. I felt them for 365 days leading up to that race. When I would see the Boston Strong hats people all around the country, not only in Boston. They would wear those shirts and you just got the feeling that there was a greater sense of purpose. I wanted to win on Patriots' Day. You have that visualization.
But on race day I had my eyes closed, I was listening to music. I was almost doing something like yoga. Mary Wittenberg took a picture – I still have it – from the second floor above us where I had my feet up on the chair, my back on the ground, lying down, just meditating and relaxing because I know it's not going to be easy. I know it's not going to be simple, the task at hand is big, and I've been visualizing it for a year. You think about before the [starting] gun goes off, I want to calm the body and a marathon's about patience.
Often a marathon is a test of patience, especially in Boston with the downhill start, narrow roads, and the crowd is right away [cheering]. You visualize and think you need to keep calm. I remember I was lacing my shoes before and my mentor, Bob Larsen, said, 'You know you can run 2:07-2:08 on this course?' And I thought if he'd told me that in 2006-2007, I'd believe him, but now don't worry. I'm not going to be in the lead until the last 5K of the race. That's the last thing I told him.
But you have to listen to your spirit, to your intuition. And after about five miles into the run, the [favorites] were trying to slow it down. I said, "You know what? Boston Strong, and I'm going to give them Meb Strong. Whatever happens, happens. This is probably the last time I'm going to run the Boston Marathon. I just have to give everything in the tank," and it went my way. I was just fortunate to have the [bombing] victims' names on my bib to draw inspiration. And all the Boston Strong signs, and the people chanting, "USA, USA" and doing the wave as I went by Boston College. It was just amazing. I love getting energy from people, and my dream came true.
How long after the race did it take before it really settled in that you'd won?
MK: I mean the win was huge and it definitely didn't sink in right away. You win it partly because you've visualized winning it for a long, long time. For years, and then everything came together. I remember getting a phone call from President Barack Obama the next day, and I said, "I guess this is a big deal."
You plan for this for years, but I just happened to win on the day when it mattered the most. Not that it doesn't matter every year, but that year was special for many, many reasons and I just happened to be in the right place, right time to pull off the victory for all of us. You know the Bostonians nationwide – I run into them everywhere – they say, "Thank you for winning the Boston Marathon that year. You expedited the healing process. You touched people's lives." It's just such a blessing.
Do you view your story as the American Dream?
MK: Oh, absolutely. I do a lot of speaking engagements now, and I tell my journey. From a beginning in Eritrea, no running water, no electricity, and my dad taking a journey of a 225-mile, seven-day walk from Eritrea to Sudan. And waking up at 4 a.m. to learn English in the dictionary, not knowing a word of it. Then moving here, and people telling me you're going to go to the Olympics. I would tell them, "I have no idea what the Olympics are."
It wasn't until 1992 that I even saw an Olympic event. But to then be able to represent the United States in the Olympics, or to win in Boston or New York, it's an honor. People know about me, but they don't know what my family has done with our story. Nine of us [siblings] have graduated college and many of them have gone to even do graduate school. That's the American Dream too.
You don't have to be a runner or be the Boston champion or the New York City champion, but whatever opportunity provides to maximize your talent. That's what the American Dream is, and my family has illustrated that to the best they can to be positive contributors to society.
How would you compare writing a book with running a marathon?
Meb Keflezighi: It's quite similar. Life is patience, but 26 Marathons was quite easy in a way. I already had a relationship with Scott Douglas, who I wrote "Meb For Mortals" with. We knew each other pretty well, and had worked together in the past. It requires diligence. I wanted to re-watch all of the videos of all the races from the past to help it more detailed, but we just focused on the important lessons and how you learn something new at every marathon.
It seems like you placed an emphasis on how your marathon wins were born out of past struggles and adversity. How big a role did that play for you?
MK: Oh it most definitely did. It kind of molded me into who I am. When I ran a marathon, I'd think about dropping out. But at the end of the day, it's an honor and a privilege to run, whereas day-to-day survival in Eritrea was difficult. You didn't know what the future holds, you didn't know what meal you were going to get. That's difficult, whereas a marathon, you have assistants, volunteers and people guiding you every step of the way. It's a lot more fun. For me, I might run the race – marathons, or 5Ks, or half marathons – but there are a lot of people behind the scenes helping me.
There are more races lost than won, but you learn from them. After my first marathon, I said, "This is my first and last [marathon]. I never want to do that again." But we all go through that. I did the same thing during a 10K when I was getting sick in the process while I was running. I was getting the flu during the race, and I thought, "This is the worst thing ever." But that's when I was breaking the American record. I ran 26 marathons, but in my first one I was in pain.
It was torturous. I was just thinking that 5Ks, 10Ks, much more fun. Why am I doing this? But you do the best you can and thank God for short memories.
When I ran in Boston in 2006, I went out too fast. I went out at a world record pace and crashed at the hills, getting an appreciation of how hard it is. Just getting a sense of how hard the Boston Marathon or New York City Marathon course is. But I said, "You know what if I could stay healthy and be patient, I could win this race." When it did happen for me in New York 2009 and Boston in 2014, it wasn't for lack of trying before.