Boston Marathon
15 runners who will inspire you this Marathon Monday
You may want to follow these competitors along with those vying for the podium.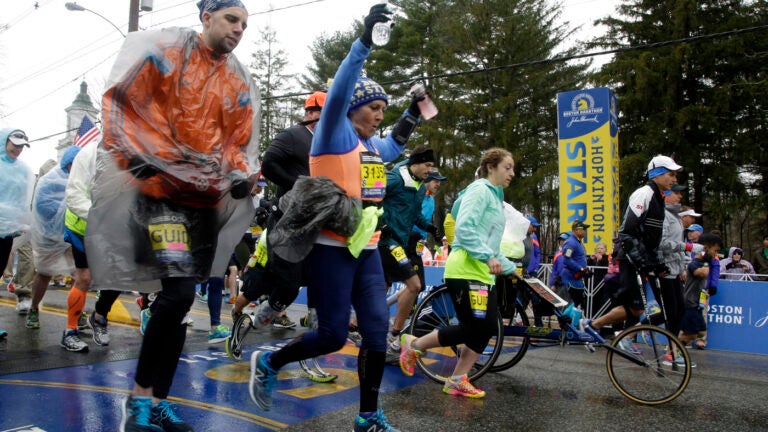 Thousands of runners will cross the Boston Marathon starting line in Hopkinton on Monday.
Some will be running the 26.2-mile course for the first time. Others will have already crossed the finish line more than a dozen times. Being crowned with a gold laurel wreath and securing a spot on the podium is the goal for some of the athletes, but for others, the race is a way to give back, conquer obstacles, and create change.
No matter where you look, it won't be hard to find inspiration in the runners' perseverance and grit. Here are just a few of those running the race whose inspirational stories will make you want to cheer. 
1. Garrett FitzGerald
Three years ago, Garrett FitzGerald was traveling in New Hampshire with three fellow Secret Service agents when their car was struck head-on. He sustained spinal cord injuries that left him paralyzed from the neck down.
He told CBS Boston that, since the accident, he's regained some arm movement and he's been making small improvements each day.
Monday will be FitzGerald's first Boston Marathon with his running partner and co-worker Don McGrail. Together, on Team Fitz, they are raising money for Journey Forward, the Canton-based nonprofit dedicated helping people with spinal cord injuries.
"They give a lot of people a lot of hope," Fitzgerald said in an interview with CBS Boston. "People make a lot of recovery and improvement to their bodies here that would be difficult to do elsewhere. It's just a good crew of people who are in it for the right reasons." (CBS Boston)
2. Ann Hirakawa
#CharitySpotlight: When @ann_hirakawa was young, her family escaped Vietnam before the Fall of Saigon in 1975. They were welcomed to the U.S. by @RedCross at @MCIWPendletonCA, helping start a new chapter of their lives. Read more: https://t.co/fcnstCram7 @RedCrossMA #GivingBack pic.twitter.com/ZwbgRUs9pY

— Boston Marathon (@bostonmarathon) March 1, 2019
Hirakawa says the phrase "You're not going to finish the race today," has been etched in her mind since last year, when she was forced to stop running the 2018 Boston Marathon after she developed hypothermia during the race.
She'll be thinking of that race this year, when she once again runs to raise money for the Red Cross, an organization that has long been close to her heart: Her family escaped Vietnam in 1975 before the Fall of Saigon, and they were welcomed to the U.S. by the Red Cross at a Marine Corps base in California.
"My family's existence today and what we have accomplished have all been directly impacted from the kindness and assistance we received from the Red Cross when we came to this country 43 years ago," she wrote on her fundraising page, adding later, "We will always remember the human compassion and help that all of us received before leaving the base." (Hirakawa's fundraising page)
Forty years ago, Joan Benoit Samuelson set a new American and women's course record at the Boston Marathon when she finished the race in 2 hours, 35 minutes, and 15 seconds. Then a 21-year-old Bowdoin College student, she ran the 1979 race wearing a Red Sox cap. She went on to win the first women's Olympic marathon at the 1984 games.
"I just want to get the finish line, and if I can get to the finish line within 40 minutes of my time 40 years ago, that will be my story," the marathon champion told Boston.com.
The last time she ran the Boston Marathon was in 2015. She won the veterans division in 2011, 2013, and 2014. (Boston.com)
4. David Goldstein
While Newton resident David Goldstein has been running Heartbreak Hill for more than 20 years, Monday will mark the first time he participates in the storied race.
He's running for Boston Health Care for the Homeless Program, and he wrote on his fundraising page that he's "ready for the challenge of Boston and will do [his] donors proud.
"My half-brother suffered from schizophrenia and spent some time in institutions and some time experiencing homelessness," Goldstein said in a statement. "He passed away several years ago. I want to be able to help, at least indirectly, others who face the types of challenges he faced."
For his fundraiser, Goldstein has been matching $2 for every $1 donated for up to $5,000. He's raised more than $14,000 for the charity. (Goldstein's fundraising page)
5. Daniel Romanchuk
Twenty-year-old Daniel Romanchuk is considered one of the "fastest rising stars" in men's wheelchair racing, according to the Boston Athletic Association (B.A.A.). Last year, he finished third in Boston and won the Chicago and New York marathons.
"Daniel could make history on Marathon Monday, aiming to become the first U.S. men's wheelchair champion in Boston since 1993," the B.A.A. said.
Romanchuk trains at the University of Illinois alongside Boston Marathon champ Tatyana McFadden.
6. Conor Sullivan
25-year-old heart transplant recipient, Conor Sullivan is running in his first #BostonMarathon this year. Watch his remarkable story today on WBZ News at 5. #WBZ #MassFallenHeroes @BrighamWomens pic.twitter.com/0FSGJijsnK

— WBZ | CBS Boston News (@wbz) April 3, 2019
A 25-year-old Quincy resident, Conor Sullivan told CBS Boston he's not running for speed, but for the experience. Sullivan, an Air Force veteran, is a heart transplant recipient. He told the news station that his experience and long recovery have altered his perception of running.
"It's such a simple thing," he said. "Anybody — not a lot of people do it — but almost anybody can go outside and go for a jog, go for a run. But for almost two years, I wasn't able to. So now that I have the ability, it's more enjoyable."
Monday will be his first marathon, which he is running for Mass. Fallen Heroes. (CBS Boston)
7. Laura Hall and Sarah Bush
Sisters Laura Hall and Sarah Bush plan to cross the finish line while holding hands. Hall was 14 when she and her sister were locked inside during the shooting at Columbine High School in 1999.
"While Sarah was able to escape, Laura remained barricaded in the school's choir room for 4 1/2 hours until she could be rescued," the B.A.A. said in a statement. "Since then, the sisters adopted the sport of running to help calm their PTSD and improve their mental health."  
The sisters, who are both running as qualifiers, founded an organization with a group of Columbine alumni that's dedicated to advocating for increased awareness about the effects of trauma.
"This race, and running overall, is a way for us to overcome things," Bush told Runner's World. "We've overcome some hard things, and it is a perpetual reminder that we can do hard stuff and that we're capable of making goals and breaking those goals." (Runner's World)
8. Michael Besson
Michael Besson, a 57-year-old Dorchester resident, is running for the first time.
Besson is known by the nickname "Lightning Fingers" for his abilities on the guitar, according to the Dorchester Reporter. Born blind in Haiti, music offered him a refuge, but he said he always wished he could participate in sports.
Running the marathon with a guide is a dream come true, Besson wrote on his fundraising page.  
"Years ago, I couldn't imagine how I could run a marathon even though I would watch the Boston Marathon on TV with my wife and say I wish I could do that someday," Besson wrote on his page. "I used to have high blood pressure and was very overweight. I wasn't sure how I would be able to run outdoors because I am blind and I didn't know about guides. Today I am well (no longer hypertensive), at a healthy weight, and run daily either on my home treadmill, in my small paved backyard, and with a guide when possible outdoors. I am committed to health, running, and to supporting inclusion in running and all sports for people of all abilities!"
He's running for the Play Brigade, which is dedicated to creating opportunities for inclusive activities, sports, and recreation, which he said is particularly meaningful to him because he has three children who are also all legally blind. (Dorchester Reporter)
9. Melissa Strazzullo
Strazzullo is running for Tedy's Team, the organization started by Tedy Bruschi and his wife, Heidi, after the renowned New England Patriot suffered a stroke in 2005.
Strazzullo said on her fundraising page that she contacted the organization after her father suffered a stroke in November 2017 that left him almost completely paralyzed on the right side of his body.
"Watching my father, who in my eyes is the epitome of strength, endure so much frustration physically as well as emotionally, and pain, through his recovery process, has lit a fire in me and my desire to do more to help him and so many others in stroke recovery and research," she wrote.
Her father died in December, and Strazzullo said she'll always be grateful for the lessons he taught her.
"I know that he's my guardian angel pushing me along my marathon journey, and I know for sure he's incredibly proud," she wrote. "This ones for you, Dad." (Strazzullo's fundraising page)
10. Thomas Dillon
A Milford native, Thomas Dillon is running the marathon for the first time and raising money for Dana-Farber Cancer Institute in memory of his mother, who passed away in 2018 after a battle with melanoma.
While she was a patient at Dana-Farber, she volunteered in the Women's Cancer Center where she gave hand massages to others battling cancer, he wrote on his fundraising page.
"My father always wanted to run the Boston Marathon, but was never able to," Dillon wrote. "Therefore I could not think of a better way to honor my mom and dad than to raise money for Dana-Farber and also run the Boston Marathon. I know mom will be cheering me along in spirit and dad will be there cheering." (Dillon's fundraising page)
11. Kerri McGrath
South Boston resident Kerri McGrath is running her first marathon for Colin's Joy Project, a fund she started with her husband, Brendan, in memory of their 2-year-old son, Colin, who died last summer when a vehicle involved in a crash jumped the curb and struck his stroller.
McGrath told Boston.com that running has been her "most reliable coping mechanism" in her grief.
"It was really hard to find anything to be motivated about after the accident," she said. "Other than taking care of our daughter and taking care of each other. And this was the first thing that really gave me anything to work toward or feel better about. So to actually see this all the way through will feel like the biggest personal accomplishment that I've had since the accident, aside from just the accomplishment of getting out of bed every day and living our life."
The funds raised by McGrath and her team will go toward supporting families through local organizations in South Boston. (Boston.com)
12. Daniel Hincapie
Daniel Hincapie has not always been a runner. It was his fiancee, Wendy Martinez, who was the "true running aficionado," he wrote on his fundraising page.
"Wendy's life was cut tragically short this past September," Hincapie said. "She was the victim of a senseless act of violence while on a run in our home city of Washington D.C. Her passing broke the hearts of so many people in the Washington D.C. community. But it also brought us together through our shared commitment to keeping Wendy's example alive."
The 38-year-old said he is running the Boston Marathon, a race Martinez always dreamed of participating in, to keep alive her memory. He is running for the Lingzi Foundation, formed by the family of Boston Marathon bombing victim Lingzi Lu. All of the funds he raises will be donated by the foundation to the Wendy Martinez Legacy Project. (Runner's World)
13. Rebecca Shandi Foulger
Foulger is running for the Arredondo Family Foundation, which is dedicated to preventing military suicides through supporting and empowering families of servicemen and women. She wrote on her fundraising page that she joined the foundation's marathon team because her cousin, a former Army medic, took his own life in November 2017.
"My cousin always had an amazing sense of humor, and so much love for his family and friends, and his sudden absence from this world has been felt so strongly," she said. "We all wish we could have prevented this."
Foulger told CBS Boston she hopes to prevent other families from experiencing what her family has gone through. (Fougler's fundraising page)
14. Hanna Adams
#CharitySpotlight: Born with multiple physical and learning disabilities, Hanna Adams refuses to let her disabilities hold her back as she gears up for #Boston2019. Running for @BPLBoston, she hopes her inspirational story guides others like books in a library. #Boston2019 pic.twitter.com/3EonpcU66A

— Boston Marathon (@bostonmarathon) March 29, 2019
Adams was 11 months old when she was diagnosed with several physical and learning disabilities, for which she began treatment at Shriner's Hospital in Springfield. After years of leg braces and physical therapy, she was able to run the Kid's Race for the Cure when she was 5 years old. That was just the start, and she went on to run cross country and track throughout middle and high school.
On Monday, she'll run the Boston Marathon to raise money for the Boston Public Library.
"I have always been blessed to have a team of family and friends around me that has cheered me on even in the days when I finished last," she wrote on her fundraising page. "Please know I never give up and am honored to have you join Team Adams this year to help me finish the Boston Marathon so all children can have great books to read and a sanctuary like the Boston Public Library that welcomes them." (Adams' fundraising page)
15. Riley Quinn
Born with only one hand, this former MIT Football player is teaming up with marathon bombing survivor @Heather_Abbott1 and her foundation to raise money to buy prosthetics for amputees. Learn more about Riley Quinn today on WBZ News at 5. #WBZ #BostonMarathon #BAA pic.twitter.com/xln3egpmBY

— WBZ | CBS Boston News (@wbz) April 5, 2019
Riley Quinn, a senior at MIT, has captured awards and accolades on the football field even though he was born without his left hand. Now the college athlete is running the Boston Marathon for the Heather Abbott Foundation, which was founded by bombing survivor Heather Abbott with the mission of providing customized prosthetics to amputees.
Quinn told CBS Boston he's never let anyone define what he can or cannot do, and he's applying that mindset to running for Team Limb-It-Less on Marathon Monday.
"Just knowing I'm raising money for a cause that matters so much to me and will impact the lives of others — it's that extra push where it makes me try a little harder and get through those last couple miles when my legs are dragging and heavy and having that motivating force to keep going forward," he told the station. (CBS Boston)
Photos: The Boston Marathon through the years:
[bdc-gallery id="138482″]