Boston Marathon
Sarah Sellers returns to the Boston Marathon a year after her surprising 2nd-place finish
Averaging around 110-115 miles a week, she's back for more.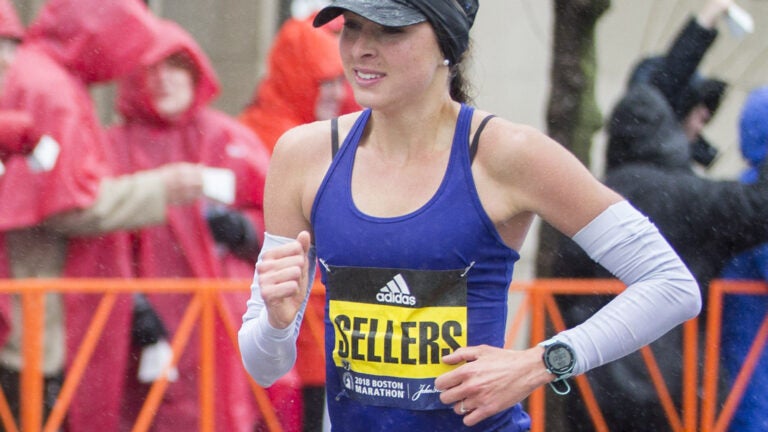 Of the more than 30,000 runners who will participate in the 2019 Boston Marathon, there is one demographic that accounts for an overwhelming majority of the field. They are the ones who work in another professional field but run in their spare time. They are the amateurs.
Many amateur runners are content to simply finish a marathon, given its extraordinary level of difficulty. And training in between a busy work schedule – with all of its inflexible demands – means that crossing the finish line can feel like victory itself. Given the long hours that thousands of amateur runners work alongside their training, there is little argument against this.
Yet a year ago, one runner overcame the daunting task of working as a full-time nurse anesthetist to not only finish, but also claim second place in the women's field.
Sarah Sellers, a 27-year-old working in healthcare, ran Boston in 2:44:04 despite the cold, the rain, and the long hours that she worked while simultaneously preparing in the preceding months.
"I definitely did not foresee it," Sellers admitted in a recent interview. She also had no idea the weather would be challenging, though that was partially intentional.
"I was in denial about the weather until probably the night before the race," said Sellers. "For two weeks before the race, it was predicting nasty conditions, and I really believed the weather forecast would change. 'It's going to clear, it's going to clear,' I kept telling myself."
Reality set in on the eve of the marathon, but Sellers' response to the conditions showed a flexibility and determination that proved lacking from some of the other elite runners.
"I changed my perspective the night before the race and decided my time goal was out the window. My new goal became to just racing a smart race, conserve early on, and have a strong last three to six miles."
What ensued was a slowly developing shock, as Sellers first hung with, then began passing many of her elite colleagues.
"During the race, probably for the first half of the race, there were kind of ups and downs where sometimes I felt like I my effort was too hard for that early in the race, other times it felt very controlled. But really I felt like I was somewhere in the middle of the elite pack, so I felt like it was pretty expected as far as my position."
"And then the second half of the race, I ran with Rachel Hyland for much of it," Sellers continued. "We started passing some of the big names in the field like Molly Huddle and Shalane Flanagan. I remember when one of the spectators yelled that Shalane was less than 400 meters ahead. That kind of shocked me because I thought 'that's not possible.'"
The prospect of passing one of the biggest names in American distance running caused differing reactions.
"As we were passing her, that was a surreal moment," remembered Sellers. "I had two thoughts. First, that I was sad for Shalane because I wanted her to succeed, but then also it was a thought of even though Shalane's having a bad day, we're probably doing pretty well. We're probably pretty high up."
Still it was only after Sellers finished that she learned of the true level of her accomplishment. Coming in second behind fellow American Desiree Linden was a special moment because of Sellers' appreciation for the champion.
"I found out right after the official told me I finished second, she told me that Des won the race," Sellers recalled. "I was ecstatic about that because Des was honestly my favorite going into the race."
The only problem? The Arizona resident Sellers couldn't tour Boston on her day off.
"I was planning on spending that Tuesday walking around and seeing some of the historical sights. But honestly we sat in the hotel all day taking [media] phone calls, which was cool. It was definitely not anticipated."
A year later, things are a little different for Sellers. She's more of a known force in running and is able to focus on training due to sponsorship. That said, the feeling of being an amateur is still there. Though she's cut back her hours at work to around 30 hours a week, Sellers remains in both worlds.
"I guess the distinction is probably if you're making money off of sponsorships or on the races, I'd say, so based on that, technically I'm professional now," Sellers said. "But I still feel like I'm definitely in that other realm. I'm still working another job. I'm kind of in that crossover position I think."
Averaging around 110-115 miles a week, she's ready to return to Boston.
As for being an inspiration to other amateur runners, Sellers had her own explanation.
"I always get kind of uncomfortable with the thought of if I'm an inspiration, because I think of me as a person, I do lots of dumb things, and I don't think I'm particularly inspiring. But I think my story itself is inspiring. I look back at it and it's kind of crazy."
<subheading> Photos: The Boston Marathon through the years:
[bdc-gallery id="138482″]