Boston Marathon
What you need to know about the 2019 Boston Marathon
From how to watch to how to get there, your questions about Marathon Monday, answered.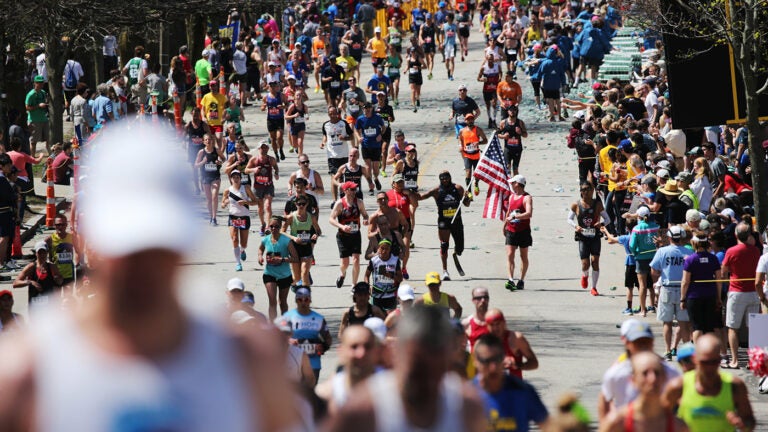 Runners from around the world will flock to Massachusetts to participate in the storied Boston Marathon on April 15. An estimated 30,000 athletes are expected to take on the 26.2 miles from Hopkinton to Boston in the 2019 race.
Whether you're joining the cheering crowds or getting inspired by the runners from afar, here's what you need to know about the day's event.
What time does the race start?
Runners leave Hopkinton in predetermined waves based on division and qualifying time. The men's push rim wheelchair division starts the race at 9:02 a.m., followed two minutes later by the women's push rim division, and then the handcycle and duo competitors at 9:25 a.m. The elite women's field crosses the starting line at 9:32 a.m., and the elite men start at 10. The rest of the runners are broken down into groups, with Wave One starting at 10:02 a.m., Wave Two at 10:25 a.m., and Waves Three and Four going together at 10:30 a.m., a change due to the weather forecast this year, according to the Boston Athletic Association (B.A.A.).
Where should I stand?
Need to get there by MBTA or hoping to grab lunch before you do your cheering? Find the perfect viewing spot for you with this interactive map. Or, check out this list of the 10 best spots to watch the marathon — from Ashland to finish line.
If you want to skip the crowds in favor of some refreshments, here are 10 Boston bars where you can watch the marathon live.
And how should I get there?
City and race officials are urging spectators to leave their cars at home on Marathon Monday and instead rely on public transportation due to the expected road closures and parking restrictions for the race. The Commuter Rail is offering a $15 special pass for unlimited travel on the system through all zones that is valid all day Monday.
If you do plan on driving, traffic and parking restrictions will be in place in Boston. Check with the other towns and communities along the route for local impacts.
Those who will be taking public transportation will encounter some changes, too. The MBTA's Copley Station will be closed all day on Marathon Monday. Three other Green Line stops will be impacted by the race. South Street (B Branch), Kent Street (C Branch), and St. Mary's Street (C Branch) will be closed between 10 a.m. and 6 p.m. For additional public transportation and commute info, check here.
What should I leave at home?
If you're heading to watch the race, officials want you to leave your backpacks, coolers, and picnic blankets at home. Drones are also prohibited. The B.A.A. has a list of items that are banned from the route and any official venue, so be sure to check the list before you heading out. 
#BostonMarathon is only one week away!
Check out the spectator guidelines & information:https://t.co/RfolNbFHG5 pic.twitter.com/O69kwe950P

— MEMA (@MassEMA) April 8, 2019
What's the weather going to be like?
Even though the weather will not be perfect, it won't be a washout, meteorologist David Epstein predicts. It should mainly be dry from 10 a.m. through 3 p.m.

How can I watch from elsewhere?
If you're cheering for a friend or loved one from afar, stuck at your desk, or just not a fan of crowds, you can still follow the race. Here's how you can track the marathon by listening to the radio, watching TV, or streaming the event online.
Gallery: The Boston Marathon through the years
[bdc-gallery id="138482″]