Boston Marathon
10 must-see moments from the 2019 Boston Marathon
The 123rd edition of the 26.2-mile race featured a diverse array of inspiring performances.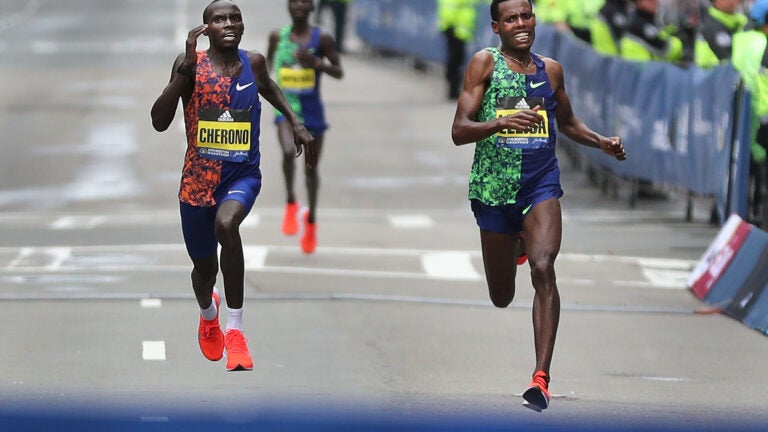 The Boston Marathon turned out to be a relatively sunny affair Monday, in more ways than one.
In what was originally predicted to be wretchedly wet conditions, thousands of runners crossed the finish line under mostly blue skies. And from the thrillingly close men's race to Boylston Street finishes that were photo-worthy for other reasons, the 123rd edition of the race produced countless memorable moments.
Here are the highlights:
1. A historic ending to the men's race
There's only one place to start: That finish.
It took the final yards to decide the 26.2-mile race, as Lawrence Cherono fought from behind to beat Lelisa Desisa in historically close fashion. The Kenyan runner's final kick made all the difference.
"I'm poor at finishing races, but, today, I did a fantastic job," Cherono said in a press conference after the race, which he finished in a time of 2:07:57.
The 30-year-old's two-second margin of victory over Desisa, a two-time Boston Marathon winner, ranks among the tightest finishes in the history of the race. It was his third race ever in the United States.
"I was so focused because I've never won a major marathon," Cherono said.
2. Another first-time champion in the women's race
The ending of the women's race was somewhat less dramatic — but no less triumphant.
Before the men's photo finish, 28-year-old Ethiopian runner Worknesh Degefa won the women's division with a time of 2:23:31. Like Cherono, it was her first major marathon win. But she made it look (relatively) easy.
Degefa finished 42 seconds before the next woman to cross the line, former Boston Marathon champion Edna Kiplagat. At one point during the race, Degefa had a nearly three-minute lead.
"This is the biggest [race] I have seen … so I feel I run with all the crowd," she said in an interview after the race.
3. Des was happy to be back
Des Linden, the winner of the rain-soaked 2018 marathon, finished in fifth Monday. But did so blowing kisses to the crowd and flashing a brief smile as she ran down Boylston Street.
Last year's winner of the women's Boston Marathon Desi Linden blows kisses to the crowd as she crosses the finish line. pic.twitter.com/ZINlx7oCmx

— WBZ | CBS Boston News (@wbz) April 15, 2019
"It's so fun running in Boston," she said, crediting the crowd for carrying her from the 18-mile mark to the finish.
The Michigan native could only compliment Degefa's performance and maintained a positive outlook on her own finish.
"I'll take it," Linden said. "Any time you're in the top five in Boston, that's a win."
📹🏃‍♀️🇺🇸DES LINDEN📹🏃‍♀️🇺🇸@davidwade talks to 2018 #BostonMarathon winner @des_linden after finishing 5th at this year's #BostonMarathon2019 #WBZ #BostonStrong @bostonmarathon pic.twitter.com/eGf3x95fiU

— Scott Sullivan (@sullybunZ) April 15, 2019
4. History was made in the wheelchair race, too
A familiar name has claimed the first-place prize in the men's wheelchair division in each of the last four years: Marcel Hug.
Not so this year.
Daniel Romanchuk, a 20-year-old college student, made history as the youngest Boston Marathon push-rim race winner ever and the first American men's champion in the division since 1993. Hug came in third.
"Tired," was the first word Romanchuk could muster after the race. Asked what it was like to defeat "titans"of the sport like Hug and second-place finisher Masazumi Soejima, the University of Illinois student said he was happy just to be in the same conversation.
"I have grown up watching them on the world stage," Romanchuk said. "It's just incredible to even be able to push with them. It's amazing. They're absolutely iconic racers."
5. He lost his legs to frostbite, and finished the Marathon in less than 3 hours
Marko Cheseto literally can't stop.
"I don't have a heel on these, so if I stand still I can fall back," Cheseto, a double amputee, said of his running blades after finishing the race Monday. "So the only way I can keep myself balanced is by moving around."
The Kenya native was recruited to run at University of Alaska Anchorage in 2008. However, the All-American runner had to have both of his lower legs amputated after he went missing during a trail run for several days and got severe frostbite on his feet. He ran his first marathon — and became an American citizen — last November, finishing in less than three hours.
Cheseto improved his time by nine minutes Monday.
"One thing I just told myself was the condition that I have is just a phenomenon that happened in my life," he told WBZ after the race. "It does not define who I am. I still have my inner power."
6. Whatever it takes
The race Monday was not lacking for inspiring finishes.
Micah Herndon, a 31-year-old Ohio native, crawled the final yards to the finish line on his hands and knees.
How badly do you want it? #BostonMarathon pic.twitter.com/EYo7liqM5Q

— Dana Giordano (@dana_gio6) April 15, 2019
According to the Kent, Ohio-based Record-Courier, Herndon is a Marine combat veteran, who survived multiple IED attacks during his deployment to Afghanistan. He was running the marathon for several close friends who did not.
"For some reason, even after being hit twice, I am still here," Herndon told the local paper in an interview published Sunday.
This Marathon runner from Ohio tells me he was completing this race ON HIS OWN — even if he had to crawl his way to the Finish. The former Marine says he just kept saying the names of his fallen comrades out loud, and that's what got him through. #WBZ https://t.co/bvLBXtMuVH

— Tiffany Chan (@TiffanyChanWBZ) April 15, 2019
After crossing the finish line, marathon workers helped Herndon into a wheelchair. However, on the course, it was also marathon participants that came to the aide of their fellow runners.
7. Joan Benoit Samuelson achieved her goal
Linden and Kiplagat weren't the only former female champions in the race Monday.
Joan Benoit Samuelson, who won the women's race as a 21-year-old in 1979, came into Marathon Monday with the goal of running within 40 minutes of her 2:35:15 time, 40 years later. Running yet again in a Bowdoin College singlet, she met that goal with nearly 10 minutes to spare, tipping her Red Sox hat to the crowd as she crossed the finish line.
Boston Marathon legend Joan Benoit Samuelson finishes the Boston Marathon 40 years after her historic win. pic.twitter.com/vCrfvS0ttp

— WBZ | CBS Boston News (@wbz) April 15, 2019
The 61-year-old's 3:05:18 time translates to a 7:01-mile pace.
"I'm just happy to be back in Boston, and not stuck out in Hopkinton or somewhere along the line," Benoit Samuelson told WBZ.
8. 'This is a Super Bowl ring right here'
Boston sports fans may have noticed a particularly familiar face on the course Monday.
Former New England Patriots linebacker Tedy Bruschi was running the race for the third and final time, giving him enough marathon medals to match his Super Bowl rings.
📹🏃‍♂️🏈TEDY BRUSCHI!! 📹🏃‍♂️🏈
Former #Patriots LB & @espn broadcaster @TedyBruschi finishing his 3rd #BostonMarathon with @TedysTeam while raising money for stroke awareness and heart disease!@Patriots #BostonStrong #Boston2019 #MarathonMonday #PatriotsNation pic.twitter.com/efYVeWzChr

— Scott Sullivan (@sullybunZ) April 15, 2019
"This is a Super Bowl ring right here, man," Bruschi said after the race. "I put it right up there with them because of everything that has to go into this."
After spending his NFL career training for "eight-second bursts," Bruschi said he was still a "rookie" long-distance runner, but felt more comfortable this year. And, of course, he praised the fans.
"This was like a 26.2-mile stadium for me," Bruschi said.
9. Jimmie Johnson is pretty fast on foot as well
NASCAR driver Jimmie Johnson has won a lot of stock car races. But he says running 26 miles is "without a doubt" more difficult than driving 200.
Still, Johnson turned in an impressive performance for a first-time marathoner Monday, finishing in 3:09:07. He tweeted after the race that it was "the most challenging thing I've ever done."
That was the most challenging thing I've ever done, what an experience! Unofficially 3:09:07 for the 🏁 #BostonMarathon #Boston2019 pic.twitter.com/1lZBH2aPvn

— Jimmie Johnson (@JimmieJohnson) April 15, 2019
"I wish I had my car for Heartbreak Hill," Johnson told WBZ in an interview at the finish line.
10. The marathon's goodest fan was back
There were thousands of good runners in Monday's race, and one Very Good Boy.
Spencer, the nationally renowned golden retriever and therapy dog who has perennially cheered on marathon runners, was back again. And just like last year when he weathered the rain, he was out early with his own rain jacket to go along with his Boston Strong flags.
https://www.instagram.com/p/BwR043FhBPs/
Calmly supporting racers from the side of the course between miles 2.5 and 4, Spencer in turn got plenty of mid-race adoration. With the clearer-than-expected weather, he was eventually even joined by his sister, Penny.
https://www.facebook.com/rich.powers.12/videos/vb.1558181247/10218377590621945/?type=2&video_source=user_video_tab
Photos: The Boston 
Marathon

 through the years

[bdc-gallery id="138482″]