Boston Marathon
Daniel Romanchuk, Manuela Schaer win Boston Marathon wheelchair divisions
"Glory to god for the opportunity to race today."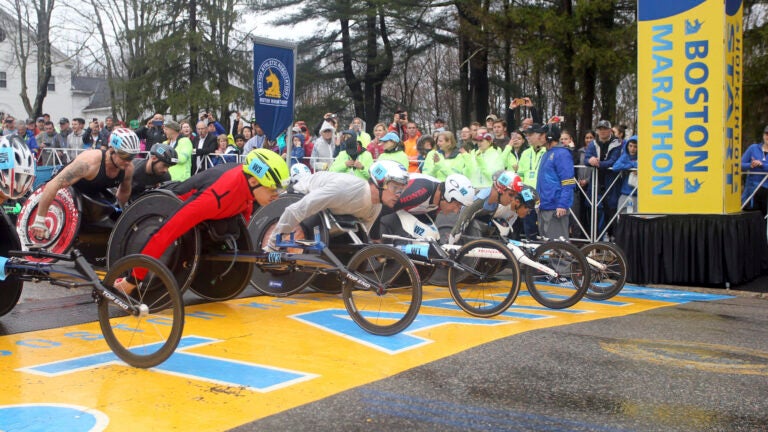 Daniel Romanchuk on Monday became the first American man to win the Boston Marathon wheelchair division since 1993.
Romanchuk, who was third last year, finished with a time of 1:21:36.
WATCH: HISTORIC WIN: Daniel Romanchuk is the first American since 1993 to win the #BostonMarathon men's wheelchair division! pic.twitter.com/H7pSoHQ17q

— WBZ | CBS Boston News (@wbz) April 15, 2019
"I knew it was possible, it's a matter of just everything coming together,'' Romanchuk said in a televised post-race interview. "Glory to god for the opportunity to race today.''
Manuela Schaer of Switzerland won the women's wheelchair race in an unofficial time of 1:34:19. She also won the Boston Marathon in 2017 in a world and course record time of 1:28:17.
"It was a lot nicer than we expected, especially the weather. I was pretty worried about it when we drove to the start line,'' Schaer said. "but then it turned out to be so nice. I'm really happy that I could actually I could win.''
Jim Knaub, who won three straight years from 1991 to 1993, was the last American man to win the wheelchair division.
Romanchuk was all alone from the halfway point. Masazumi Soejima finished second, about three minutes behind Romanchuk, and defending champ Marcel Hug was third.
"I had planned to put in a surge around there. I didn't know what to expect from it. It just ended up breaking the pack up,'' Romanchuk said.
In November, Romanchuk became the first American man to win the New York City Marathon wheelchair division in its 18 years of existence, and was the youngest winner at 20 years old. In June of 2018, Romanchuk broke the world record in the men's T54 800-meter at the Arizona Grand Prix in Tempe, Arizona. A few weeks prior, he set the 5,000-meter record at the Swiss Nationals.
Romanchuk grew up in Mount Airy, Maryland, and was homeschooled.
Schaer, 34, has also won the London, Berlin, New York, and Tokyo marathons. Schaer has competed in four Paralympic Games and four World Championships and holds more than 30 major marathon titles.
In 2018, Marcel Hug of Switzerland won the men's wheelchair race in 1:46:26 and Tatiana McFadden of the US won the women's division in 2:04:49.
Photos: The Boston Marathon through the years:
[bdc-gallery id="138482″]