Boston Marathon
In 2011, Marko Cheseto lost his feet to frostbite. Today, he ran the Boston Marathon in less than three hours
Two hours, 42 minutes, and 33 seconds, to be exact.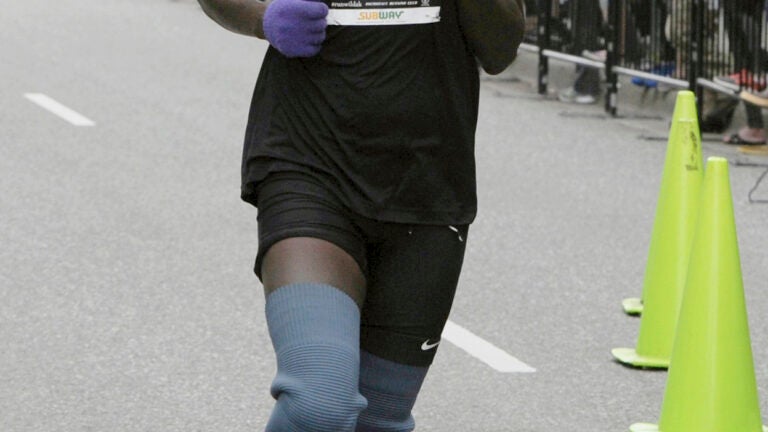 While being interviewed at the Boston Marathon finish line, Marko Cheseto bounces around. He's not necessarily antsy; his prostheses are just heel-less.
"If I stand still, I can fall back," the Kenya native explained to CBS Boston's Steve Burton. "The only way I can keep myself balanced is by moving around."
Cheseto is a double amputee — he lost both of his legs about six inches below the knee in in 2011, according to Runner's World. While studying at the University of Alaska Anchorage, he departed on a Sunday evening run clad in two jackets, but without a hat or gloves. The athlete woke up to falling snow in the woods around 55 hours later. Frostbite eventually claimed his feet.
"One thing I just told myself was the condition that I have is just a phenomenon that happened in my life," Cheseto said on Marathon Monday. "It does not define who I am. I still have my inner power."
Today, he ran the 26.2 miles from Hopkinton to Boston in about two hours and 43 minutes.
"The crowd was amazing. They were just cheering, particularly on the hills," Cheseto said. "They were like, 'Hey! Number 117, you got this.' And I was like, 'I can't let these people down. I have to keep going.'"
Standing at the finish line, he announced he would be back to race next year.
"There is a para section that has been introduced, and it has some prize money," Cheseto said. "That's a big, big opportunity because as amputees, we've never been given an opportunity in a big, big race. So this is great. We want to take it to a greater level. We want people to know that if somebody has a physical condition, it does not limit what they can do. Everything that we need to succeed is in us."