Boston Marathon
2019 Boston Marathon winner Lawrence Cherono on the epic battle to the finish: 'I was so focused because I've never won a major marathon'
"I was so determined to win."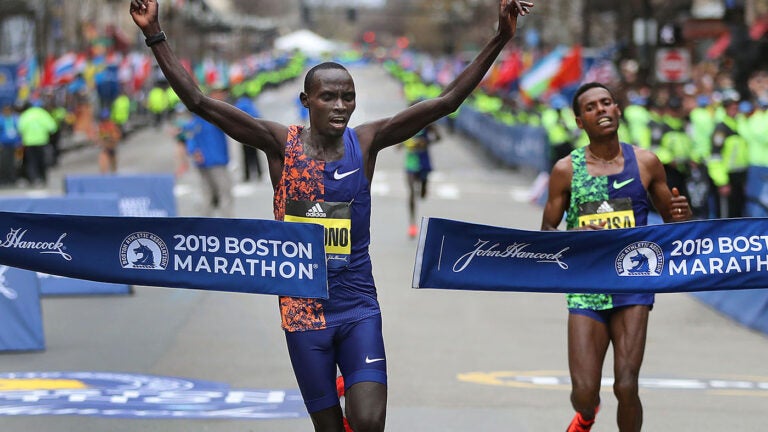 In his first-ever Boston Marathon, Lawrence Cherono edged out Lelisa Desisa for a thrilling first-place finish Monday afternoon.
"I'm poor at finishing races, but, today, I did a fantastic job," Cherono said during a press conference alongside women's winner Worknesh Degefa. "It was nice for me."
Cherono, of Kenya, and Desisa, of Ethiopia, were in a three-way fight to the finish with Kenneth Kipkemoi, also of Kenya, when the pair broke away during the final stretch down Boylston Street. Desisa, who won the race in 2013 and 2015, appeared to have gained just enough separation to claim his third Boston Marathon victory, but Cherono managed to close the gap. 
#BREAKING: Lawrence Cherono wins the men's Boston Marathon in a sprint. WHAT A FINISH! pic.twitter.com/uI1J6GjEC2

— WBZ | CBS Boston News (@wbz) April 15, 2019
Fending off Desisa's efforts to shut down his lane — Desisa even threw out his right arm in desperation at one point — Cherono made his move just 15 seconds before crossing the finish line. The 30-year-old put his hands in the air upon breaking the blue tape, while Desisa hung his head in defeat. 
"I was so focused because I've never won a major marathon," Cherono said in a television interview after the trophy presentation. "I was so determined to win."
Donning his gold wreath atop his head, Cherono continued to jog back and forth on Boylston, as he smiled and waved to the cheering pedestrians lining the street. Desisa, meanwhile, sat down and was consoled by his trainer.
Just two seconds separated the pair's unofficial times, with Cherono clocking in at 2:07:57 and Desisa at 2:07:59. Kipkemoi finished third with a time of 2:08:07.
"I'm so happy," said Cherono, who has raced in the United States only on two other occasions. "I'm so grateful. I'm so thankful for the people of Boston."
Photos: The Boston Marathon through the years:
[bdc-gallery id="138482″]