Boston Marathon
Tedy Bruschi said his Boston Marathon medals are 'right up there' with his Super Bowl rings
Bruschi, 45, cruised to the Boston Marathon finish line with a 4:35:35 time Monday.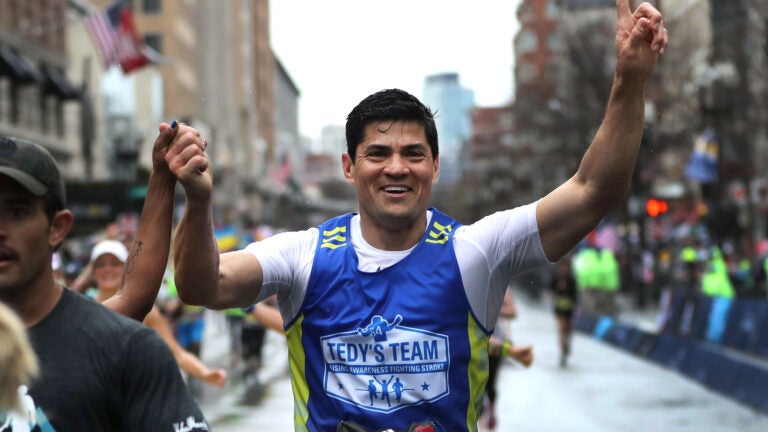 Former Patriots linebacker Tedy Bruschi said he places his three Boston Marathon medals on the same pedestal as his three Super Bowl rings after he confidently cruised to the 2019 Boston Marathon finish line with a 4:35:35 time Monday.
??‍♂️?TEDY BRUSCHI!! ??‍♂️?
Former #Patriots LB & @espn broadcaster @TedyBruschi finishing his 3rd #BostonMarathon with @TedysTeam while raising money for stroke awareness and heart disease!@Patriots #BostonStrong #Boston2019 #MarathonMonday #PatriotsNation pic.twitter.com/efYVeWzChr

— Scott Sullivan (@SliceOfSully) April 15, 2019
"I put it right up there with them because of everything that's got to go into this," Bruschi told WBZ's Steve Burton after finishing the 2019 race.
"I'm in Boston, it's fantastic, for this race, my team, they inspired me to run again," he said. "This is my third – three rings, three medals, and I'm out."
Bruschi ran the marathon in 2012 and again in 2014 alongside teammates from Tedy's Team, a non-profit organization he and his wife formed in partnership with the American Stroke Association after Bruschi's sudden stroke in Feb. 2005. According to their website, Tedy's Team runs the Boston Marathon, the Falmouth Road Race, and numerous other races each year to raise money and awareness of the signs and symptoms of a stroke.
??‍♂️? TEDY BRUSCHI ??‍♂️?@STEVEBURTONWBZ talks to former #Patriots LB & @espn analyst @TedyBruschi after he and @TedysTeam finished the #BostonMarathon#WBZ #Boston2019 #BostonStrong #OneBostonDay @PAT pic.twitter.com/99CRN4p5ob

— Scott Sullivan (@SliceOfSully) April 15, 2019
Bruschi said he felt most comfortable his third time running Boston and described himself as a "rookie runner" the first two times he ran the marathon. He said he prepared with training runs in Boston more than he had in the past.
"I trained for eight-second bursts for decades, so it's like, I didn't know what I was doing the first couple times," Bruschi said. "You just sort of grind. I ran it with Heidi, my wife, the first time and I was just learning how to be a runner, really."
For Bruschi – a beloved Patriots player who spearheaded Bill Belichick's defense during the first three Super Bowls the team won in 2001, 2003, and 2004 – the Boston Marathon is a slightly different experience than for the average runner.
"It's like a 26.2-mile stadium for me," Bruschi said, referring to fans that recognize him on sight. "I'm running with my teammates and everybody's cheering my name so I'm sort of like, 'Yeah, Ross, Christie, Dan, you guys are doing good too!'"
The credit Bruschi gave his teammates from Tedy's Team throughout the race did not end there. Bruschi told Burton his teammates would remind him to keep his pace measured prevented him from wearing out too early in the race.
"I got that linebacker in me, and I just want to take off," he said. "So it's like, 'Woah, Tedy, it's only mile three.'"
Photos: The Boston Marathon through the years:
[bdc-gallery id="138482″]