Boston Marathon
5 things to know about Daniel Romanchuk, the 2019 Boston Marathon men's wheelchair winner
The 20-year-old made history Monday morning.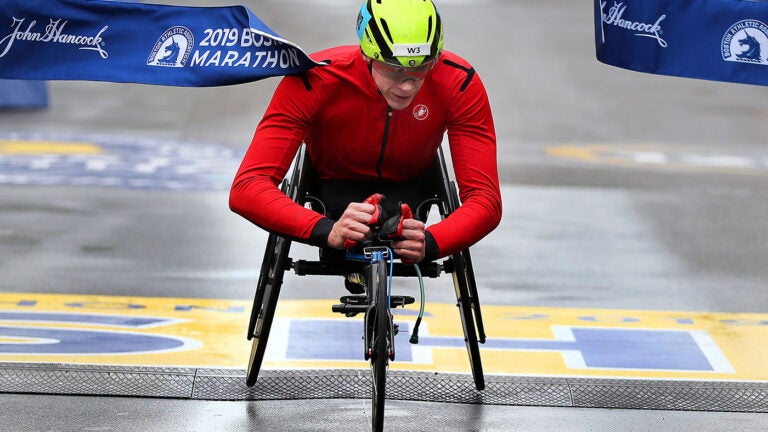 Daniel Romanchuk blazed to the finish line of the 2019 Boston Marathon on Monday, winning the men's wheelchair race with an official time of 1:21:36, according to WBZ. With his victory, Romanchuk became the youngest push rim race winner in Boston Marathon history and the first US men's wheelchair champion since 1993, according to the BAA.
Here are five more things to know about Romanchuk.
He's already a bona fide marathon star
Prior to the 2019 Boston Marathon, the BAA called Romanchuk "one of the fastest rising stars in wheelchair racing." He finished third in Boston in 2018 and won the Chicago and New York City marathons in 2018. Following his 2019 Boston win, Romanchuk told WBZ's David Wade that it felt wonderful "winning all three majors on American soil."
He's a 20-year-old college student
Romanchuk is a student at the University of Illinois, and according to race-day commentary from WBZ's Christina Hagar, he has had to ask his professors for permission to miss class for races.
He's been an athlete since a very young age
According to Runner's World, Romanchuk started training with an adaptive sports program in Baltimore at age 2 and participated in his first track meet at age 6, after which he began to set records for his age group.
He trains with a previous Boston Marathon winner
Romanchuk trains at the University of Illinois alongside past Boston Marathon champ and fellow Paralympian Tatyana McFadden.
He has huge hands and a massive wingspan
Romanchuk propels himself forward with his powerful arms, with a wingspan that measures 6 feet, 10 inches, according to Runner's World. His hands are so large, as well, that he had his gloves custom-made using a 3-D printer, according to race-day commentary on WBZ.