Boston Marathon
This year's Boston Marathon was a tale of two races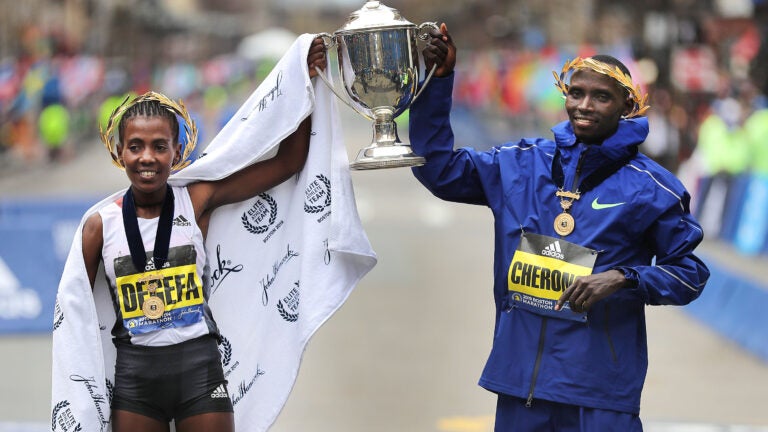 In one race, all suspense was left in the distance with many miles still to be run.
In the other, the suspense lingered until the final decisive inches of the 26.2-mile course.
If there's been a greater contrast between the men's and women's races in the recent history of the Boston Marathon, it eludes the memory and remains lost in the archives right now.
One was a runaway, the other a sprint.
The women's elite race at the 123rd Boston Marathon Monday wasn't so much a race as a coronation. Worknesh Degefa, a 28-year-old Ethiopian who had never even scouted the famous course in person, broke from the pack 5 miles into the race and turned it into a solo event. She led by more than 2 minutes at the halfway mark, and ran alone from Framingham until the she crossed the finish line on Boylston Street in a time of 2 hours, 23 minutes, and 31 seconds.
Degefa's dominance — she finished 42 seconds ahead of runner-up and 2017 Boston winner Edna Kiplagat (2:24:13) — was something to behold, an athletic achievement that demanded appreciation in part because of its absence of drama.
"I knew I have some speed, so I pushed myself at five miles,'' she said through a translator. "I knew at 35 kilometers that I was going to win.''
But that tense, exciting, down-to-the-wire, who's-gonna-win-this? drama is what turns a sporting event from appealing to irresistible — and in the right circumstances, perhaps even iconic. Monday, the men's elite race had all the ingredients for that perfect recipe.
Grand conclusions can't be drawn right now on whether Kenyan Lawrence Cherono's two-second victory over Ethiopian Lelisa Desisa will stand the test of time as one of the cherished races in Boston Marathon lore. But his victory in 2 hours, 7 minutes, and 57 seconds should rate alongside famous tight finishes such as Elijah Lagat's photo-finish victory over Gezahegne Abera in 2000, Bill Rodgers's win over Jeff Wells in 1978, and Alberto Salazar's "Duel in the Sun'' win over Dick Beardsley four years later, both of which were decided by two seconds as well.
It certainly will not be overlooked and unheralded by anyone lucky enough to witness Cherono, Desisa, and third-place finisher Kenneth Kipkemoi (2:08:07) emerge from a pack of eight runners at the 35-kilometer mark, pull away as a trio, then streak to the finish in front of a supercharged crowd down Boylston Street, the outcome uncertain until Cherono's torso hit the tape.
Cherono, making his Boston debut, pulled ahead in the final strides, passing Desisa, a winner here in 2013 and '15 who set the late pace when he burst into a sprint at the 40-kilometer mark.
"I knew it was one man's race to win,'' said Cherono, who acknowledged he wasn't sure he had enough speed to get past Desisa. "I'm so grateful. I did a fantastic job. It was nice for me.
"I was so focused, because I never [won] a major marathon. But … I was so determined, to win.''
In the women's race, Degefa's determination to win was apparent early, when she broke from the pack at Mile 5 and gradually built her lead over the ensuing miles. "I knew I had some speed, so I pushed myself,'' she said when asked whether jumping out early was her strategy.
Degefa looked over her shoulder several times over the final miles, but nobody worth worrying about was chasing her.
"I thought if we keep increasing the pace we might catch her as we reach the finish line,'' said Kiplagat, who broke from the trailing pack in a quest to make a run at Degefa with a couple of miles to go. "When I made the move, I realized the race was almost over.''
The men's and women's elite races weren't the only contrasts on the day. The weather, rainy and grim in the morning, cooperated during the elite races, with temperatures rising to the low 60s and the precipitation taking a well-timed break. The rain returned in the afternoon. It wasn't perfect, but it was better than last year's rain-drenched conditions.
Satisfying scenes seemed to be around every turn. In Hopkinton, there was former champion and Boston favorite Meb Keflezighi greeting runners while wearing a No. 14 Patriots jersey. (Bill Belichick's latest secret weapon, perhaps?). The signs near the finish line seemed to have a decided Game of Thrones theme. And the appreciation of the event, even from the elite runners like American Jared Ward (who led as late as Mile 17), was spoken again and again.
"I don't regret [leading the pack early] for a second,'' said Ward, who finished eighth — and second among American men behind Scott Fauble (seventh). "That was so fun to to lead the race. You appreciate it even as its happening.''
Degefa ran most of the race with only her own company, but the Boston rookie said it never felt that way to her.
And in saying so, she captured the spirit of the day.
"I have ran so many races, this is the biggest I've seen,'' said Degefa, "so I feel I run with all the crowd.''
In Boston, the crowd is with you, even when you run alone.