Boston Marathon
This Army veteran has run the Boston Marathon via prosthetics, wheelchair, and now a handcycle
Cedric King said he lost track of the hill count in the Newton hills and that they "kicked my butt.''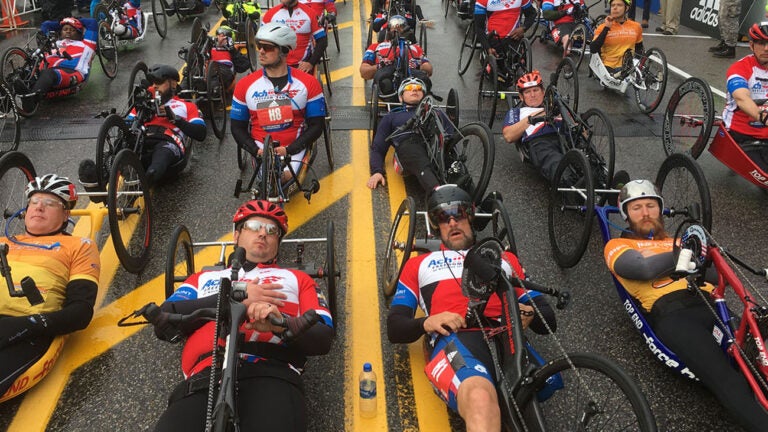 Cedric King has something to send to the Red Sox. Just a little something to add to their hardware collection: the medal from his fifth Boston Marathon, his first handcycling.
The retired US Army Master Sergeant, who lost both legs and part of his right arm and hand when injured by an improvised explosive device in Afghanistan in 2012, spent time with the Sox in February during spring training and was a guest of Tony La Russa's at Sunday's game. He drew on the struggling Sox as motivation Monday as he made his way from Hopkinton to Boston.
Although he earned his first three Boston medals running on prosthetics ("It destroys you physically,'' he said) and his fourth via push-rim wheelchair, he wanted a new challenge this year. But he underestimated the challenge he faced in handcycling, assuming the running training he did for a 10-miler last weekend would suffice.
Army MSG Cedric King crossing the Boston Marathon finish line. Damn admirable. pic.twitter.com/DQMV0FZx3e

— Il Padrino (@Famegiver24) April 20, 2015
"I've got to be honest with you — I disrespected the handcycle so bad. I did,'' said King, who finished in 2 hours, 18 minutes, 14 seconds.
King said he lost track of the hill count in the Newton hills and that they "kicked my butt.'' He said at one point he was passed by a fellow handcycle athlete who was pedaling with one hand and stuck a whistle in his mouth and waved to get the crowd pumped up with the other hand.
But King said he thought about the Sox for the entire race.
"If they're struggling just like I'm struggling, there's no reason for me to quit, just like there's no reason for them to quit,'' he said.
"This is a representation of me not quitting and them not quitting,'' he added as he held the medal around his neck. "I don't care even if you're getting your butt whopped, it doesn't give you an excuse to take a day off.''
Seven months after he lost his legs, King got his running prosthetics; he started learning to run on them the day of the marathon bombing in 2013. Watching news coverage of the tragedy on television, King decided he would somehow, someway run in the race the following year.
"And sure enough, I was there, and we ran for Martin Richard,'' said King, who is the CEO of PenFed Foundation Speakers Bureau and is involved with Achilles International's Freedom Team, which helps veterans who suffered trauma during war begin marathoning after returning home.
"This was the first time as an amputee that I did something that I didn't think I was able to do,'' he said. "For me, I will always come back to Boston for that reason right there. That is the thing that brings me back every time.
"If I'm able to be here, and I'm not somewhere speaking, this is where I'll be at, because that race right there brings out the best in people. It kicked my butt three times running, but was an eye-opener. It's a fight that you get in. You've got to duke your way out of it.''
After King finished, he saw a familiar face in the massage tent. It was Lou Ann Botsford, a 13-time medical volunteer for the marathon whom King met after his first Boston race five years ago. Botsford had been looking for King every year since 2014, when she helped him recover from running his first Boston.
"I keep coming back because I meet amazing people who change my life,'' said Botsford, a massage clinic supervisor at the Community College of Rhode Island.
"This is a special city,'' King said. "It is.''
[fragment number=0]