Marathon
With the Boston Marathon postponed, Des Linden hits the couch
"I was looking forward to going to Boston and getting another result on the board."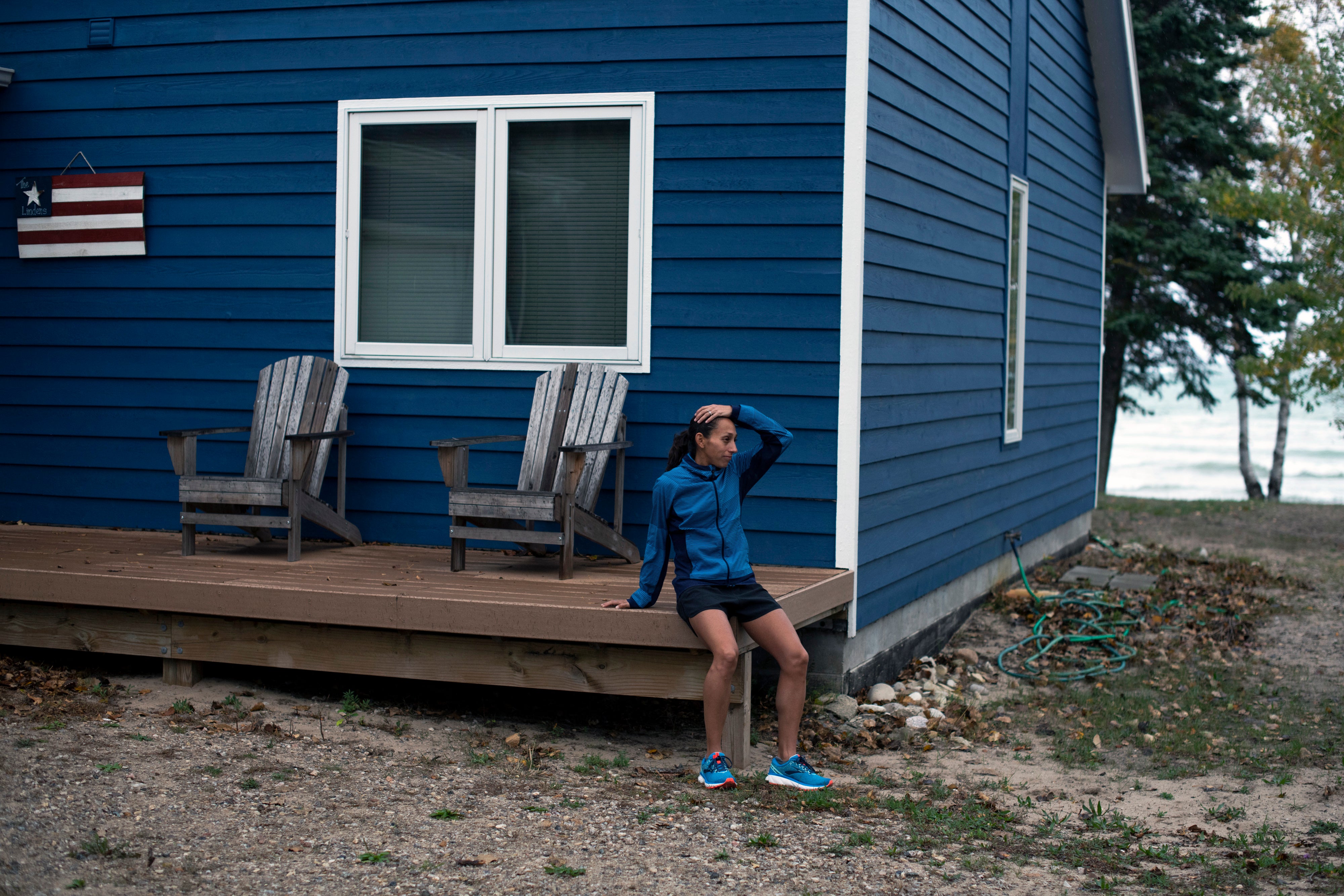 The day the Boston Marathon was postponed, Des Linden went for a run, because that's how runners deal with just about anything that happens in their lives.
Wedding day morning. Run. Death of a loved one. Run. Marathon is canceled — the one you were targeting for one of your year's major paydays and to help get over the crushing disappointment of just missing an Olympic berth at the U.S. trials. Run.
So that's what Linden did last Friday in Tempe, Arizona, where she was training for Boston. She ran 10 miles at a pace of 7 minutes 15 seconds per mile, nearly two minutes slower than her racing pace. Then she took a deep breath and accepted that the time had come, finally, for a rest.
"I have a pile of books and a cord of wood," Linden said the other day from her home in Charlevoix, Michigan, not too far from the bridge to the Upper Peninsula. Isolation is a way of life in that part of the world, not just something done during a pandemic. "I'm hunkering down."
Coronavirus has upended the lives of athletes around the globe. Olympians are hunting for places to train. Basketball and hockey players are trying to figure out how to stay in shape in case their seasons resume. Baseball players are wondering when the major league season will ever start.
Linden's change of plans is unique. She is the only woman who was among the favorites at the U.S. Olympic Team Trials for the marathon and had also signed on to run Boston just 51 days later. Most distance runners compete in two marathons a year, one in the fall and one in the spring, because their bodies cannot take the pounding of races and the necessary training more often than that.
But Linden loves the Boston Marathon like nothing else. She nearly won it in 2011, missing by two seconds, and then did win seven years later in a freezing deluge. Also, at 36, she does not have too many more chances at the six-figure checks that come with appearing in the country's top marathons. The quadrennial Olympic trials marathon does not include an appearance fee, forcing most top runners to give up guaranteed pay for a shot at Olympic glory.
Linden, though, wanted to see if running both was possible, and she essentially turned herself into a science experiment to make it happen. She had always managed her nutrition on feel and common sense, getting rid of what she refers to as "boxes and bags" (processed foods, like chips and the like) and dialing back on beer and bourbon as races approached. But this effort, two marathons in 52 days, seemed to require something different.
Working with InsideTracker, a bio-tech company in Cambridge, Massachusetts, Linden gave a sample of her blood to be studied two weeks before the Olympic trials were to be held Feb. 29 in Atlanta. That provided a baseline to understand where she was in terms of nutrition and hormones heading into the race.
Her glucose level was a little high, but that was to be expected given that she was eating a lot of energy gels in training. Her iron was a little high, too, but not worryingly so and certainly not high enough to blame for her finishing just 11 seconds short of making her third Olympic team.
Linden gave another blood sample four days after the race, so she could understand the beating her body had taken and what she needed to do to get it back into shape. The chemistry suggested she was recovering well.
The protein that measures her inflammation, which should have been high after a 2:29 marathon, was just beyond her optimal zone. Eating leafy greens and sunflower seeds would take care of that. Her iron was low, too, which called for pumpkin seeds, rich meats, octopus, believe it or not, and shellfish, though not shrimp. Her B12 level was low, too. Fortified cereals and nondairy milk products could help there.
Overall, though, the scientists told her she was recovering well. And she was: Two weeks after the Olympic trials, Linden put in a 100-mile week.
"Looking at the numbers, this was not completely insane, like my coach said it was," Linden said. "We could figure it out."
And then the discussion became moot. The coronavirus decimated the spring marathon season, forcing all the big races to shift to the fall and sending Linden to the couch in northern Michigan.
"Now I am kind of processing finishing fourth again," she said. "You're only as good as your last result, and I was looking forward to going to Boston and getting another result on the board."
Also, usually she and her husband, Ryan, have a big trip planned after a significant marathon — India, Bali and Hong Kong have been recent destinations. Foreign travel isn't in the cards this time.
Instead, she has her couch, her fireplace and Robert A. Caro's "The Power Broker," over 1,300 pages about developer Robert Moses and his misguided approach to New York.
The Boston Marathon is now scheduled for Sept. 14. Linden is also eyeing the New York City Marathon on Nov. 1. That would be two marathons in 49 days. Yes, a little nuts. Or maybe not.
For now, there are some treats. A few more bad things in the cupboard, she said, some guilt-free beer and bourbon rather than pumpkin seeds and nondairy milk.
"My vice is drinks with dinner," she said. "It feels good to be home."