Boston Marathon
On Marathon Weekend, Des Linden ran 26.2 miles, and then some, in New York
The 2018 Boston Marathon champion completed the final day of her "calendar club" challenge in New York.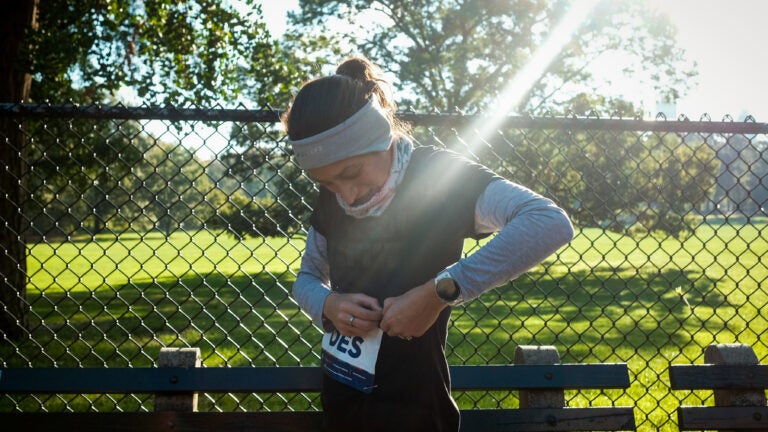 NEW YORK — This was not the way Des Linden was planning to finish a marathon in Central Park this past weekend, when she and 50,000 other runners were supposed to run the New York City Marathon.
But there she was Saturday afternoon, crossing a finish line in front of Tavern on the Green, where she has finished marathons so many other times. There were no bleachers filled with screaming fans, no finish-line towers or balloon arches, even though on this day she was finishing something wild that she had never done before — and most likely won't ever do again.
"Legs are definitely shot," Linden, 37, said near the end of what would turn out to be a 31-mile day.
As with most other mass events scheduled for the final nine months of the year, 2020 had other plans for the New York City Marathon. But Linden wanted to come to New York this past weekend anyway. And she wanted to run.
"It's a tiny slice of normal to be in New York at this stage of the year," she said.
Without races, Linden was on the same playing field as other mere mortals who were missing road races. She was bored and in search of a challenge. And so October was the month Linden decided to create a "calendar club" — running as many miles as the date on the calendar.
The first few days of a calendar club challenge are pretty easy, but the final third of the month, when every day requires at least 20 miles, is brutal. You can break up the daily miles into segments and go as slowly as you like, but it still requires following up one ultramarathon after another for four days.
If you do the math, it's 496 miles for the month, including 196 miles during the final week.
Linden had never run more than 130 miles in a week before the third week of her challenge, when she ran nearly 150. She ran 18 miles at a pace of 7 minutes, 3 seconds, 19 miles at a 7:08 pace, and 22 miles at a 7:14 pace.
Day 26 happened in a heavy, freezing downpour. "Boston 2018 weather," she said. She decided to ease back (a relative term when you are the 2018 Boston Marathon champion) and break up the runs — she ran 16 miles in one stint and 10 in another. The next two days, she went 21 miles in one run and 6 in another, and then 22 miles followed by 6 miles. On her Instagram feed, bright smiles gave way to pictures of Linden with her feet up, her eyes weary with exhaustion.
For Day 31, she wanted something special. She wanted to run in New York. She arrived in the city from her home in northern Michigan on Friday evening, and by 8:40 a.m. Saturday, with the temperature hovering a little above freezing, she had begun a socially distanced 5-kilometer race in Central Park.
When that was done, she ran 2 miles down to Tavern on the Green and began her next feat: a marathon on the course that the first New York City Marathon followed 50 years ago.
Like a lot of runners of varying abilities, Linden has spent the pandemic hunting for challenges and motivation. She loves to run and has been racing since she was a child. She sets goals like the rest of us have breakfast, something that just happens out of habit.
Earlier in the year, she wanted to pull off a rare marathon double that required a seven-week turnaround between the Olympic trials marathon on Feb. 29 and the Boston Marathon on April 20. She managed the first leg of that, coming in a heartbreaking fourth place at the trials. But in March, the Boston Athletic Association postponed the 2020 race until Sept. 14.
She decided to focus on a different double — yet another seven-week turnaround between Boston and the New York City Marathon. By the end of June, both had been called off.
For weeks, Linden tried to figure out what might motivate her to train on the rolling dirt roads near her home. She thought about trying to do a "fastest known time" on a well-known trail run, or maybe an ultramarathon, since races longer than the marathon distance, with small fields, were still on the calendar.
Then she saw that a friend was pursuing his own month of self-imposed punishment during July. She thought it was a pretty hard-core endeavor and might be a good fit for her during a year when the pandemic had thwarted her hard-core endeavors.
Linden's challenge — #RunDestober, she called it — was born.
On Day 30, one of her hamstrings felt as if it were tied in a knot, but the end was in sight — and 24 hours later, she was doing loops in Central Park rather than running in the solitude of the northern Michigan countryside.
"This is the most people I have seen in six months," she said roughly halfway through her run.
Every few miles, a pack of runners would notice exactly who was running past them. "Go, Desi!" they yelled. She hasn't heard that much lately. It never gets old.
As she approached the finish line at Tavern on the Green, a few people from New York Road Runners appeared with a small tape. Nearby, other runners who had just finished their own marathons at the 1-foot-wide line the organizers had laminated to the road were snapping selfies to memorialize their accomplishments.
It's not clear when Linden will race again, a nerve-wracking circumstance with the clock ticking on her career. For one day though, she had reached a goal she had worked extremely hard for, grinding out mile after mile in New York, even if, in a gracious gesture to her running companion, the 7:45 pace was two minutes slower than her usual marathon speed.
When it was over, there was Champagne, the first slug sipped from her shoe and then many more from the bottle. There was something to celebrate, and knowing Linden, there was probably going to be whiskey in her future.
As she had put it, a small dose of normal during a very abnormal year.
Get Boston.com's browser alerts:
Enable breaking news notifications straight to your internet browser.