Boston Marathon
The BAA is planning a 'smaller' in-person Boston Marathon this fall
The news comes as the organization announced plans to open up its "virtual" marathon to 70,000 registrants on a first-come, first-serve basis.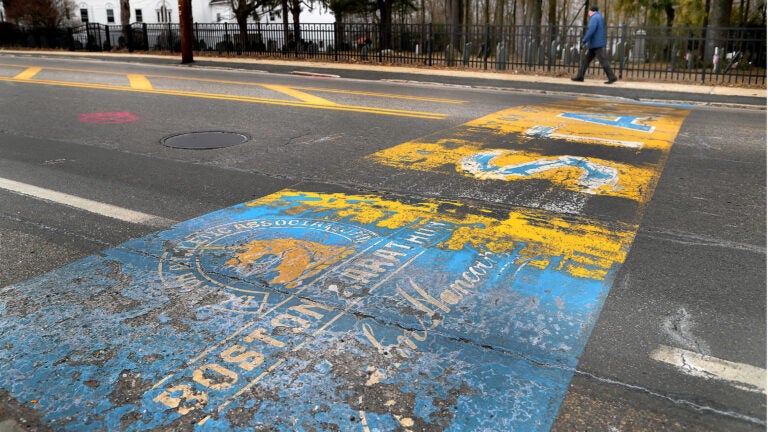 The Boston Athletic Association announced Tuesday that the 125th running of the Boston Marathon this fall will be open to more participants than ever before.
However, the vast majority won't be running the Oct. 11 race from Hopkinton to Boylston Street.
While announcing plans for an expanded virtual marathon, BAA officials revealed Tuesday that they're planning to downsize the traditional race, which was tentatively pushed back to Oct. 11 due to the COVID-19 pandemic. Officials said the in-person field size has not been finalized, but that it "will be smaller than previous years in order to enhance participant and public safety."
In recent years, the marathon — which was initially postponed and then canceled last year due to the pandemic — has consisted of upwards of 30,000 participants.
BAA officials said Tuesday they will try to keep the competition of the in-person field "as close to previous years as possible, with approximately 80% of the field being comprised of qualified entrants and 20% being comprised of invitational entries, including charity program runners."
Additional details about the in-person race, "including registration dates, COVID-19 safety measures, and participant requirements," will be released in the "coming weeks," the BAA said.
Road races are in the second step of Phase 4 of the state's reopening plan, along with bars, nightclubs, and amusement parks. And it's unclear what restrictions or capacity limits they will be subjected to when Massachusetts moves forward to allow such events (some neighboring states, such as New Hampshire and Rhode Island, have allowed smaller races with social-distancing measures in place, such as staggered start times).
Last week, Gov. Charlie Baker announced that Massachusetts will enter the first step of Phase 4 of the reopening plan on March 22, allowing large arenas and stadiums to reopen at up to 12 percent of the maximum occupancy.
The news of the smaller in-person race Tuesday came as the BAA announced that a "virtual Boston Marathon" would be open to 70,000 registrants — more than double the size of the usual in-person field — on a first-come, first-serve basis.
"No qualifying time is required," says the BAA's website, which says anyone over the age of 18 can enter to participate in the virtual race.
Registration for the virtual marathon will open through the BAA's Athletes' Village and will take place separately from the in-person registration (dates have not yet been announced for either).
The BAA similarly held a virtual marathon after last year's race was canceled, allowing registrants to map out their own 26.2-mile run and receive an official finisher's medal if they completed it within six hours.
However, this year's virtual option won't be subject to any time restrictions. According to the BAA, participants simply need to cover 26.2 miles in "one, continuous attempt" in order to get a medal.
After last year's race was canceled, local officials asked runners to stay off the marathon route from Hopkinton to Boston due to safety concerns. And the BAA is asking virtual participants to again follow local and state guidelines "pertaining to physical distancing and the coronavirus pandemic within their communities."
"The Boston Marathon route will not be closed to vehicular traffic nor will support personnel be stationed along the way for the virtual race," BAA spokesperson Kendra Butters told Boston.com in an email. "We will continue to reinforce guidance that is in place from our local, city, and state partners."
Anticipating a reduced field for the in-person Oct. 11 marathon, BAA CEO Tom Grilk said the expanded virtual race is a way celebrate and honor the 125th running of the historic race.
"For the first time in our history, most everyone will have the opportunity to earn a Unicorn finisher's medal for every B.A.A. race in 2021—no matter whether they choose to walk or run," Grilk said.
Get Boston.com's browser alerts:
Enable breaking news notifications straight to your internet browser.