Boston Marathon
Why a world record set in the Boston Marathon wouldn't officially count
There are two factors that keep Boston off official lists.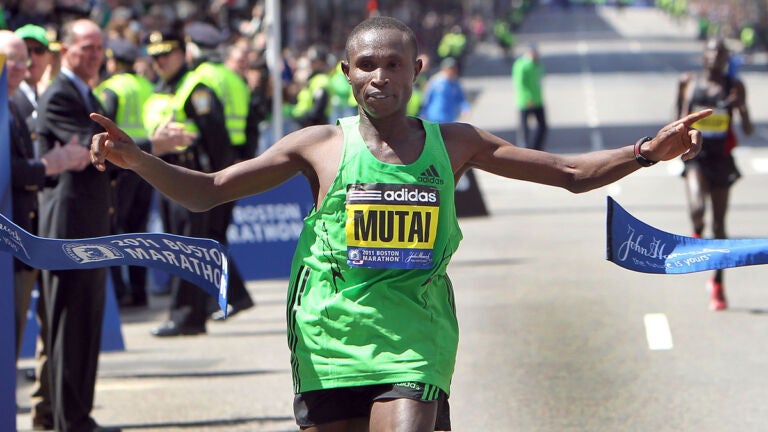 No matter how fast the leaders of the Boston Marathon reach the finish line, their time will not be a world record. Not officially, anyway. Thanks to the International Association of Athletic Federations, such an achievement is literally impossible.
Established in 1990, the IAAF marathon rules require several factors for a world record that the Boston course fails to meet. First, Boston is a "point-to-point" marathon, meaning that it travels from one location to another over the course of the race. This is unlike many other notable marathons (and Olympic versions), which travel in a loop. It violates a section in the IAAF's rule 260.21 which states:
The start and finish points on the course, measured along a straight line between them, shall not be further apart than 50% of the race distance.
The second issue with Boston's course is that it changes elevation in a dramatic way. Despite the presence of several prominent hills, Boston runners drop 459 feet (140 meters) over the 26.2-mile route. This violates another IAAF rule:
The overall decrease in elevation between start and finish shall not exceed an average of one meter per kilometer.
Boston's course, for the record, changes at an average of approximately 3.33 meters per kilometer.
Why does this matter? Because running in a single direction (Boston's start in Hopkinton is 25 miles away from its finish on Boylston Street) can see a competitor receive wind assistance. This is also a phenomenon that effects sprinting records. Changes in altitude can also throw off the standardized conditions that are required for a marathon world record.
The most prominent example of this came in 2011, when men's winner Geoffrey Mutai smashed the then-world record, running a 2:03:02 marathon in Boston. His time, because of the IAAF's rule, was not counted officially. And, as if to prove the point of the IAAF rule, Mutai was the beneficiary of a helpful south-westerly wind.
According to the Boston Athletic Association, such milestones are considered "world's best," but not world records.
Get the latest Boston sports news
Receive updates on your favorite Boston teams, straight from our newsroom to your inbox.