Boston Marathon
Headed to watch or run in the 2021 Boston Marathon? Here's what doctors say you should know about your risk of COVID-19.
"We still have to be mindful—we still have to take certain precautions and think of others."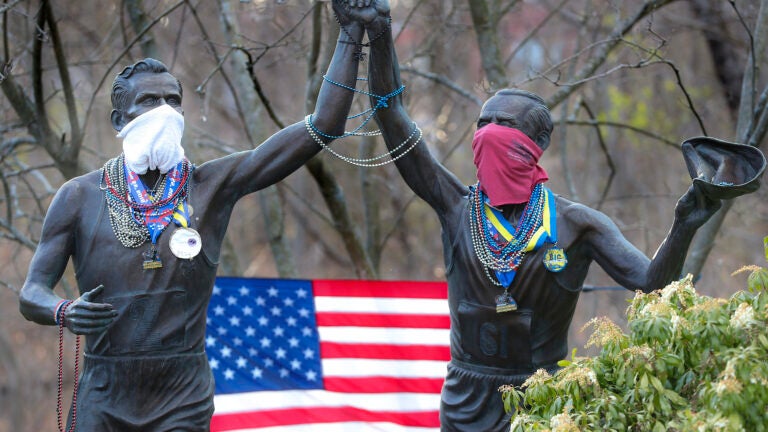 For the first time since 2019, runners from around the world will race the 26.2 mile course of the Boston Marathon from Hopkinton to Boylston Street as spectators gather on the sidelines to cheer.
The 2021 marathon is taking place six months later than its typical start in April because of the coronavirus pandemic, and organizers of the race have put in place a number of measures to help prevent the spread of COVID-19, such as hosting a smaller field of in-person runners. Participants in the race also must show proof of vaccination or a negative COVID-19 test ahead of reaching the starting line, and runners will be required to wear masks on race buses and in other indoor settings connected to the event, such as medical tents.
In addition to COVID-19 guidelines for runners, the Boston Athletic Association has some pandemic-related rules for spectators, too. Organizers are asking anyone experiencing symptoms of COVID-19 to stay home and are "strongly" encouraging spectators to get tested for the virus ahead of traveling to Boston. Individuals are being asked to wear masks when social distancing isn't possible during the event, and officials have said there will also be no kissing of strangers at the Wellesley scream tunnel, as has been tradition.
But even with those measures in place, we wanted to know — how should runners and spectators assess their risk for COVID-19 related to the race? We asked four local doctors, and they broke down for us what everyone should know ahead of Marathon Monday.
'Any of the outside activities should be fine'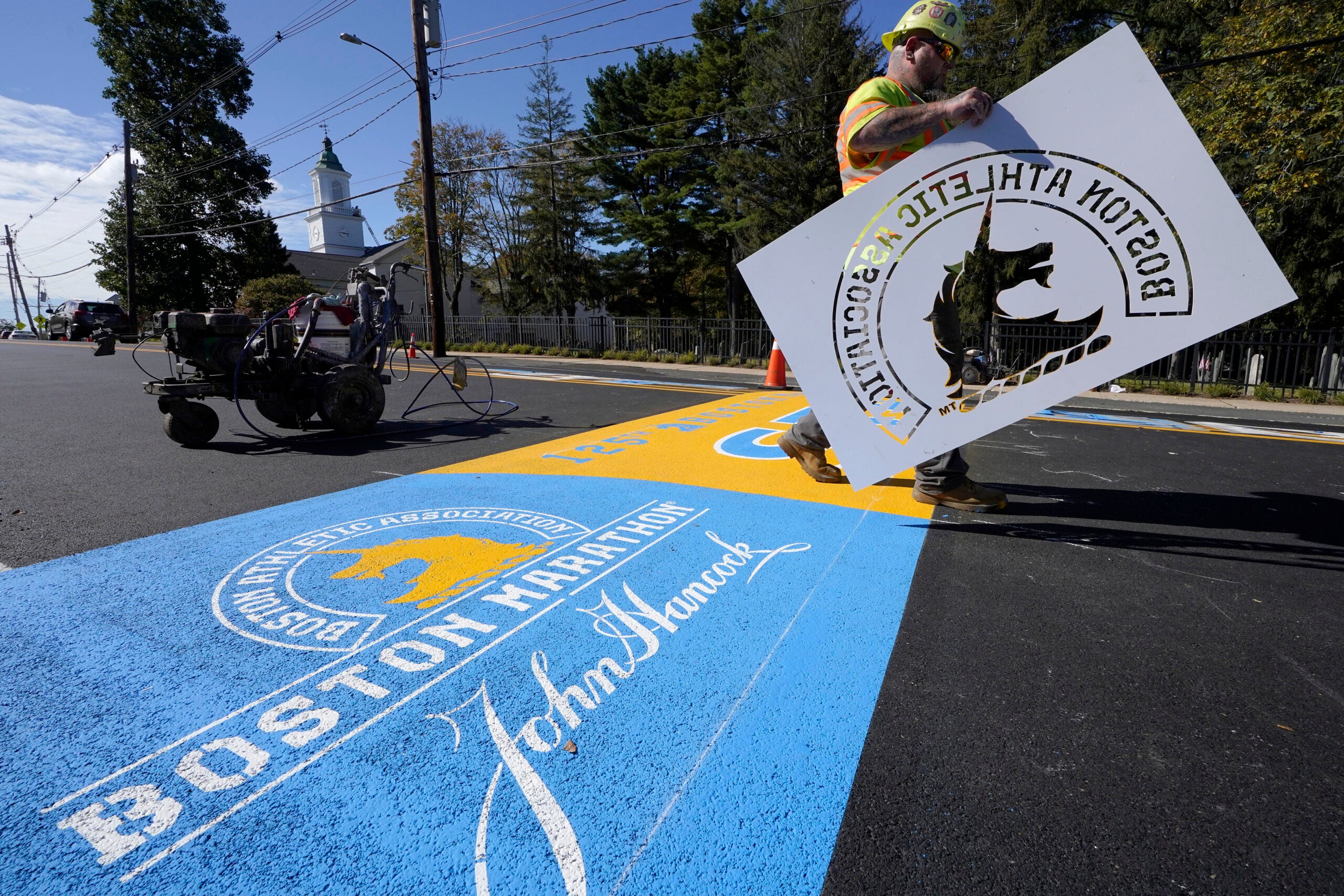 The doctors were in agreement that the fact that the marathon takes place outdoors greatly lessens the risk of COVID-19 transmission for runners and spectators alike.
"Outdoor activities are infinitely safer," Dr. Ingrid Katz, an associate physician at Brigham and Women's Hospital, told Boston.com.
The natural air currents should readily disperse any potential virus aerosols, according to Dr. David Hamer, a professor of global health and medicine at Boston University's Schools of Public Health and Medicine and an attending physician in infectious diseases at Boston Medical Center.
"If there are areas inside — tents or elsewhere — where there's likely to be a crowd gathering without masks on and where there's poor air circulation, there could be a potential risk," he said. "But certainly any of the outside activities should be fine."
Being outdoors provides an important added layer of protection, especially when you may not know the vaccination status of the people around you or be in control of physical distancing, Dr. Cassandra Pierre, an associate hospital epidemiologist at Boston Medical Center and a member of the Boston Marathon COVID-19 Advisory Committee, said.
But the doctors agreed that if you find yourself in a crowd, even outdoors, you may want to treat that as a different scenario than being alone outside in a wide open space, since the risk for COVID-19 goes up if you're in a crowd of strangers for a long period of time.
"If you're standing very up-close to people you don't know, you might want to consider wearing masks," Dr. Louise Ivers, executive director of Massachusetts General Hospital Global Health and interim head of MGH's Division of Infectious Diseases, said. "I think that's not an all or nothing — we have to be sensible, we have to try to be unmasked in the places where we can. But if you're shoulder-to-shoulder in a crowd of people and you don't know anyone and it's tight and up-close, you might want to consider wearing a mask in those circumstances. I certainly would myself."
If you're four to six feet away from people you don't know outside, Ivers said you don't have to wear a mask. But she said individuals should use their best judgment about how close they are and what they know about the people around them — if they're with people whose vaccination status they know or if they are with strangers.
"We do know of course that people who are fully vaccinated are still capable of being infectious with the virus and in some cases of transmitting the virus," she said. "And we also still have a large population of people who are not eligible to be vaccinated, especially in regards to young children. So we still have to be mindful — we still have to take certain precautions and think of others."
But generally speaking, the experts agreed, outdoors is a good scenario and presents lesser risk.
"I think all the things that have been put in place are very thoughtful," Pierre said. "But I also think this is occurring against the backdrop of declining COVID-19 positivity and case rates across the nation and in Boston. And so that also provides us with a little bit more reassurance."
What runners should know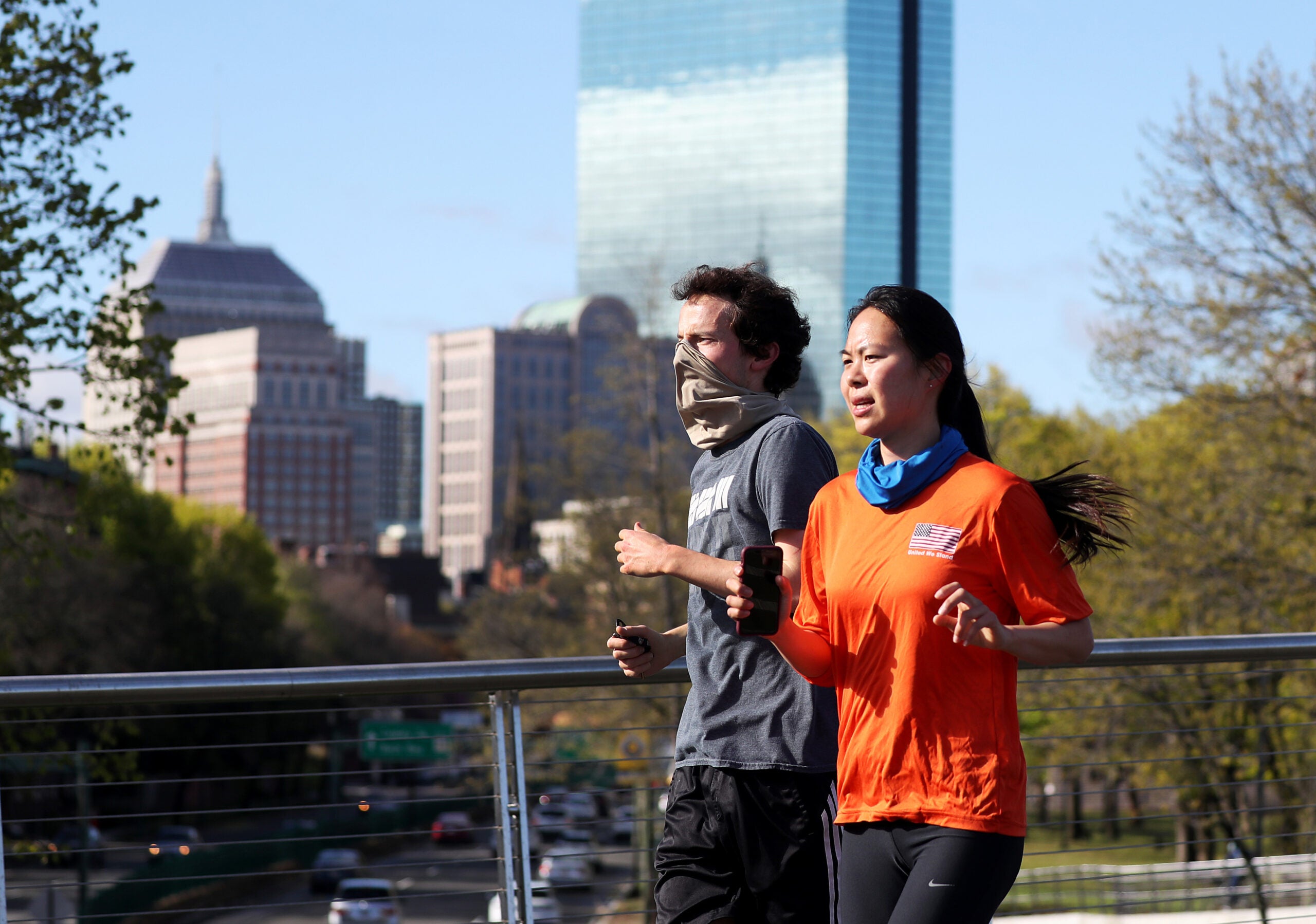 The longer you're exposed to a potentially infectious person, the higher your risk for contracting the virus, which is why Katz said is it's easy to imagine that running a longer race like a marathon could result in a situation where a pack of runners racing together could be at risk if someone in the group has COVID-19.
But the doctor said the BAA is addressing this risk by requiring either proof of vaccination or a negative test result and also by decreasing the number of people allowed to run, which allows for more space on the course.
"Marathons perhaps are a little more risky than other running races because they're longer," Katz said. "People are going to be in groups running together longer. So if runners really want to be careful, they can just put a little distance between them and other runners. But again, you're going to be in a field of people who are either tested negative or have been vaccinated. So the risk to the runners to acquire COVID from one another is actually, I think, quite low."
Katz said she's not concerned at all about the potential risk of exposure to runners from the spectators lining the course.
She and the other doctors agreed that the situations where runners face higher risks of transmission are before and after the race, not necessarily during it.
Runners should be on guard getting to and from the race and attending events related to the race, particularly if they are indoors, Hamer said.
"They should be really cautious and mask while indoors," he said.
Runners should be careful after the event, too, as they celebrate their achievement with family and friends, Katz said.
"Let's say they bring family members who are not vaccinated or have not been tested, they want to go out and party with their friends after the marathon — it's all of these sideline activities where I could see transmission rates going up," she said. "But from the actual event itself, I think the Boston Marathon has done a phenomenal job in thinking through the safety of the athletes."
What spectators should know
The first thing Pierre said spectators should do is check the weather for the race.
In the event of rain, you should identify a safe space for you to watch or monitor the race, where you can maintain physical distancing, and — if indoors — where people are wearing masks consistently.
"The safest place again would be outdoors if you can do it, and you should bring a mask with you just in case people are crowding you and you can't physically distance," Pierre said. "You're going to want to put that mask on even if you're outdoors to protect yourself and maintain some safety because you really don't know the testing or vaccination status of the people alongside you in many cases."
And for anyone who is immunocompromised or at high risk for severe disease for COVID-19, it is best not to be in crowds even if they are outdoors, Hamer said.
"If they really want to be out there, then wearing a mask even when outside would be a wise precaution," he said.
For gatherings indoors, such as watch parties, the doctors agreed that you should still follow the guidance from the Centers for Disease Control and Prevention, keeping it to your bubble or people you regularly socialize with and whose vaccination status — or testing status — you know.
And if there's anyone in your group or bubble watching the marathon in-person who is immunocompromised or at high risk, Katz said everyone should be masked up to help keep that individual protected.
"It doesn't mean you can't have fun, but you've got to be extra cautious," she said.
Pierre said, in her opinion, the "highest zone of risk" are indoor settings along the marathon route where there might not be as good ventilation and people may be crowded in, eating and drinking and cheering watching the race.
If you're not eating and are in an indoor location, the doctor recommended keeping your mask on, especially if there isn't good ventilation and it's crowded.
"Respiratory droplets might be flying, people might not be wearing masks, they may not be physically distanced, and you may not know their vaccination status," she said.
If you're looking for the lowest possible risk as a spectator, that would mean staying home or finding a very isolated spot along the route where you feel you can physically distance away from any potential respiratory droplets from strangers cheering on the runners, Pierre said.
"If people are planning to go along the route, I would say it's potentially safer than it was a few months ago, especially with the declining rates of COVID in the state," she said. "But we still need to know how to protect ourselves. So bringing that mask with you in case you're hemmed in, and if you're feeling unsafe, extricating yourself from the situation and trying to physically distance would be the best things if you're planning on being there in-person."
Even though Massachusetts has high rates of vaccination, Katz pointed out that people will be traveling from all over the country and world for the Boston Marathon.
And while the runners may be screened to participate — spectators won't be.
But as long as you keep a healthy distance between yourself and others, outdoors you'll be at "significantly lower risk" than if you gather inside, she said.
"If you're with your little pod and you're keeping a healthy distance, six to 10 feet, between you and another group of people, I think that would be very safe," Katz said.
Ivers emphasized that having an understanding of how the virus is transmitted means you can take the necessary precautions to protect yourself by social distancing or wearing a mask if you are too close to people whose vaccination status you don't know.
"If somebody was standing right beside me and shouting a lot at the top of their voice, I would step back a few feet, I would have my mask on, I would try to make a little bit of distance," she said. "But I think it's good for our wellbeing and our communities and our culture to be doing the things that we can do, taking on the mitigation steps that we know about."
What everyone should know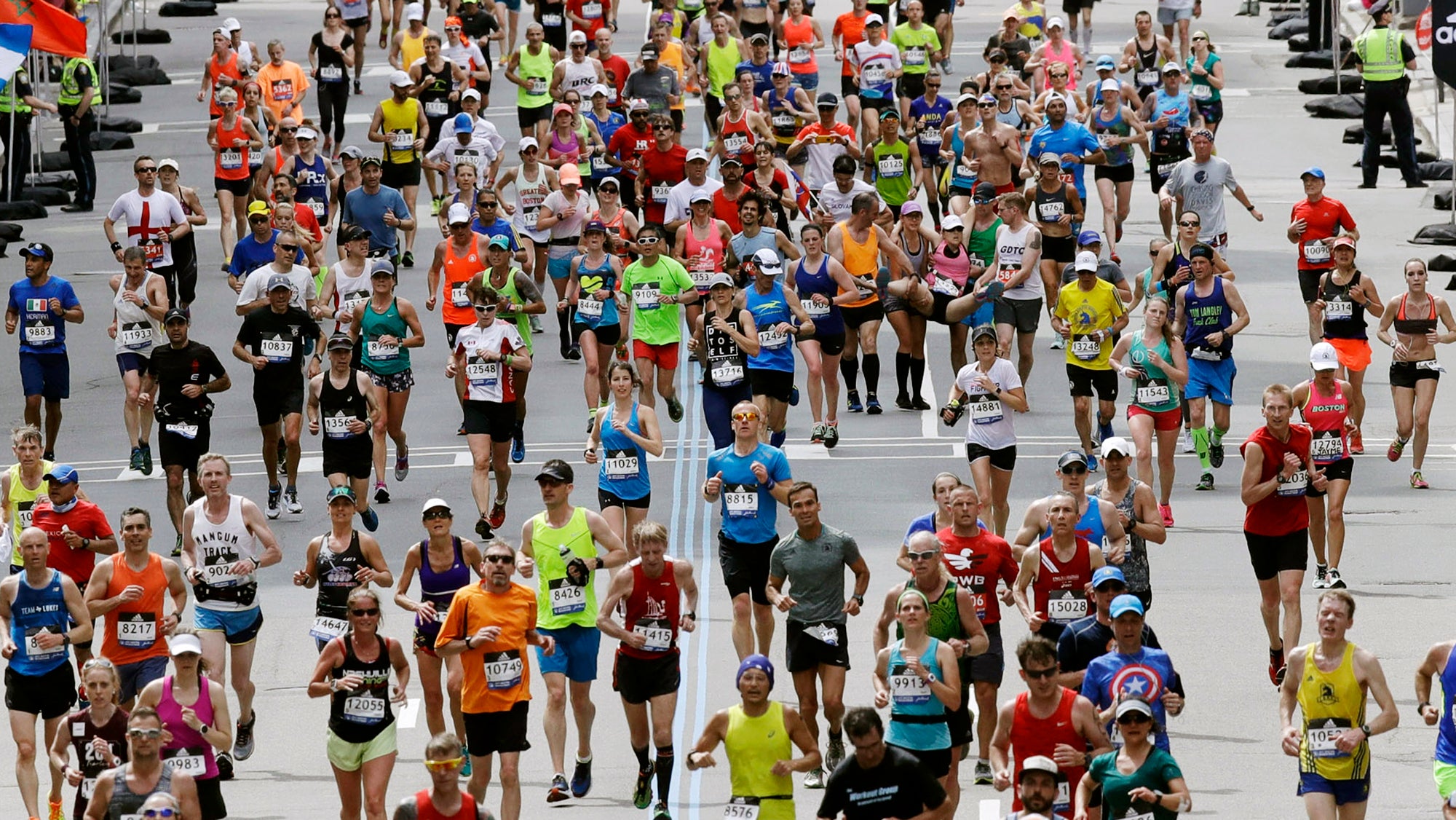 Katz stressed that runners and spectators alike should use common sense in assessing the risk of the ancillary events and gatherings related to the race.
"People are flying in from all over, they're going to be going out to bars afterwards, maybe to celebrate — OK that's a high risk activity," she said. "So you may be wanting to think about the parties that are indoors where people will be eating and taking off their masks."
Be especially careful if you're considering celebrating indoors.
"Maybe have a beer outside — because the indoor exposures are much riskier," Katz said.
Pierre said people should still hold back from having the kind of no-holds-barred parties and celebrations they might have had pre-pandemic, especially if alcohol is involved.
"You have to be maskless to drink, but also it decreases inhibitions including around infection prevention risk," she said. "So I hate to be a buzzkill as much as I want to support what people want to do within reason … I would say this is probably not a good time to have a blowout Boston Marathon party."
All four of the doctors emphasized that vaccination provides the best protection for runners, spectators, and the general public, and they urged anyone who hasn't already gotten doses of the inoculation to do so.
Not only will being vaccinated lower your risk significantly in both indoor and outdoor spaces, Pierre pointed out it will also help lower your anxiety about contracting COVID-19.
"We still need layers of protection, but that is definitely the most powerful thing that you can do to keep yourself protected while enjoying the event," she said.
In the days after the race, the doctors said anyone who has participated as a spectator or runner should get a COVID-19 test if they develop symptoms of the virus.
"Every person, no matter what they've been doing in Boston who is having symptoms that are concerning or consistent with COVID-19, regardless of whether they were at the marathon or not, should be getting a test and following the general public guidance," Ivers said.
If you don't have any symptoms and are vaccinated, but still think you could have been exposed, getting a test may be a good idea, especially if you have someone in your household or who you work with who is vulnerable.
"You want to weigh the pros and cons," Katz said. "If you're about to go see your grandma and you're worried, you can get a test, you don't have to be symptomatic. But otherwise, unless you're going to be in a potentially high risk situation, I don't know that people necessarily need to be getting additional testing."
If you are going to get tested, the ideal time to do so if you haven't already developed symptoms is five days after the potential exposure, Pierre said.
"You're not being a hypochondriac if you're in a space where you can't physically distance and you feel like you're with higher risk people or people are symptomatic around you, to go ahead and get tested," she said. "It's perfectly within your rights to do so."
If everyone takes the right precautions for the race and viewing it, the doctors said they're hopeful that the Boston Marathon can occur without contributing to any particular increase in cases in the area.
"If people are able to take the steps and embrace them as part of the reality of the moment, then we can still have an event with the least possible impact on the numbers," Ivers said.
Several of the doctors stressed the importance of engaging in physical activities that are safe since the pandemic has cut off many opportunities for social interaction.
"Outdoor activity is important for people's mental health," Katz said. "We have to be thinking about people's holistic health and wellbeing. And in this case, I think they're doing a phenomenal job screening the runners. So just be careful about indoor ancillary activities outside of that and have fun."
Newsletter Signup
Stay up to date on all the latest news from Boston.com