Boston Marathon
Why elite athletes still chose Boston during an unprecedented year of fall marathons
An unusual schedule could also contribute to unpredictable results.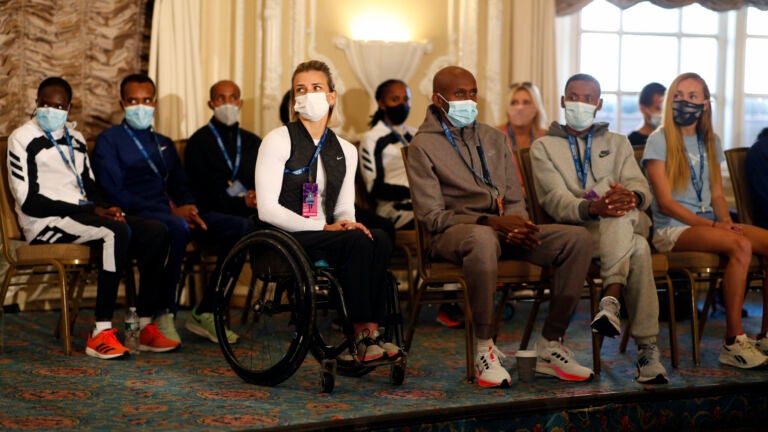 As Boston Athletic Association CEO Tom Grilk addressed the media at Friday's press conference inside the ornate ballroom of the Fairmont Copley Plaza Hotel, he was flanked by the impressive sight of the 2021 Boston Marathon's elite field.
"This year," Grilk proudly noted, "we have one of the strongest professional fields we've ever had with 140 athletes and 13 champions."
It's an achievement for BAA organizers to have assembled such a talented group, given that competition among the six World Marathon Majors for elite athletes has probably never been greater.
The circumstances of the 2021 schedule, and what it meant for elite athletes.
Because of the ongoing COVID-19 pandemic, the schedule has shifted not only for the Boston Marathon — which is set for its first October edition — but for several of the other majors as well.
Starting with the Berlin Marathon (which was held on Sept. 26) and ending with the New York Marathon on Nov. 7, all six World Majors will be run within a matter of six weeks. That compares with the usual yearly schedule:
Tokyo: Late February or early March
Boston: April
London: April
Berlin: September
Chicago: October
New York: November
The effect of such an unusually crowded period is that — with the possible exception of Des Linden, who has said she will try to run both Boston and New York — athletes have had to choose only one Major Marathon to run in 2021. This differs from their usual timeline.
"Ideally you do two a year with six months in between for buildup," explained Jordan Hasay. The 30-year-old has finished third in Boston on two occasions. The first time she did so, in 2017, Hasay then finished third in Chicago six months after Boston, a perfect example of spreading multiple fitness peaks over the course of a year.
But with all of the majors happening in just 42 days, regular planning has been impossible. Instead, athletes simply chose a lone 2021 major.
What athletes said about why they chose Boston.
One of the unique aspects of the Boston Marathon has always been the elevation changes in the course. It's such a pronounced attribute of the race that it's actually a reason why a world record time run in Boston wouldn't officially count.
But the unusual nature of Boston's course is also a distinct characteristic that's helped attract elite athletes because of the type of race it creates. Instead of simply setting a metronomic pace on a flat course, athletes running through the Newton hills have to be more tactically astute as they compete more directly with each other.
"The tactical part is one aspect, but it's the hills," said New Zealander Jake Robertson. "I trained on that terrain all week long back in Kenya and Kenyans have told me that I'm very strong on hills."
Boston organizers also leave elite athletes to race on their own, and at a tempo of their choosing.
"One of the big reasons I chose Boston is there are no pacemakers," noted Parker Stinson, who finished 11th in the 2019 Chicago Marathon and will be making his Boston debut. "It allows for a little bit more of a true competitor race. A tactical race, instead of just shooting for time."
Hasay also noted that "the hills are really suited to me," explaining also that she likes the specific start time given to the different fields of competitors.
"I really have enjoyed that in the past because it's more of a race rather than a time trial," said Hasay.
Naturally, as 2021 is the 125th edition of the Boston Marathon, each athlete also affirmed the prestige of the event as a reason they wanted to come.
"Boston is a really big race," said Bruktayit Eshetu of Ethiopia. "I came in 2019 but it wasn't a good race, so I wanted to try again."
For a two-time Boston winner like Lelisa Desisa, it was about going where he felt comfortable.
"You know I've done many races here, and I have my best results here," said the 31-year-old Ethiopian. "I like it here, so I selected here."
And for at least one athlete, the timing of a fall Boston Marathon is actually ideal. Minnesota-based Dakotah Lindwurm said the one-in-a-lifetime chance was too good to pass up.
"This is a really unique — and probably the only — opportunity I'll have to train through the summer for Boston," said Lindwurm. "And I really wanted to give Boston my all, and that's about the only way to do it."
What the 2021 schedule could mean for the outcome in Boston.
One aspect of the unprecedented slate of fall marathons — and the pandemic-related cancelations of 2020 — is that many athletes haven't raced in a major in almost two years.
As Hasay pointed out, this could have some fascinating implications for the race itself.
"Everyone's schedule has kind of been strange because most of us would've had a spring marathon and then a fall, but no one had a spring marathon," said Hasay, "so it's kind of an unknown what people have done for the rest of the year going in.
"Usually you could say, 'Oh, they did this in their spring marathon,' and then you kind of have an expectation," Hasay added. "So that's why it's actually interesting with the women's field, because a lot of us haven't raced in a few years. You just don't know where anyone's at."
Get the latest Boston sports news
Receive updates on your favorite Boston teams, straight from our newsroom to your inbox.