Boston Marathon
'I'm the best downhill runner in the world': CJ Albertson explains his unique Boston Marathon strategy
"You got to play to your strengths."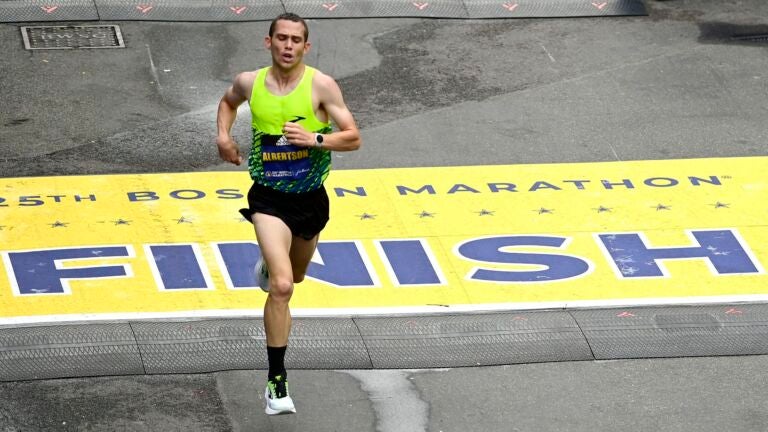 For over 20 miles, C.J. Albertson was the leader of the 2021 Boston Marathon.
And for the majority of those miles, it wasn't close.
Albertson — a Fresno, California, native and 50K world-record holder — took off from Hopkinton at near-record-setting pace, quickly opening a lead of more than a minute over the pack of fellow elite runners. For several miles, his lead was more than two minutes; the rest of field nowhere in sight.
On the mostly downhill 26.2-mile course, even he was surprised how fast he started.
"My saying to myself is that I'm the best downhill runner in the world, and I honestly wholeheartedly believe that," Albertson told WBZ after the race.
"I wasn't running hard; I'm just really good at downhills," he added.
Uphills are a different story.
"I'm not great at those," Albertson said.
It was at Heartbreak Hill in Newton where Albertson was eventually caught by the pack of elite runners, including men's winner Benson Kipruto.
However, his strategy — which gave him a clear lead for three-quarters of the 26.2-mile race — also put him in a position to catch up with the pack over the final six miles of the course.
Albertson ultimately finished 10th with a time of 2:11:44 — just seconds from his personal record and good enough for $5,500 in prize money.
Running the Boston Marathon for the first time on his 28th birthday Monday, the Clovis Community College cross country coach considers it a "nice little gift."
"I knew that, if like I came back with the pack, anytime you hit a hill, I'd just get dropped and there was no way I'd be competitive at all," Albertson told WBZ.
Albertson said he wanted to run "around 19 minutes for the first four miles," which has some of the most dramatic drops in elevation. He ended up doing it "a little quicker than that."
"I didn't realize how much downhill there actually was," he said, later adding, "you got to play to your strengths."
"I knew I wasn't going to be the best in the field up the hills, so I just chilled and tried to get up them," Albertson said.
"I knew on the downhills I could just make up a ton of time, or put a ton of time on people, which I did."
Newsletter Signup
Stay up to date on all the latest news from Boston.com