Boston Marathon
What Manuela Schär said about holding off 5-time Boston winner Tatyana McFadden
"Definitely she was the biggest competitor."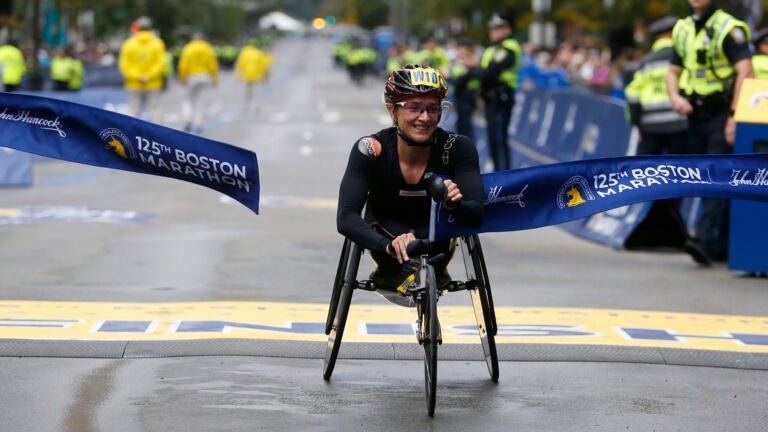 Manuela Schär won her third Boston Marathon Monday, defending her 2019 title in the women's wheelchair division to finish in an unofficial time of 1:35:21.
"It's so good to be back to normal, racing with a crowd," Schär, 36, told WBZ. "It helped me so much today because I struggled in the first half, I couldn't really find my good rhythm. It's just amazing to be back in this beautiful city and to be able to race again."
The Switzerland native set a course record in 2017 with a time of 1:28:17. With marathons canceled across the world during the pandemic, Schär says the return to racing has made her feel whole.
"It was difficult, but it was difficult for everybody," she said. "I had great people around me who helped me with possibilities to train. I missed racing a lot, I missed the traveling. It's just good that it finally feels like a little bit of normalcy."
Monday's Boston Marathon was different not only because it took place in October, but also because it's surrounded by so many other major marathons. Five-time Boston champion Tatyana McFadden won the Chicago Marathon on Sunday and finished second to Schär in Boston.
"Definitely she was the biggest competitor," Schär said of McFadden. "I thought she was probably a bit tired from racing Chicago yesterday. I didn't do that, I decided to focus on Boston, and I think it gave me a little more energy that I needed today."
McFadden told WBZ, "It was tough. I don't know why I thought this was a good idea [laughs], 52.4 miles in 24 hours. But I felt Boston Strong today, the energy was just incredible. I'll come back and win this race again."
Get the latest Boston sports news
Receive updates on your favorite Boston teams, straight from our newsroom to your inbox.