Boston Marathon
Watch: Top American finishers Colin Bennie and Nell Rojas on how it felt to race Boston for the first time
"I really couldn't imagine a better first Boston."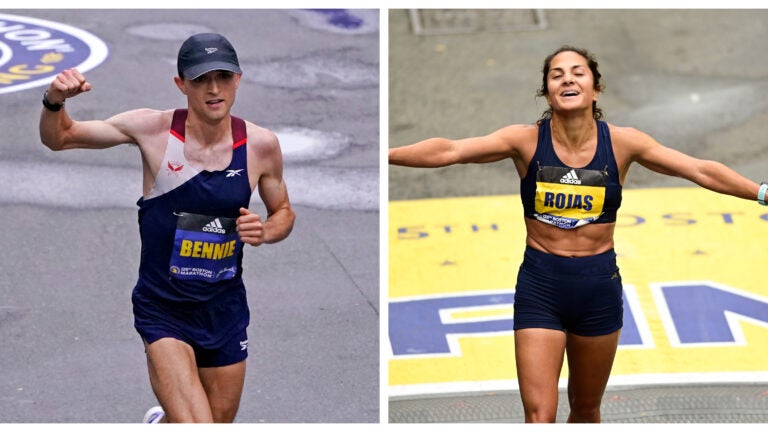 For the two top American finishers in the 2021 Boston Marathon, Monday was their first time racing on the storied course.
Colin Bennie came in 7th overall in the elite men's race, while Nell Rojas was 6th in the elite women's race.
Bennie, 26, from Princeton, Massachusetts, told WBZ he was "thrilled" by the outcome.
"I really couldn't imagine a better first Boston," he said at the finish line.
He reflected on growing up watching the race, "living vicariously" through an older brother who ran the marathon twice, and finally getting to run the 26.2 miles himself.
"It means the world to me," he said. "It's my first major marathon. I ran the Olympic trials, which was a big one. But to actually have it be a major and to have the first one be Boston is spectacular."
Rojas, of Boulder, Colorado, told WBZ she ended up running the opposite strategy she'd planned going into the race.
"Normally I would try to sit behind the lead pack and then kick, but they would not — they made a pact, and they made me lead the whole way," she said. "I'm just kidding, I don't know if they made a pact. But they made me lead."
The marathoner said the hills on the course were harder than she expected.
"They just kept — I was like, this must be Heartbreak, and it was like 10K in, and I was like no this isn't Heartbreak, so I thought it was very hilly," she said.
The fans along the course were great throughout, she said.
"The last 10k were insane," she said. "I was pretty dialed-in, I was focused. But I mean once I could sometimes hear them, and I was like, that's awesome."
Newsletter Signup
Stay up to date on all the latest news from Boston.com