Boston Marathon
'I had to finish this': After the Boston Marathon concludes, runners finish with heartache, victory
"I don't think it was for time. I just kind of wanted to do this."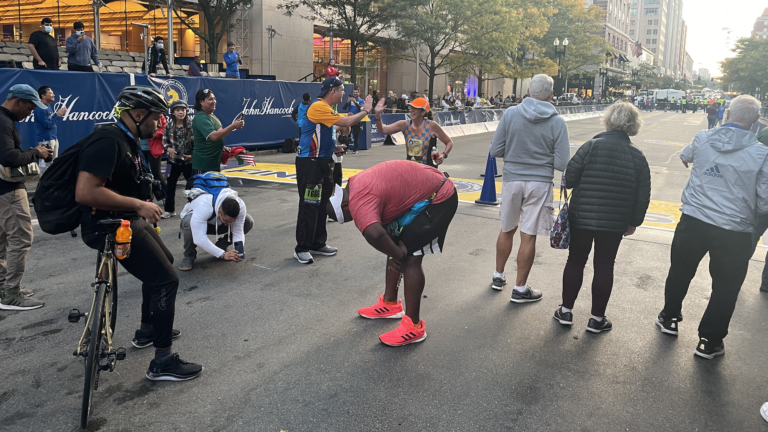 The only people who finish the Boston Marathon are elite athletes and people who have a reason to keep going.
Long after announcers declare the race over — after the motivational music stops and the timers near the finish line are frozen — runners continue pouring down Boylston Street. Most have something to prove — to family, to friends, but most often to themselves.
People like 74-year-old Carl Borowski of Haverhill, who wept quietly after finishing the race as he thought about his departed friends who served with him in Vietnam. Borowski wanted to run a marathon in their memory and believed he was running out of time to do it.
"I was thinking about each guy through the race — how they affected my life," he said. "It was really special. …
"I think about the ways we related together, how they helped me out. They made me stronger. They were great people."
Or people like Mary Williams of Kent, Connecticut, who was diagnosed with breast cancer just a week prior to the marathon.
"I had to finish this," she said.
Williams and her partner said they are reeling from her diagnosis, which is still "up in the air." The two got very little sleep traveling to and from Yale's Smilow Cancer Center, but finishing the marathon was a deeply moving moment.
"I'm just so thankful," Williams' partner said, his voice breaking. "I'm so grateful. I love her so much. … I'm so very proud of her."
Shan is a native of South Boston who ran for the Boston Fire Department, where his father worked before he passed away two years ago.
"I started making myself cry getting into Newton," he said, sitting quietly by himself on the steps of the Boston Public Library long after the race wrapped up. "I felt like I would run better if I thought about my dad."
What would his dad think about him finishing the marathon?
"Probably think I'm crazy," Shan said with a laugh. "He did it a couple times back in the day. I don't know. I feel like I proved a lot of people wrong. I know my friends probably couldn't do this. I didn't really train as much as I should, but obviously I still finished it. …
"Kind of pissed at my time, but I don't think it was for time. I just kind of wanted to do this."
Aaron Burros — a Texas native who calls himself the Running Servant — collapsed into a prayer before crossing the finish line. Race volunteers tried to help him up, but Burros just needed a moment.
"If they only knew my story," Burros bellowed as he crossed the finish line.
Burros' story is dramatic. In Nov. 2015, Burros said he was shot five times including once in his glute muscle. A bullet fragment remains behind, as does nerve damage and PTSD.
"I'm in pain all the time," Burros said. "So to run a marathon is just crazy and ludicrous. But running has saved my life before."
Prior to his running career, Burros was more than 400 pounds. Now he said he's on a mission to run 50 marathons in 50 states before turning 50.
"All this is possible because of God," Burros said. "He kept me. Nobody else kept me. I didn't keep myself. So I'm so, so grateful."
Kara MacDonald of Weymouth didn't think she would finish until she made a new friend at Mile 16 — a running veteran named Gerard Connolly.
"We just stuck together and shared our stories with each other," MacDonald said. "I made a good friend out there."
Connolly, however, was quick to note that the struggles were mutual.
"I was struggling and she was struggling," he said. "It was a good partnership."
Connolly, a native of Ireland who now lives in Plymouth, began running nine years ago when he was "all cholesterol" and "swelled up from drinking." Now he has run six marathons and 40 half-marathons, according to his daughter.
"You'd never know it from looking at me, would you?" Connolly quipped.
Connolly said he didn't train much for the Boston Marathon.
"You can train all you want, it's a tough marathon," he said. "It's one of the toughest I've done. Heartbreak Hill is a bastard."
Susanne Anderson lives in Charlotte, but she grew up in Sudbury dreaming of running the Boston Marathon while passing out water to runners. She was upset with her time (even though she finished while running through a herniated disc in her neck), but Monday's race was part of her pre-50 bucket list.
"I'm stubborn," she said. "I said I was going to finish so I finished. It doesn't matter what it looks like – it's ugly as hell, but I'm here. It's what I wanted."
Martinus Evans burst into tears as he crossed the finish line. On his popular Instagram page @300Poundsandrunning, Evans — who lives in Brooklyn — calls himself a "fat marathoner" who helps people stay active without the "pressure" of weight loss. The pandemic and the death of Ahmaud Arbery while he was out for a run affected Evans deeply and almost convinced him to stop running.
Almost.
"Running means everything," Evans said. "Running saved my life. Running is how I stay sane, as someone who battled with suicidal thoughts. Running is the reason I'm on this earth. Running means everything. Running means life."
Julia Broccoli, who lives in Brighton, ran her first marathon on Monday. She represented the Herren Project in honor of her father, who died from substance abuse in 2015.
"I really didn't think I'd be able to do it," she said. "It's definitely a crazy feeling."
Around Mile 13, Alicia Dionne of Goffstown, NH was severely dehydrated and cramped from her knees all the way to her toes. Unable to move, she begged medical personnel to let her keep running. Shortly after 7:15, Dionne crossed the finish line with tears pouring down her face.
Dionne is going through a divorce. Monday's race was a chance to raise money for a cause she believes in, but also an opportunity to prove to herself — as she put it — that she isn't a failure.
"My daughter reminds me all the time, but I am strong and I will overcome anything," Dionne said. "I just have to keep moving. …
"I did it. Regardless of it being dark, and they all finished like three hours before me, but I finished. I did it. I didn't give up."
Kenyan runner Benson Kipruto finished the marathon at 2:09:51 — claiming the top prize money and the prestigious marathon title. The morning crowd roared, and announcers urged them to cheer louder as he raised his hands and broke through the ribbon to claim first place by a wide margin.
The scene at night was much different. Scattered families cheered in their loved ones, but the crowds were gone. Signs and fences were torn down. Trucks began tearing down the race scaffolding. A few hardy volunteers handed out medals and congratulations. Without a watch, runners had no way of knowing how their time measured up to Kipruto's.
For everyone who finished in the dark, measuring up to Benson Kipruto was far from the point.
Get the latest Boston sports news
Stay up to date on all the latest news from Boston.com