Boston Marathon
Princeton native Colin Bennie talks 'special' Boston Marathon finish
Bennie, who runs with Reebok Boston Track Club, was the first American runner to cross the finish line in the Boston Marathon's elite men's race.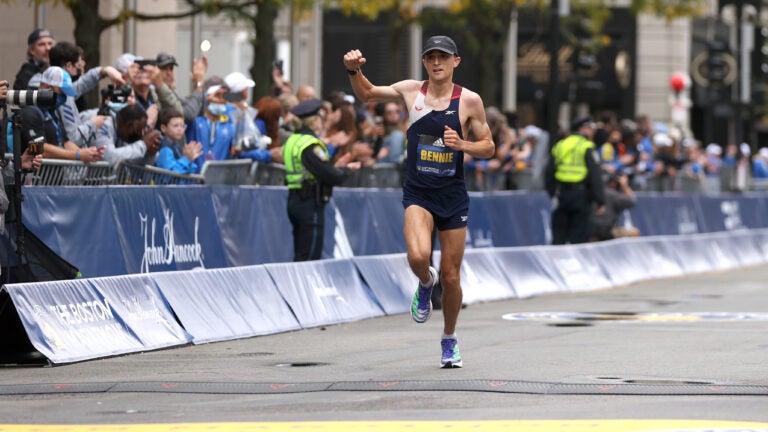 Colin Bennie has been looking forward to running the Boston Marathon for years, having grown up in Princeton, MA with two older brothers who had run it before.
Now, he'll have his own memories of the 125th Boston Marathon.
Bennie finished seventh overall in the men's elite race in a time of 2:11.26 and was the first American man to cross the line. Kenya's Benson Kapruto won the race in 2:09:50.
"It was really special," Bennie told Boston.com. "It still continues to be. It continues to be more and more."
Bennie, a member of the Reebok Boston Track Club, had only run two marathons before running Boston's on Monday — the Olympic Trials in February 2020 and the Marathon Project in Arizona last December.
He made the most out of his first crack at his hometown marathon — a race that took on an immediate sense of intrigue from the beginning as ultramarathon record-holder C.J. Albertson stormed out to a commanding lead.
Though Bennie said it was "pretty surprising" to see how far Albertson got ahead of the pack, the 26-year-old marathoner didn't try to break away from the group himself.
"I found myself deferring to the guys in the pack who I knew had run Boston before," he said. "Seeing the fact that no one else was getting too concerned about the gap that formed, I assumed they must have felt comfortable and confident that we were going to end up catching him at some point…having probably seen that before."
But it wasn't always so assured, Bennie said. He noted a spectator called out that Albertson was still about two minutes ahead as Heartbreak Hill drew nearer, a moment Bennie said woke him and the rest of the pack up.
Of course, the lead didn't last much longer; Albertson tired, and Bennie and the leading group passed the plucky ultramarathon runner.
From there, Bennie said, it was about keeping his mind away from a "dark place" as the final miles wore on — something he's experienced in the past.
"You're running along pretty well, then all of a sudden in a couple of minutes, a mile or something like that, you go from feeling like you're in a pretty good rhythm to starting to question, 'Man, I don't know if I'm going to finish this race,'" he said. "Then, it's almost just a survival thing at that point."
Bennie said he hit that breaking point in his last two marathons with a few miles to go.
"[Monday] was the first time I felt pretty good about getting all the way to the finish and not hitting that wall the same way," he said. "Just take a step back mentally as best you can and really evaluate how on Earth you're going to stay on your feet for the next 15-20 minutes.
"It's hard at that point. It's incredibly tough. The only thing that will make it tougher is if you try too hard and force yourself to literally have to pick yourself off the ground to get going again. That happens sometimes. For me anyway, it's always about going, 'Alright, you might have to just slow down, but know that if you slow down a little bit now, you're not going to be basically walking at the end of this thing."
Not only did he finish the race, but he made himself a local celebrity with his top-10 finish.
"I've had a lot of people reach out and send congratulations that I haven't heard from years that I went to high and middle school with," he said. "Being from Massachusetts, when it's Marathon Monday, chances are the Marathon is on your TV.
"There were a lot of people out there on the course that recognized me from high school cross country or would shout my name or shout 'Wachusett!' for the high school I went to. It was a unique personal touch I definitely would not find at any other marathon. It hit that much closer to home and makes it hard to find a better marathon than Boston."
Get the latest Boston sports news
Receive updates on your favorite Boston teams, straight from our newsroom to your inbox.