Boston Marathon
'I am still powerful': Here's a look at the handcycling and duo teams finishes
"Like the angel who encourages you to keep going."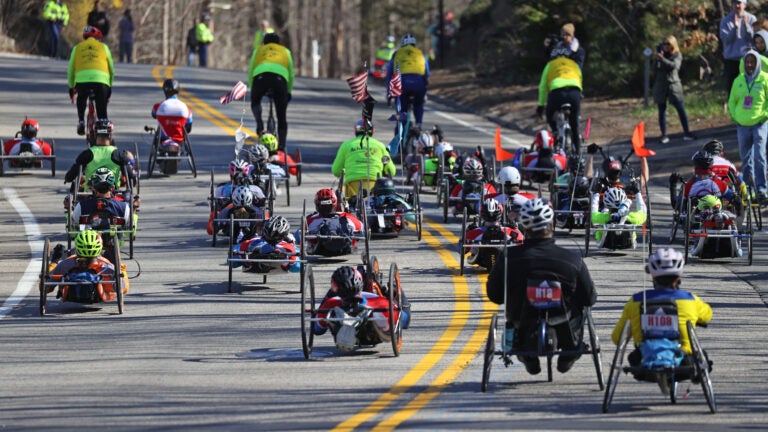 Alfredo de los Santos finished first for men in handcycling with a commanding victory.
De los Santos finished in one hour, eight minutes and 40 seconds.
De los Santos is a U.S. Army veteran who had his right leg amputated above the knee after he was wounded by a rocket-propelled grenade while deployed in Afghanistan, according to an article by the International Paralympic Committee in May 2021. He also has dealt with a traumatic brain injury as well as the pain and psychological effects of the incident.
Along with a passion for handcycling, de los Santos loves art, the committee said.
"I think both, being together, give me the outlets I need," he said at the time.
"When I am cycling, I am feeling a manhood, that I am still the same," he noted. "I am still powerful. But I'm an amputee, and sometimes, when I wake up in the morning, I look at myself and it's hard not to say I hate myself. I am always in pain. My back, arms, some kind of pain. But when I get on the bike, that pain is gone emotionally, physically."
For his art, de los Santos creates abstract painting and takes black-and-white photos, according to the committee.
Second was Dustin Baker, who finished in one hour, 15 minutes and 52 seconds — seven minutes and 12 seconds after de los Santos.
Third place was Steve Chapman finishing in one hour, 21 minutes and 33 seconds, nearly 13 minutes behind de los Santos.
Wendy Larsen took first place for women with a time of one hour, 35 minutes and 10 seconds.
Larsen told League City Texas that she began running in 2008 after she was in a "severe" car crash that almost took her right leg – it would take 15 surgeries to reconstruct it. Larsen also lives with various disabilities and diseases, including a rare connective tissue disorder called Ehlers-Danlos Syndrome and Common Variable Immunodeficiency Disease.
"I get sick a lot, and simple infections can become life-threatening very quickly," she told the publication. "Every week I get infusions of antibodies from people who donate plasma, and that's how I get my immune system."
After the car accident, she was told she wouldn't walk again, so she set her sights on a marathon. But with EDS, which is degenerative, Larsen switched to handcycling.
While she does both shorter and longer races, marathons are her favorite, according to League.
"Exercise and being active is the best thing you can do for your physical and mental health," she said. "Just because you're disabled doesn't mean you can't workout. It'll look different for each person, but it's so incredibly important."
For duo teams, Christopher Nasser with Bentley-Grace Hicks took first place with a time of two hours, 52 minutes and 43 seconds.
Second was Emmanuel Gomez, with Hannah Gosey, with three hours, 18 minutes and two seconds, 25 minutes and 19 seconds behind Nasser.
In third place was Jim Price with Megan Price, with three hours, 35 minutes and 12 seconds, 42 minutes and 29 seconds behind Nasser.
Hicks and Nasser have a bond like siblings, according to 11 Alive. Diagnosed with cerebral palsy, Hicks can't walk yet, and she's pushed by Nasser. As a team, they're undefeated.
While Nasser pushes, Hicks pays attention to their pace and time.
"Sometimes when you are running by yourself, you get this little demon on your shoulder and Bentley-Grace is like the angel who encourages you to keep going," Nasser said, according to the website.
Newsletter Signup
Stay up to date on all the latest news from Boston.com