Boston Marathon
Live updates: The very latest on the 2022 Boston Marathon
Get all the latest reports on the race from Hopkinton to Boston this Marathon Monday.
4:05 p.m. Monday
Among the sea of runners participating in the 2022 Boston Marathon on Monday, you may spot a few familiar faces.
A number of celebrities and notable figures are participating in today's race, including a former star of "The Bachelor," a former NASCAR champion, and a U.S. women's soccer legend.
Matt Kenseth was always fast behind the wheel, winning the NASCAR season championship in 2003 and consistently performing as a top racer over his 20-year career. Kenseth, who turned 50 last month, brought some of that speed to the Boston Marathon course as well, finishing with a time of 3:01:40.
Kenseth told WBZ's Steve Burton that once he crested Heartbreak Hill, he tapped into a reserve of energy and finished strong.
"The atmosphere was second to none," Kenseth said. "It was one of the better experiences of my life."
Matt James, the star of season 25 of "The Bachelor," posted a video to his Instagram Stories prior to the 2022 Boston Marathon at around 3 a.m., saying he had overdone the carbo-loading and felt "like dog s***." On the course, however, James did just fine, finishing in 3:49:38. James ran the marathon to raise money and awareness for the USO.
3:28 p.m. Monday
For the second year, para athletes with visual, lower-limb, and upper-limb impairments were able to run in the Boston Marathon in their own divisions.
Here are the 2022 winners:
Vision Impairment T 11/T 12
Chaz Davis finished first in the men's group with a time of 2:45:45, followed by Eric Strong with 3:09:37, and Irwin Ramirez with 3:18:51.
The two women in this division, Joyce Cron and Angela Moran, finished 4:31:36 and 4:43:43, respectively.
Vision Impairment T 13
Ary Carlos Santos topped the men's group at 2:46:37, followed by Andrew Thorsen, with 2:49:46, and Christopher Lancaster, with 3:26:57.
Lisa Thompson finished first in the women's group with a time of 3:47:25. Jennifer Herring placed second with a time of 4:04:29 and Jennifer Byers, finishing in 4:28:03, came in third place.
Upper Limb Impairment T45-46
For the two runners in the men's group, Michael Roeger finished first with a time of 2:25:42. Batzorig Baasai came in second.
Lower Limb Impairment T61-64
Marko Cheseto Lemtukei finished first in the men's group, with a time of 2:37:01. Brian Reynolds, at 3:18:21, finished second, and Adam Popp finished third with 3:19:51.
In the women's group, Liz Willis placed first with a time of 3:56:31. Melissa Stockwell came in second with a time of 3:58:36. Adrianne Haslet finished third with a time of 5:18:41.
1:47 p.m. Monday
It was a strong showing from both the U.S. men's and women's runners, with several names scattered inside the Top-25.
Here are the results for the top five U.S. men:
7. Scott Faulble (2:08:52)
9. Elkanah Kibet (2:09:07)
13. C.J. Albertson (2:10:23)
14. Matthew McDonald (2:10:35)
16. Reed Fischer (2:10:54)
And here are the times for the top five U.S. women's runners:
10. Nell Rojas (2:25:57)
12. Stephanie Rothstein-Bruce (2:28:02)
13. Desiree Linden (2:28:47)
14. Dakota Lindwurm (2:29:55)
15. Bria Wetsch (2:30:42)
1:47 p.m. Monday
Christopher Nasser finished first in the duo teams division at the 2022 Boston Marathon.
A duo team consists of a runner pushing a non-ambulatory person with a permanent physical impairment in a customized racing wheelchair, according to the Boston Athletic Association.
Nasser, with Bentley-Grace Hicks, finished with an unofficial time of 2:52:43.
Second was Emmanuel Gomez, with Hannah Gosey, who finished in 3:18:02, 25 minutes and 19 seconds after Nasser.
Jim Price, with Megan Price, finished third with a time of 3:35:12, 42 minutes and 29 seconds after Nasser.
12:49 p.m. Monday
Marty Walsh returned to Back Bay on Patriots Day to take in the sights and sounds of the Boston Marathon finish line.
"It's nice to be here," Walsh told WBZ-TV. "It's like I'm back with family."
On Friday, the U.S. Secretary of Labor and former Boston mayor was honored by the Boston Athletic Association, which presented Walsh with the Patriots Award for his contributions to the event.
Asked what's more difficult, running a marathon or D.C. politics, Walsh quipped: "Well, the people that are here, they're tough and resilient. Marathon runners are tough … and I'll leave it right there."
12:22 p.m. Monday
Peres Jepchirchir of Kenya and Ababel Yeshaneh of Ethiopia battled all morning in the 2022 Boston Marathon women's race, but Jepchirchir pulled away late in the final mile to claim a thrilling victory.
Jepchirchir posted the fifth-fastest time in marathon history at 2:21:02. The 28-year-old trailed for much of the final mile, but her final kick ended a competition against Yeshaneh that occasionally appeared chippy as they jockeyed for position. Yeshaneh finished with a time of 2:21:06.
Mary Ngugi of Kenya placed third with a time of 2:21:32.
11:55 a.m. Monday
Evans Chebet of Kenya emerged from an unusually crowded professional field to win the 2022 Boston Marathon men's race.
Chebet, 33, finished with a time of 2:06:51. Despite a strong lead group managing to stay together through the Newton hills, Chebet was still able to make a decisive move in Mile 22.
Fellow Kenyans Lawrence Cherono and 2021 champion Benson Kipruto finished second and third, respectively.
It's the first major marathon win for Chebet, who finished fourth in London in 2021. In his only previous Boston Marathon (2018), Chebet was one of several runners to drop out due to adverse weather conditions.
11:44 a.m. Monday
Alfredo Delossantos finished first for men in handcycling at the 2022 Boston Marathon with a commanding victory.
Delossantos finished with an unofficial time of 1:08:40.
Second was Dustin Baker, who finished seven minutes and 12 seconds after Delossantos, at 1:15:52. Third place was Steve Chapman, finishing in 1:21:33, nearly 13 minutes behind Delossantos.
Wendy Larsen took the women's handcycling race, finishing at 1:35:10, according to unofficial results.
Behind her was Devann Murphy, who was just over 13 minutes behind Larsen with a time of 1:48:23. In third place was Dianne Leigh Sumner with a time of 2:03:43, 28 minutes and 33 seconds behind Larsen.
11 a.m. Monday
Manuela Schär finished with a dominant victory in the women's wheelchair division on Monday — her fourth win at the Boston Marathon and her second in a row after she claimed a marathon win in October.
Schär pulled away early and was never challenged, finishing with an unofficial time of 1:41:08.
The 37-year-old Switzerland native beat five-time Boston champion Tatyana McFadden in October with a time of 1:35:21. McFadden was a late scratch for Monday's race, citing an iron deficiency due to a medical disorder.
American Susannah Scaroni finished second.
10:30 a.m. Monday
Daniel Romanchuk of the United States won the men's wheelchair division in the 2022 Boston Marathon, becoming the first athlete to break the tape on Monday.
It's Romanchuk's second win in Boston after his first in 2019. He surged ahead of the field with a half-minute lead by the midway point and never relinquished it, finishing with a final time of 1:26:58.
Notably, the 2021 champion, Marcel Hug of Switzerland, withdrew from the race earlier on Sunday due to "medical reasons." Hug had won five of the previous six Boston Marathon men's wheelchair division races, with Romanchuk's 2019 win the only exception.
9:55 a.m. Monday
With the start of the para athletics divisions, each of the fields in the race are now underway.
The wheelchair divisions will be the first to finish, with the professional men's and women's runners to follow afterward.
The four main waves of runners get underway starting at 10 a.m., continuing until 11:15 a.m.
Here's the start of the elite men's field:
And here's the start of the elite women's field:
9:25 a.m. Monday
The 2022 Boston Marathon is officially underway. Both the men's and women's wheelchair divisions are on course.
With defending men's wheelchair champion Marcel Hug out of the 2022 race due to "medical reasons," several contenders — including 2019 champion Daniel Romanchuk of the United States — are vying for the top prize.
On the women's side, Switzerland's Manuela Schär (the 2021 champion) appears to be the frontrunner, especially with rival Tatyana McFadden out.
9 a.m. Monday
Shortly before the start of the marathon, authorities across several law enforcement agencies affirmed there remained no credible security threats.
"However, as we all know, that could change in a heartbeat, even up through race day," said FBI Boston Division Special Agent in Charge Joseph Bonavolonta. "So we're just encouraging the public to continue to report something if they see something suspicious, or if they see someone who is acting suspicious at all."
Law enforcement officials said they have put in place a "multi-layered protection plan," which includes having on hand members of the Massachusetts State Police Firearms, Explosion, and Investigation Unit.
State Police Sgt. Bill Qualls said the unit is part of the Chemical, Biological, Radiological, Nuclear, and Explosive Task Force, which touts 335 members.
"It's built upon partnerships, transparencies, unity of effort. We have individuals from as far away as Alaska, the Virgin Islands. We have (New York City police) working in Wellesley Center right now as we speak," Qualls said. "So we have a robust, very layered plan in effect to handle whatever it may come down the path. We feel extremely confident about that."
7:30 a.m. Monday
In total, there will be 28,604 entrants in the 2022 Boston Marathon, according to the Boston Athletic Association. All 50 U.S. states and 120 countries are represented in the group.
Both the men's and women's elite fields are particularly strong this year. With the London Marathon once again being held in the fall instead of late April, more elite runners chose Boston in 2022.
On the men's side, defending champion Benson Kipruto of Kenya returns, eyeing the chance to win two Boston Marathons in the same 12-month span. He will face a difficult test, however, competing against the likes of fellow Kenyans Evans Chebet and Lawrence Cherono (the 2019 champion). Ethiopians Lelisa Desisa, a two-time champion, and Birhanu Legese will also be vying for victory.
On the women's side, Tokyo Olympic gold medalist Peres Jepchirchir of Kenya and U.S. bronze medalist Molly Seidel of Wisconsin headline one of the fastest fields in history. Along with U.S. runner (and 2018 winner) Des Linden, Ethiopians Degitu Azimeraw and Etagegn Woldu and Joyciline Jepkosgei of Kenya are all names to watch. In addition, 42-year-old Edna Kiplagat of Kenya (2017 Boston champion) is never to be counted out.
In the wheelchair division, defending women's champion Manuela Schär of Switzerland returns. Schär has won three of the last four races in Boston. On the men's side, fellow defending champion Marcel Hug withdrew from the race Monday morning, leaving the door wide open for 2019 winner Daniel Romanchuk.
Sunday
The runner you plan to cheer for on Monday has put in the work; now it's your turn to make sure you're keeping up to date on their progress through the race. The Boston Athletic Association's racing app lets you do just that with live tracking, which is also available on the BAA website. All you need is their bib number or name.
View our full guide for tracking runners here.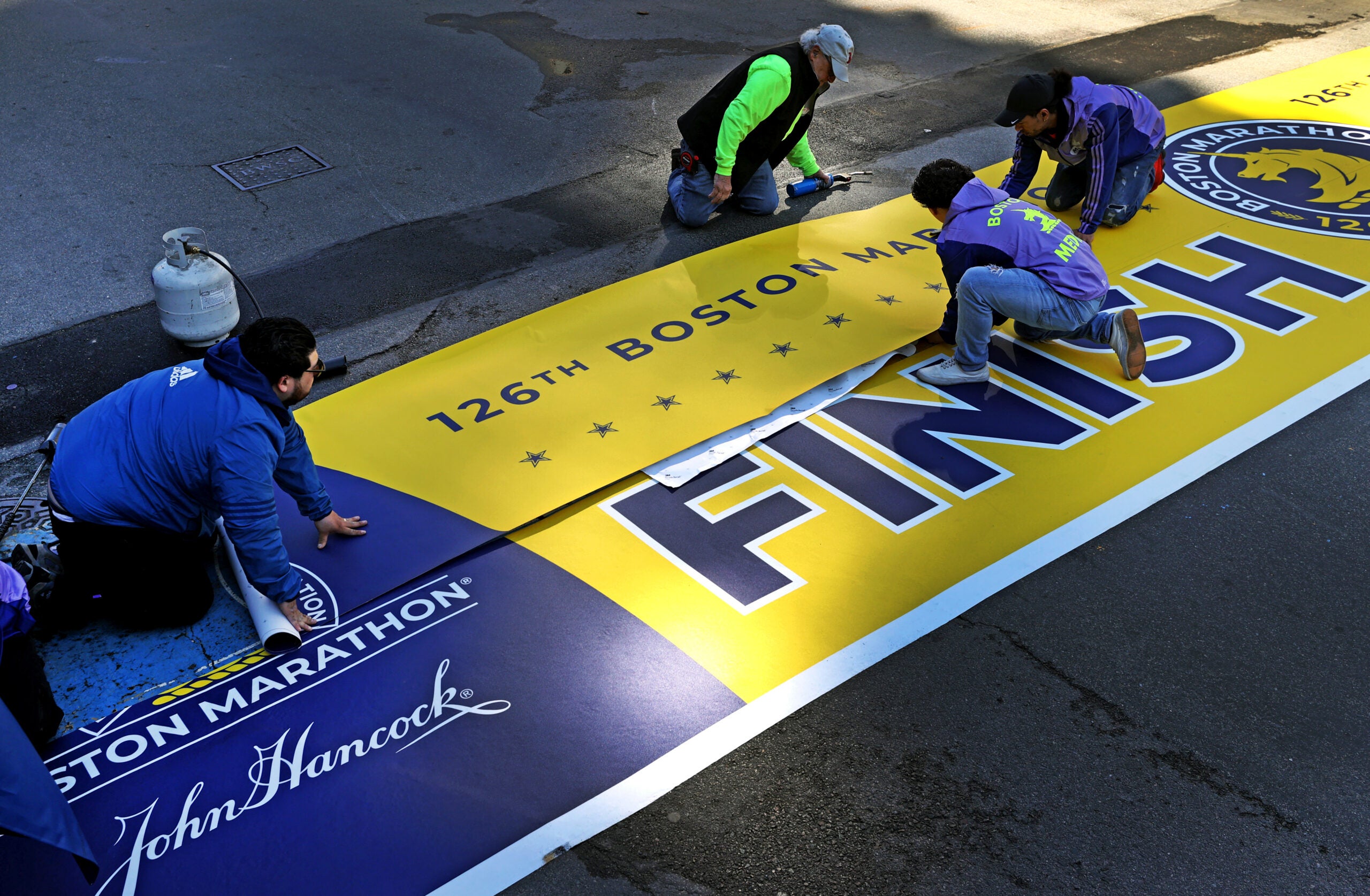 What to know about watching the 2022 Boston Marathon in-person or afar
Sunday
Whether you plan to head to watch runners racing along the 26.2-mile course on Monday or cheer for the winners from the comfort of your couch, there are several options for watching — or listening to — the marathon.
Before you head down to race, be sure to check out the guidelines for what you can — and definitely should not bring — with you. Officials are also urging spectators and participants alike to practice personal responsibility by taking efforts to prevent the spread of COVID-19, such as wearing a mask or to taking a test beforehand if you plan on being in a crowded indoor space or at a party.
The marathon begins with the men's wheelchair race at 9:02 a.m., and if you've decided to watch from home, you can find live coverage in a number of places. Local coverage will be available on WBZ-TV, ​​while live national coverage will air on USA Network. If you don't have cable, switch on the radio for live coverage on WBZ NewsRadio 1030 or head to CBSBoston.com for a livestream.
Newsletter Signup
Stay up to date on all the latest news from Boston.com