Boston Marathon
'It makes you feel so lucky to be healthy': Manuela Schär wins second consecutive Boston Marathon
"After a marathon, you always feel like 5 years older than before."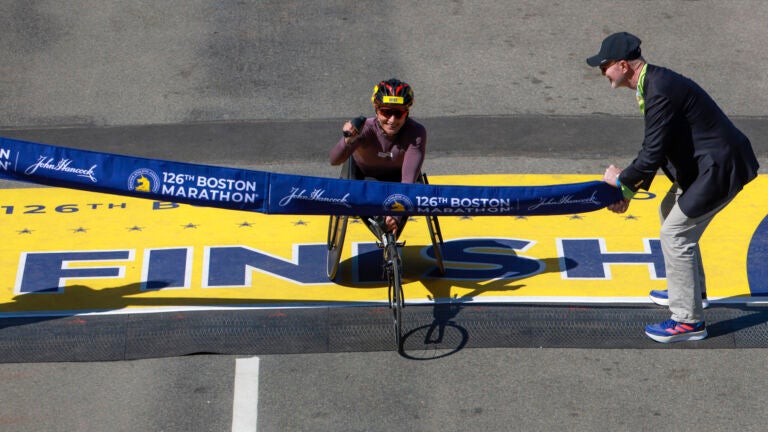 In her dominant 2022 Boston Marathon victory, women's wheelchair racer Manuela Schär jumped out to an enormous early lead and was never challenged throughout the race, beating American second-place finisher Susannah Scaroni by more than five minutes.
Schär's top competition — five-time Boston champion Tatyana McFadden — dropped out of the race due to a medical condition, and the rest of the pack quickly fell away, leaving the 37-year-old Swiss racer with a lonely 26.2-mile sprint to the finish on Boylston Street.
You might be excused if you thought Monday's marathon was easy for Schär — at least, easy by the standards of a brutally difficult competition.
Schär would not agree.
"It was actually a tough one," she told WBZ. "We had a headwind all the way, so when you're on your own out there, it feels kind of like a time trial over the 42k.
"So yeah, I'm so glad to be back. It's one of my favorite courses. It's challenging, and it's always good to be back."
Schär — who holds the Boston Marathon record in the women's wheelchair division with a time of 1:28:17 in 2017 — claimed a dominant victory in October as well, routing a 2021 field that included McFadden (who competed in Chicago the day prior) by nearly 15 minutes.
Monday's race was odd on multiple levels — not only was McFadden out due to an iron deficiency, but Swiss wheelchair racer Marcel Hug withdrew on the men's side at the last minute. Per a post on his Instagram, Hug said COVID-19 symptoms resurfaced after a bout with the virus two weeks ago.
"He didn't feel well yesterday, so I think it's smart to give it time to recover," Schär told WBZ. "He got COVID a few weeks ago, so it just takes time. This [win] is for him too — I was so sad to find out he couldn't race. I know how much he loves to race in Boston.
"You always want to race the best," she added in reference to McFadden. "It makes you feel so lucky to be healthy and to be in good shape and to be able to train. Just really happy."
Schär was paralyzed in a childhood accident when she was eight years old, playing on a swing at a friend's birthday party. The swing wasn't secured properly and couldn't support a large group of children.
"I used to be a runner before my accident so athletics was always a part of me, so I think at first it was just to be included in that group of people, and included in that group of people who are happy and nice and funny and didn't treat me like a different person," Schär said in 2020. "I felt really comfortable and really safe there. That's probably why I picked wheelchair racing."
Now, more than 20 years later, Schär is a four-time champion at Boston with a host of Olympic medals and first-place marathon finishes.
"After a marathon, you always feel like 5 years older than before," she told WBZ. "But I love it, it's amazing."
Get the latest Boston sports news
Receive updates on your favorite Boston teams, straight from our newsroom to your inbox.