Boston Marathon
Iowans get engaged at Boston Marathon finish line
Monday was the couple's first Boston Marathon together.
It might be said that few people have worked as hard and come as far as 32-year-old Alban Crook did Monday to propose to his girlfriend, 35-year-old Karen Brophy.
Crook ran 26.2 miles — from Hopkinton, Massachusetts, to Boston — in two hours and 56 minutes, carrying the ring in a pouch inside his shorts the entire way.
At the finish line, he got down on one knee and proposed to Brophy, who said she had no idea he was going to pop the question.
"I just thought it was really sweet especially since he ran with a ring the whole way," she said. "It was just really meaningful, especially having it at a race and then having it be in Boston. It's a big deal for me."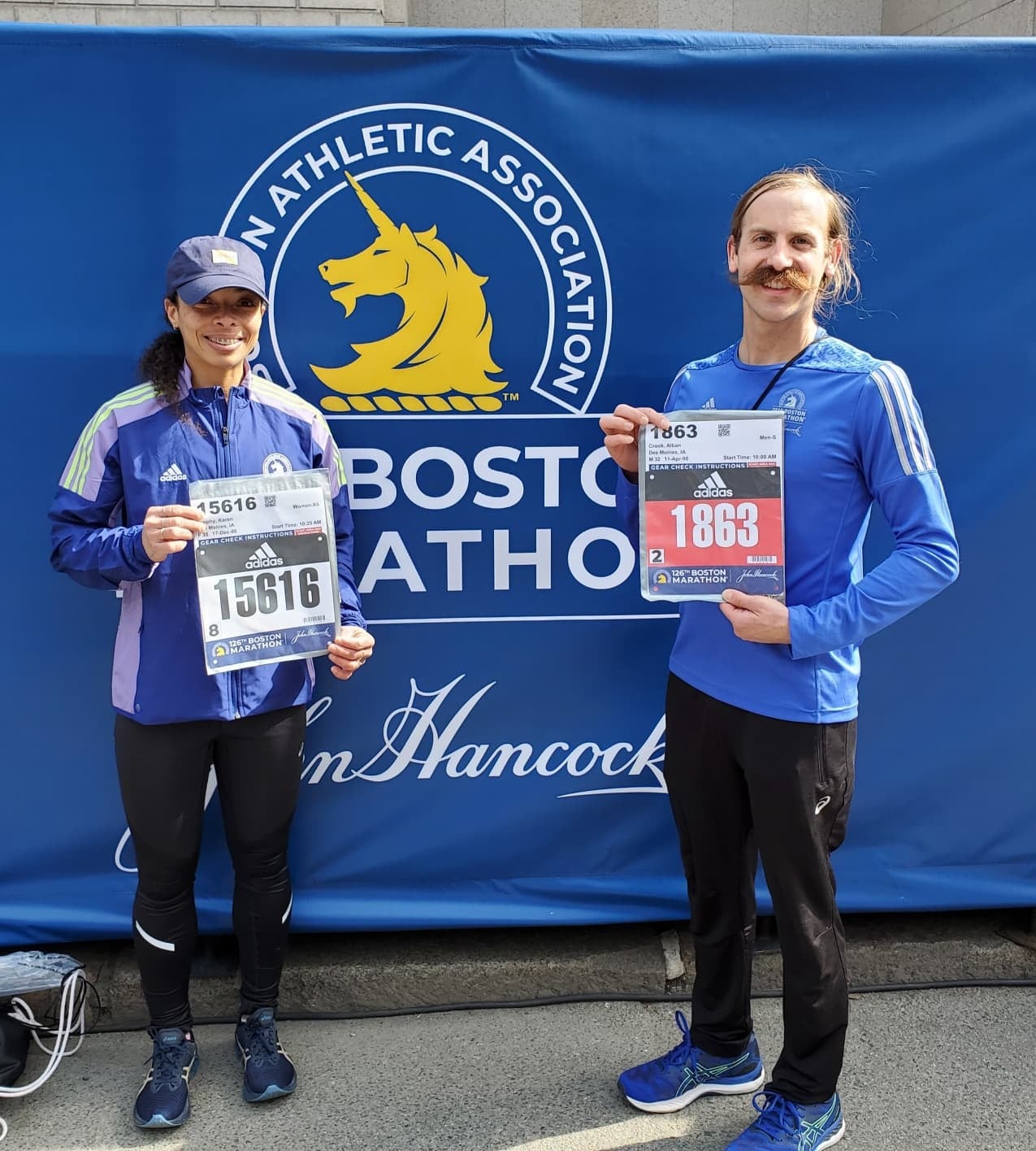 This year was the Des Moines couple's first Boston Marathon together, but they have both been runners for a number of years.
Brophy said she competed in track and field in high school but fell in love with long-distance running in college. She ran her first marathon in 2009 and qualified for the Boston Marathon.
"I just like the fact that you can get out there and test your limits … I really like to be able to get out there compete with myself and just see how fast I can get," she said.
She ran her first Boston Marathon in 2011 and ran again in 2012. So far she's completed 28 marathons, but she hadn't run the Boston Marathon again until this year.
Brophy and Crook met in 2014 when they were working together at a regional grocery store. They took a trip together to run a 5K and began dating after that.
Crook said Brophy got him interested in running, and he ran his first marathon in Des Moines in 2015, which qualified him for the Boston Marathon.
"I feel like in distance running, it's more of a collective, like you're pulling for that person to make it to the finish line as much as you want to get to the finish line yourself," he said.
Crook ran his first Boston Marathon in 2018 and has run it every year since.
He said he's had the idea to propose to Brophy at the finish line of the Boston Marathon for a few years now. He waited for her to qualify for the race again because he knew how special the moment would be.
"I knew how much it meant to her to be able to qualify and run in the race," he said. "So I definitely wanted to make sure that it was a meaningful moment for her."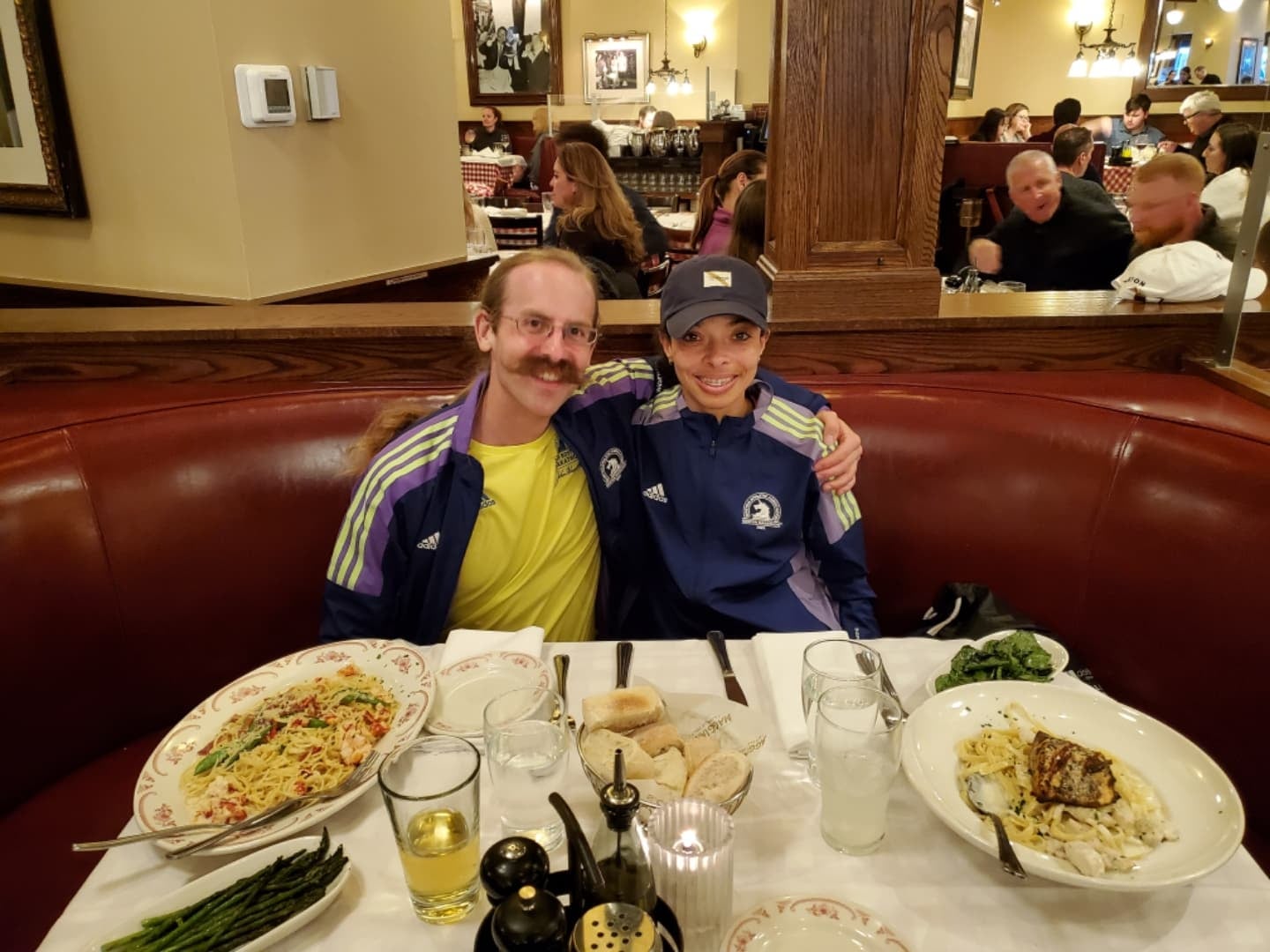 Crook said the proposal added an extra goal for him while running the marathon. He planned on finishing before Brophy so he could get down on one knee as soon as she finished, but he was worried his legs might cramp as they have in the past, which could slow him down.
He kept the ring on him the whole race in case she got to the finish line first and he had to be ready to get down on one knee as soon as he was done.
Crook said he became really unsure of what would happen when the GPS on his watch malfunctioned and he ended up running the first half of the marathon faster than he meant to.
Lucky for Crook, his legs stayed true, and Brophy finished the race about 45 minutes after him. He was ready when she crossed the finish line.
The couple said they haven't made any wedding plans yet and are simply enjoying their mutual success from the marathon.
Newsletter Signup
Stay up to date on all the latest news from Boston.com