Boston Marathon
A pregnant runner's open letter to the Boston Marathon helped spur change
Fiona English's pregnancy interrupted her initial marathon plans.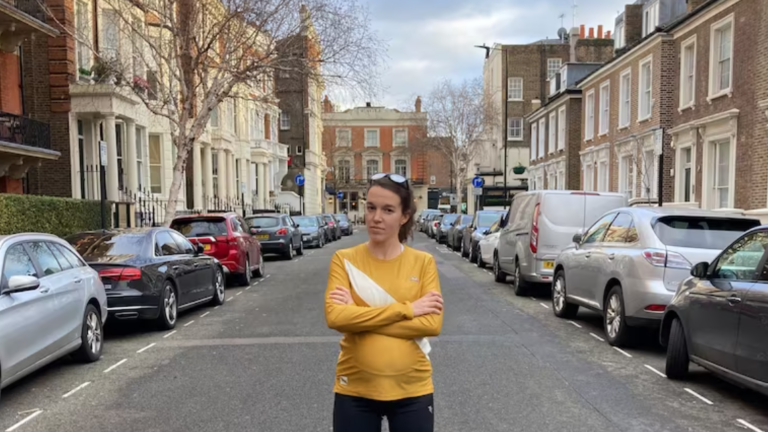 It took thousands of miles for Fiona English to reach her goal of qualifying for the Boston Marathon, but when she obtained one of the coveted berths for this year's race, there was a looming hurdle she could not clear.
Instead of picking up her race bib April 15, two days before the event, English is due to give birth that day to her first child. So, in December, the 34-year-old running coach who lives in London submitted a claim to defer her approved entry until 2024 and requested a refund of an international runner's $235 entry fee for which she had purchased insurance.
But she quickly "was met with the coldest brick wall ever," as she wrote in an open letter late last month that struck a viral chord with other runners, rejected under rules set by the Boston Athletic Association, the race's organizer. Pregnancy is hardly unique, but English's situation seemed to catch race officials off guard.
"The insurance company isn't even tracking pregnancy – we don't know how many people we are talking about, so I felt I wanted to have a voice," she said in a telephone interview this week. "If we as women hadn't said anything, we wouldn't be running in Boston, would we?"
After her letter appeared on her personal website Jan. 20, the BAA updated its policy days later, announcing "accommodation enhancements pertaining to runners who are expecting or have recently welcomed a child into their families. Pregnancy and postpartum deferrals of entries will now be available for registered participants" in all of the events sponsored by the BAA. English's insurance claim, she was told, should not have been denied.
"In listening to our participants and stakeholders, the desire from mothers and expecting mothers to participate in our races – particularly the Boston Marathon – while also focusing on building a family was clear," Jack Fleming, president and chief executive officer of the BAA, said in the statement announcing the policy change. "Women who are entered in a BAA race and want to expand their family will be able to do just that without giving up a chance to participate at a future BAA event."
English had qualified for Boston with a personal best 3 hours 27 minutes 5 seconds in the Paris Marathon last April, a thrilling accomplishment for her. She submitted her name in the lottery draw for Boston knowing the cutoff time for her age and gender was 3 hours 30 minutes, crossing her fingers because the field of applicants is so large that a qualifying time doesn't guarantee entry.
"It's a spine-tingling experience to imagine that you might be able to one day qualify [for Boston], and I didn't think I ever would," she said this week. "When I ran the time I ran in Paris last year, I was in shock for days at the honor that I could put my name in for Boston."
When she learned that she had received a berth to run, English wrote in her letter, she was "beyond proud of myself and proud of all the women I could show up for on the day. Because for me one of the biggest things about my personal running journey is I can mark the path for others, 'Hey, girls – if I can do it, you can do it – follow me!'"
Then she learned she was pregnant, with a due date that made Boston not "just impossible, it would be physically dangerous for everyone involved," she wrote.
She requested the deferred entry to the 2024 race and a refund of her entry fee through the insurance she purchased, as marathon organizers always advise. But there was no option for pregnancy or childbirth when she filled out the claim forms, only illness or injury, so she submitted her request as a "major injury" and it was swiftly rejected. "If I withdraw, I lose the full money I registered with including my insurance money I additionally bought," she wrote. "And I lose my qualifier. That means postpartum I will need to: find the money to replace the money lost to reenter, run a qualifier again and attempt to enter again – all while managing life as a new mother."
She went on to wonder why the BAA is "so alienating a section of the population – both financially and through archaic systems that not only discriminate against women but actively make it a costly process to be a woman."
Her open letter found an audience on Instagram, with some unsympathetic commenters writing that she knew the consequences of getting pregnant when she did, but many others expressing support.
English "heard from scores of people who loved Boston, had run the race and found it absurd that there wasn't this [deferral] policy in place. I found that really surprising," she said. "The other thing that has been overwhelming is the number of women who've reached out to me to say that they've been prevented from running some place because of a similar experience. The fact that my story struck a chord with people was really humbling."
After the BAA updated its policy, English is out the $15 insurance fee and will have to submit the refunded $235 entry fee to run next year, but she won't have to qualify again.
As for the new rules, a runner seeking a pregnancy deferral now must submit a request in writing any time between receiving confirmation of acceptance and up to 14 days before race day. The BAA's athlete services team will then contact the runner to seek confirmation of pregnancy from a physician, registered midwife, or other medical professional. If approved, an athlete will be eligible to receive a deferred entry into one of the next two years' BAA races.
"In fairness to them and to that part of it, the response to my letter has been amazing," English said, "and I'm incredibly grateful for them changing that policy."
The change isn't unique to Boston. Among the world's six major marathons, London and Berlin have had policies like Boston's in place for a few years. Others say they will have them soon.
New York Road Runners, which organizes the New York City Marathon, is in the process of changing its rules for this year's race in early November, saying in a statement to The Washington Post that runners who register to run this year and "become pregnant prior to race day and choose not to participate in the race can defer to the 2024 race by contacting NYRR's Runner Services team." The organization added that it will "share its expansion and updates to the NYRR pregnancy deferral policy in upcoming months."
Chicago Marathon officials similarly are working on a deferral plan for "pregnant and postpartum participants" and say they plan to announce details soon for the early October race. Officials for the Tokyo Marathon, which will be the first of the six majors run this year on March 4, have not responded to questions about their policy, which has not been expanded to cover pregnancy.
"I'd love to see the change coming in a framework that is actually useful for women," English said. Some marathons offer deferments "up to three years," she said, adding, "I think that's really sensible."
English plans to use her Boston deferment next year, and adding the race to Chicago, Berlin and London on her list of completed majors will be momentous.
"I definitely think that this is going to be the most amazing marathon I've ever run, thinking that there are other women who would have been in a similar position next year," she said. "As I run into Boston, my husband, Graeme, and baby will be waiting and it just feels like an incredible honor and a real privilege."