Boston Marathon
The story behind the Spirit of the Marathon statue and Boston's 'first charity runner'
Greece's "modern Pheidippedes" won the 1946 Boston Marathon in miraculous circumstances.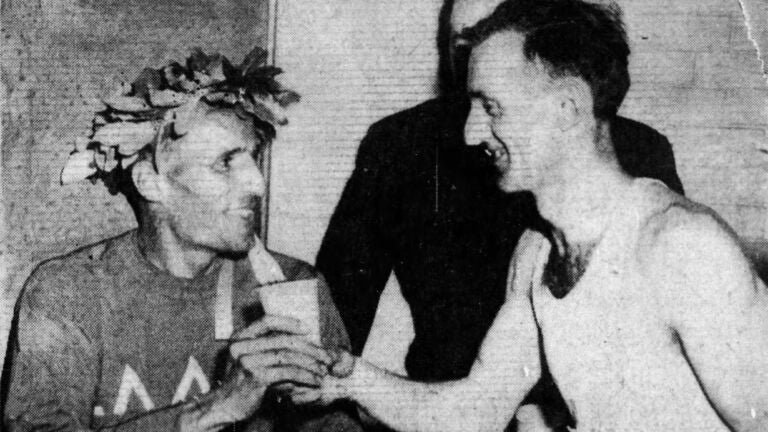 At the 1-mile mark of the Boston Marathon stands a 12-foot-tall statue depicting two men very familiar with the challenges of running 26.2 miles.
Called the "Spirit of the Marathon," the statue shows on one side Spyridon Louis, Greek winner of the first modern Olympic marathon in 1896, showing the way forward. The runner flanking Louis is a fellow Greek, Stylianos Kyriakides, one of Boston's greatest underdog stories.
Kyriakides won the 50th Boston Marathon in 1946 in the most unlikely circumstances. Having survived the horrors of occupation in World War II Greece, the 36-year-old found the strength to return to the form that had once made him an Olympian.
What victory meant extended beyond personal achievement. For Kyriakides, the fame garnered by winning in Boston shed light on the plight of his country. The money and aid he raised helped his starving nation.
'A modern Pheidippedes'
Kyriakides' path to victory in Boston began when he befriended John A. Kelley at the 1936 Berlin Olympics. Kelley, who won Boston in 1935, finished 18th in Berlin, while Kyriakides finished 11th. Before parting ways, Kelley invited Kyriakides to run in Boston.
In 1938, the 28-year-old Greek traveled 5,000 miles by ship to take Kelley up on his invitation and run in that year's marathon. According to an Associated Press report, Kyriakides, "kept in condition by taking long daily walks on shipboard."
A Boston Globe headline called him, "a modern Pheideippedes" after the mythical ancient Greek runner who, according to legend, ran the original marathon. Prognosticators gave Kyriakides a healthy chance of victory, labeling him "among the foremost contenders." Yet he developed blisters in his feet midway through the race and was forced to drop out.
Amid his disappointment, he made a fateful prediction to Globe sportswriter Jerry Nason.
"Someday, I'll come back, and maybe I'll win your Marathon."
Before Kyriakides could redeem himself, world events interfered. In April 1939, a Globe report announced Kyriakides would be unable to run in that year's marathon because he had been drafted into the Greek army amid tensions in Europe. Within months, World War II began.
'I will run for Greece'
While Kyriakides's biographer noted that he was released from military service within months of being conscripted, the war impacted his life nonetheless. Greece was first attacked by Fascist Italy in October 1940. Though the initial invasion was repelled, a secondary attack led by Nazi Germany overwhelmed the country by June, 1941.
Kyriakides and his family wearily endured the four-year Axis occupation. As The Globe's Nason noted, Kyriakides sold many of his possessions (eventually including his home) to help keep his family from starving.
In one especially chilling encounter with German soldiers, Kyriakides was saved from execution only when a soldier spotted his Olympic pass from the Berlin Games.
By the end of the war, Greece was left a dilapidated country like much of Europe. The situation was exacerbated by the country's descent into the first stage of a civil war shortly after the German withdrawal. Short of basic necessities, famine ensued.
Kyriakides's response was to begin training again for the first time since the war began. His thoughts eventually coalesced around one goal. He would return to Boston and try to draw attention to his country's plight.
"I will run for Greece," he said.
'How can you beat a guy like that?'
Helped by Greek-Americans like George Demeter, Kyriakides made it to the 1946 Boston Marathon. Nason, who hadn't seen him since before the war, was shocked at the Greek's appearance.
"The history of those grim years are etched in the travail-wrinkled features of this man with a mission," Nason wrote.
His appearance concerned race officials, who questioned his health at the starting. Eventually, he was allowed to begin. Kyriakides, unencumbered this time by any of the problems he experienced in 1938, ran a strong race. As the leaders thinned out at the front, he found himself side-by-side with Kelley, the defending champion. Somewhat miraculously, given his circumstances, Kyriakides found the strength to win with a time of 2:29:27.
"How can you beat a guy like that?" Kelley acknowledged afterward. "He wasn't running for himself, he was doing it for his country."
In the aftermath of the race, Kyriakides planned a tour to raise awareness of the food shortages in Greece. He returned home to a parade, but also equipped with money and aid that had been sent with him. And like Kelley, he represented his country a second time at the 1948 Olympics (finishing 18th).
Nason, looking back on Kyriakides in 1980, described his legacy:
The global attention his race and story received unlocked the flood of European, African, Asian, Central and South American runners who have since come to the Boston race. And the drama of his victory, captured on television in its infancy, released millions of dollars in contributions to the Greek relief campaign.
The "Spirit of the Marathon" statue was unveiled in 2006, commemorating Kyriakides's emotional win. A twin version stands in Marathon, Greece, Hopkinton's sister city.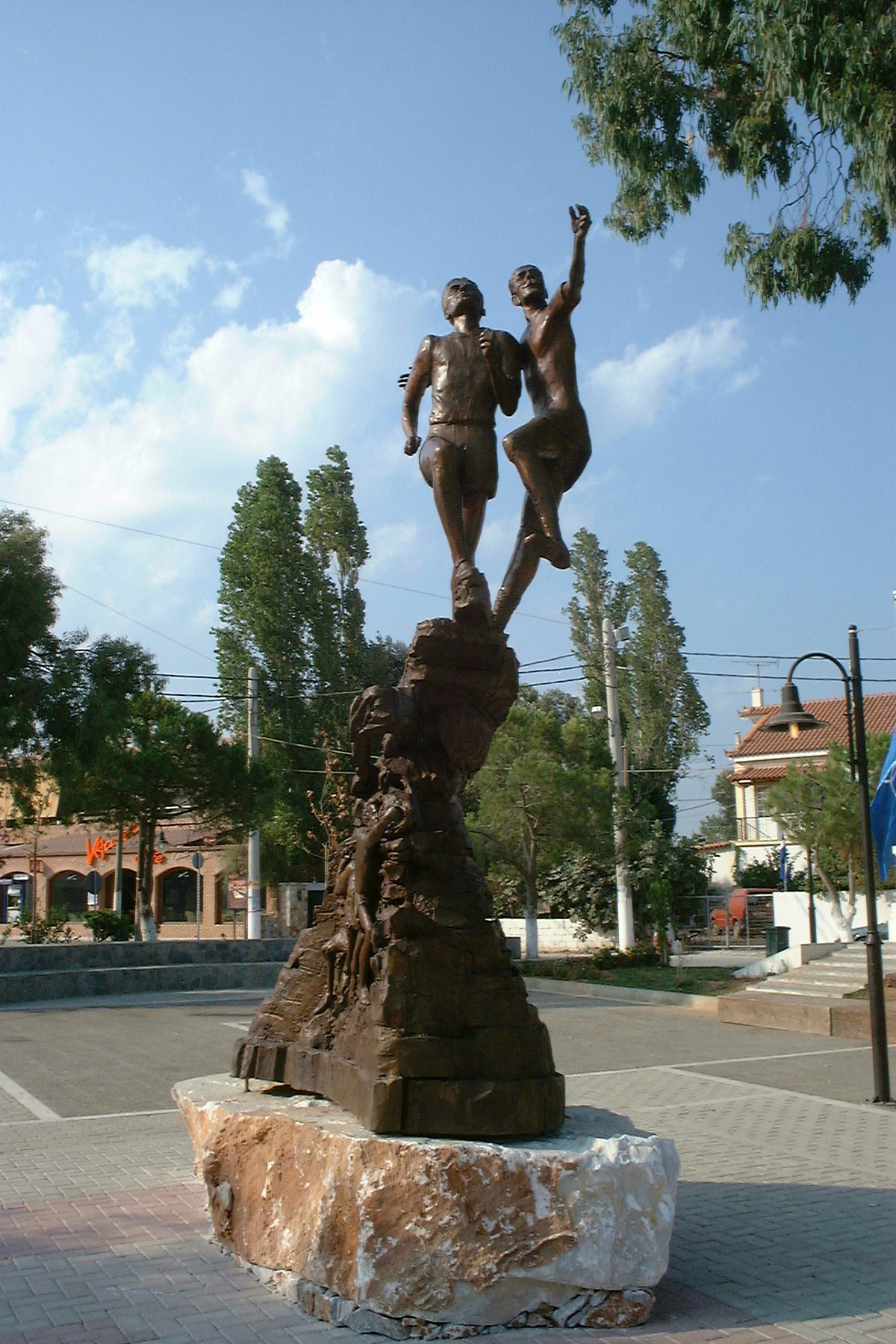 Newsletter Signup
Stay up to date on all the latest news from Boston.com