Boston Marathon
The toughest miles of the Boston Marathon course, according to runners
Heartbreak Hill gets a lot of attention, but it might not be the biggest challenge.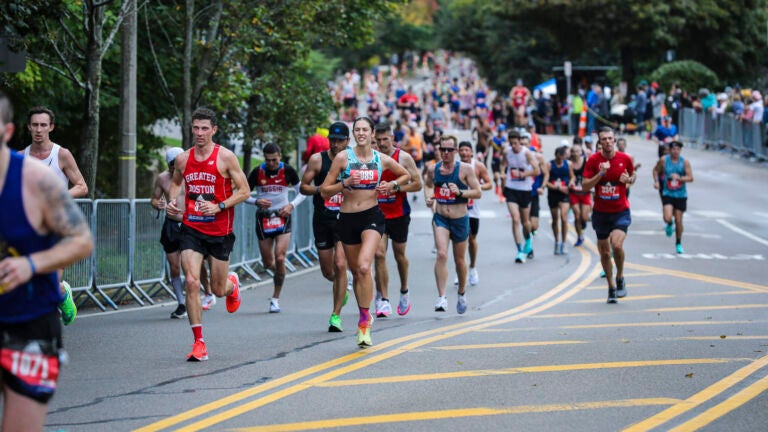 While every marathon is a grueling test of endurance, the Boston Marathon is a special kind of challenge. Runners face rolling hills and unpredictable New England weather over the varied 26.2 miles from Hopkinton to Boylston Street.
The most well-known challenge that Boston runners confront in the annual event is Newton's Heartbreak Hill. The aptly-named rise poses a seemingly insurmountable obstacle to runners who are deep into the race and might already be struggling. But is the infamous incline actually the most difficult challenge? Or is it just the most storied?
Several runners with varied experiences running Boston offered their opinions on the toughest parts of the iconic course. Here's what they had to say:
Amby Burfoot
Boston Marathon men's champion, 1968
There are two tough parts for me, and they aren't what most people think. The first is the first 13 miles, because it's mentally tougher to be so far from the finish in the first half, and mentally much easier the second half. The second tough part is the downhill from the top of Heartbreak Hill to Cleveland Circle. This is called "Cemetery Mile" for two good reasons: Evergreen Cemetery to the runners' right, and the way the steep downhill deadens the legs, specifically the quadriceps muscles.
Deniz Karakoyunlu
Heartbreak Hill is a difficult portion. It is a steep half-mile uphill at mile 20. But, especially those of us who are training in Boston, we prepare ourselves for that hill. Most of the long runs go hard at least until the top of Heartbreak Hill, and then we start cooling down. We do hill repeats at Heartbreak Hill. And as the last one of the Newton hills, we know it's going to be (mostly) downhill after that, and we just concentrate on getting to the top of the hill. So, yes, it is a difficult hill, but it's not the most difficult portion of the marathon in my opinion.
Almost all runners who are pushing hard feel the worst towards the end. For that reason, the two most challenging parts for me are towards the end. I could not pick one, so I will give two answers and explain why.
First, the Mass. Pike overpass right before Kenmore Square: One challenge about this hill is that throughout mile 24 on Beacon Street, it is visible to the runner as a challenge ahead waiting to be conquered. If it's a hot day, it's hot on this overpass. If it's a windy day, it's windy. Also, from here I can see the John Hancock building in the distance, which is right next to the finish line. So the finish still seems far, far away. I usually count up to 25 (the miles I have run until I reached this hill), and try to be on top by the time I finish counting. The water stop on top of this hill helps too. I just drink a cup of whatever I can get (I'm too tired at this point to be picky about water or Gatorade), and keep going.
Second, the uphill from the bottom of the Massachusetts Avenue underpass through Hereford Street to Boylston Street: At this point, I've given it all. I'm minutes away from finishing, but the finish is not yet in sight. At the bottom of the underpass, there are no spectators either. Now, I have to find a way to crawl up that underpass, turn right on Hereford, and try to stay on my feet for the rest of the race. With every last bit of strength left in me, I make it to Boylston Street thinking that once I turn left there and see the finish, I will just cruise with the help of the crowds. But wait a minute, the finish isn't as close as I've been anticipating. The actual distance on Boylston Street is about 0.35 miles, but it sure looks 3.5 miles long.
Thomas Layman
I would say Heartbreak was rough, but you kind of know it's going to be tough. The hardest stretch, especially during the 2015 year, was the miles right after you finish Heartbreak and you have that stretch on Comm. Ave. until you get to Cleveland Circle. There wasn't as much crowd support in 2015 due to weather and then you start to get into the miles you haven't got to in training. You've also just conquered Heartbreak Hill and feel as if the last test is over. Far from it. If you can make it through those rolling hills and then get that crowd support on Beacon Street in decent shape you can look pretty good for the crowds coming in.
Lauren Reddy
For me, my least favorite part of the marathon — that's most difficult — isn't necessarily Heartbreak Hill, it's actually coming out of Wellesley. There's a freeway overpass that's really wide and open to the elements with not a lot of people on it because it's a random location that's basically on the freeway on-ramp. It's steep as Hell.
And then you have a little downhill by the hospital before turning by the Newton fire station and getting started with the Newton hills. I think that area is almost harder because no one talks about that hill even though it's a big one and you know in the back of your head that you have so many more coming up.
That and the stretch from Cleveland Circle to the finish is really tough because your quads feel like they are being ripped apart on the downhills.
Dale Sandley
Well, everybody talks about Heartbreak Hill, but they don't talk about the three hills right before it. So that's why Heartbreak Hill is hard, because you have four hills right in a row and they get progressively worse. People should talk about all four hills, not just Heartbreak Hill.
You also have a couple of zig-zags at the end where you can't see the finish until you're very close to it. That was kind of stuck in my mind. Normally near the end of a race, you see the finish. In Boston, you don't. So you're constantly asking, "Where's the finish?" But in the end, it is kind of cool going through downtown. That's where the biggest crowds are and everybody's cheering.
Lindsay Silverman
The most difficult part is running over Route 128, running over 95. That's tough, because it's a slow, light hill up. But at the same time, you're open to the elements. There are no trees or anything to block the wind.
The last time I ran it, I kind of missed Heartbreak Hill. I was running along and running along, and I got to Boston College and I thought, "Oh, I guess I passed Heartbreak Hill?" But there's also the "Haunted Mile," which is after Heartbreak Hill, as you're going past Boston College heading towards Cleveland Circle. I feel like everybody talks about Heartbreak Hill and the other hills, and then you get past it and you realize, one, you have like five more miles to go, and you also have more hills. Heartbreak Hill is not the last hill. And it's not the end of the race. Not everybody realizes that.
Kelsey Taylor
Sure, Heartbreak Hill isn't easy, but personally where my heart broke was the tiny hill in the last half mile of the course — where you come up from the underpass of Mass Ave. and turn right on Hereford. In that moment, I realized what a cruel joke it is to have the runners cross underneath Mass Ave., where there are no spectators and a hill, instead of crossing over the flat top. Under normal circumstances its not a difficult hill, but in the last half mile of Boston, it's a mountain.
Once you reach Wellesley Center and Newton, there are spectators screaming and cheering for you the entire route. It comes as a shock when they disappear for nearly a half mile stretch just after BC, when a divider blocks the road and you pass a cemetery by mile No. 21. With a slight incline, you have to stay mentally tough to pass through it to Cleveland Circle.
Lindsay Weigel
Heartbreak Hill has become such a symbol of strength and camaraderie in our city's running community; it no longer ever seems like the most challenging part of the course! Whenever I'm on Heartbreak Hill, whether I'm on an easy training run or at mile 20 of the marathon, I feel my body and mind surge with energy. On Heartbreak Hill, I am powerful…and there are hundreds of fans and familiar faces fueling that feeling as I go!
Wellesley's "Scream Tunnel," Newton's hills, Fenway's Citgo sign, Boston's "Right on Hereford, Left on Boylston"…these parts of the course are advertised on the media, prepared for in advance, and completely lined with fans on Marathon Monday! Runners get excited about them and tackle them with vigor on race day. No one ever talks about the abrupt decline and then inevitable incline going underneath Mass Ave. as you enter the city. It's the only moment in the course where you can't see or hear fans because you're surrounded by the cold cement of the underpass. Thankfully, the other side is just roaring with spirit so it's only a short moment of solitude.
Newsletter Signup
Stay up to date on all the latest news from Boston.com