Boston Marathon
These are the winners of the 2023 Boston Marathon
Evans Chebet and Hellen Obiri won the men's and women's races.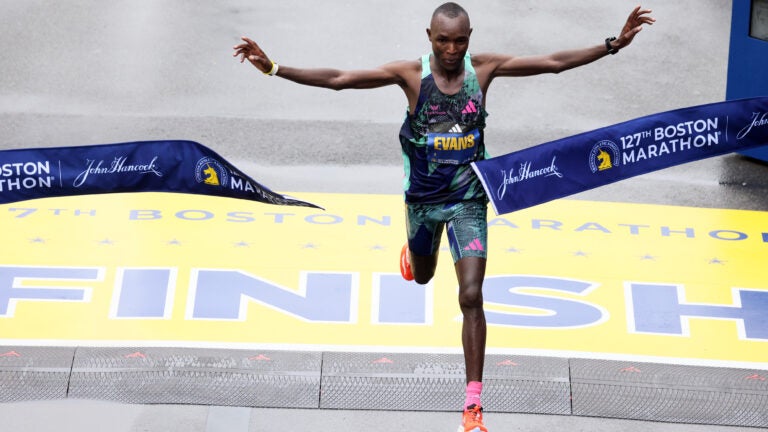 While a majority of the 30,000 runners registered for the 127th Boston Marathon were not there for the competition, a select few were vying to win the prestigious race.
Elite marathoners from all over the world once again gathered in Hopkinton Monday to test themselves against each other and the unique 26.2-mile course that winds its way to the finish line on Boylston Street. Each was competing to become a Boston Marathon winner.
With that in mind, here's a list of winners and results from the 2023 Boston Marathon:
Men's wheelchair: Swiss racer Marcel Hug won his sixth Boston Marathon. He built up an enormous lead with a 36:31 split over the first half of the course, earning another win with a record-setting performance.
1. Marcel Hug: 1:17:06
2. Daniel Romanchuk: 1:27:45
3. Jetze Plat: 1:28:35
Women's wheelchair: Having finished in the top five in Boston on five previous occasions, Susannah Scaroni finally broke through for the win in 2023.
1. Susannah Scaroni: 1:41:45
2. Madison De Rozario: 1:46:55
3. Wakako Tsuchida: 1:47:04
Men's handcycle: Zachary Stinson, a Marine veteran, broke through to win the men's handcycle division with a time of 1:11:51.
1. Zachary Stinson: 1:11:51
2. Kevin Hillery: 1:11:58
3. Steve Chapman: 1:17:46
Women's handcycle: Alicia Dana, a Vermont native and three-time Paralympian, broke the tape with a time of 1:18:15.
1. Alicia Dana: 1:18:15
2. Edie Perkins: 1:47:38
3. Devann Murphy: 1:49:54
Men's race: With world record holder Eliud Kipchoge in the field, it was one of the fastest races in Boston Marathon history. But as Kipchoge — who had never run in Boston prior to 2023 — struggled in the Newton hills, 2022 winner Evans Chebet surged to repeat as champion.
1. Evans Chebet: 2:05:54
2. Gabriel Geay: 2:06:04
3. Benson Kipruto: 2:06:06
Women's race: A late entry into the elite women's field, Hellen Obiri (in just her second marathon) finished strong to get the win.
1. Hellen Obiri: 2:21:38
2. Amane Beriso: 2:21:50
3. Lonah Salpeter: 2:21:57
Para-athletic divisions: Marko Cheseto Lemtukei and Liz Willis each held onto their first-place titles, with top finishes in one of the two lower limb impairment divisions.
Andrew Thorsen, who finished second last year in the men's group of the Vision Impairment Division T13 class, finished first this year, swapping with Ary Carlos Santos. Likewise, Jennifer Herring placed first over Lisa Thompson in the women's group.
Read the full list of top finishers in the athletics divisions.
Get the latest Boston sports news
Receive updates on your favorite Boston teams, straight from our newsroom to your inbox.