Boston Marathon
As 2024 Boston Marathon qualifiers are notified, the cutoff time gets stricter than ever
More than 11,000 runners who achieved the famous "BQ," one of the most coveted goals for any avid longest-distance runner, had to be turned away.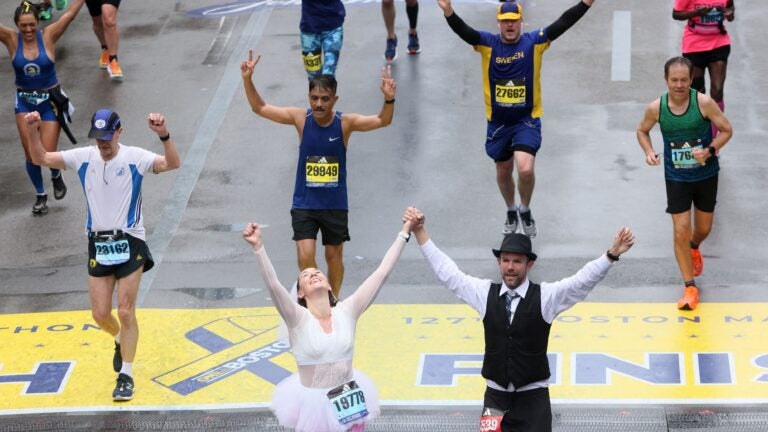 The Boston Athletic Association started notifying qualified runners of their entry status for the 2024 Boston Marathon on Thursday, and many will be disappointed.
Qualifiers who submitted times that were 5 minutes, 29 seconds faster than the standard for their age group were accepted into the 128th edition of the race — about 22,000 athletes — the strictest cutoff time the BAA has had to impose in the decade since it began doing so, except for the 2021 race and its restricted field size of just 20,000.
"Just four years after we adjusted the race's qualifying standards by five minutes for all ages and divisions, more than 33,000 athletes earned Boston Marathon qualifying times," said Jack Fleming, president and CEO of the BAA, in a statement. "While we're unable to accept all into the field, we applaud and recognize the many athletes who circled the 128th Boston Marathon on their calendar as a goal race to strive towards. Boston Marathon qualifiers are among the most dedicated athletes in sports and are always pushing to achieve their goals and personal bests."
The BAA received 33,058 qualifier applications during registration week Sept. 11-15. With a field size of just 30,000, and room needed for elites, wheelchair and para-athletes, and thousands of charity runners, more than 11,000 runners who achieved the famous "BQ," one of the most coveted goals for any avid longest-distance runner, had to be turned away.
The BAA instituted its "rolling admissions" process in 2012 as participation demand began to outpace the maximum field size, giving priority to faster qualifiers. In the years since, the "cutoff time" needed to get into the Boston Marathon has steadily grown from 1 minute, 14 seconds in 2012 to 4 minutes, 52 seconds in the last pre-COVID race in 2019. The 2021 Marathon had the strictest cutoff at 7 minutes, 47 seconds, but that mark was heavily skewed by the field size being cut by a third from the typical 30,000 to just 20,000 because of COVID restrictions.
For back-to-back years, the BAA was able to accept all qualified athletes, but that was an anomaly. As the long-distance running calendar returns to semi-normalcy after the pandemic and qualifier marathons are back and thriving, the cutoff is tightening again.
The minimum qualifying times were last adjusted ahead of the 2020 race — which was eventually canceled — to 3 hours for men aged 18-34 and 3 hours, 30 minutes for women 18-34, increasing by 5 minutes for every five-year bracket thereafter.
This year's qualified field includes 12,535 men, 9,440 women, and 44 non-binary athletes.
Get the latest Boston sports news
Receive updates on your favorite Boston teams, straight from our newsroom to your inbox.