Commentary
It's hard to be optimistic when baseball is botching even the simple things
If MLB couldn't handle a holiday weekend and a schedule release, how are they going to navigate a mushrooming pandemic?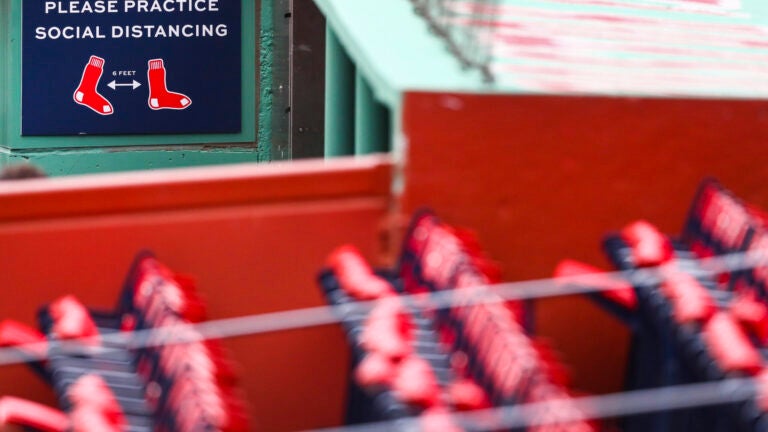 COMMENTARY
The suspension of disbelief is a critical part of the modern sports experience, never moreso than this year has proven, in far greater contexts. We're learning if human behavior gets us pulling the strings around all sorts of basic societal questions — "What is the real value of a dollar?" or "The average person would struggle with the 'Button, Button' parable from 'The Twilight Zone,' right?" — we become the person no one wants to talk to at the holiday party.
Let's not get too high minded here, though. I'm really just all steamed up about a schedule release.
On Monday evening, Major League Baseball rolled out its 60-game cavalcade on a made-for-TV event that should've written itself. Football has long since perfected making basic league functions into enrapturing, multi-day spectacles, so MLB Network rolling out the specifics of the pandemic season seemed Modern Broadcasting 101.
And yet, the "I have 10 minutes to slap together a Power Point" channeled in Boston's unveiling on social media seemed oddly prescient.
2020schedulev2.pptx pic.twitter.com/FOIjbqnysV

— Red Sox (@RedSox) July 6, 2020
The network which does nothing but talk about Major League Baseball somehow built a show that could tell you which team was flying the most air miles, but couldn't give time or date specifics beyond the two games on July 23rd's opening night. It couldn't even air a specific graphic for all 30 teams, host Matt Vasgersian repeatedly telling we diehards watching to "visit MLB.com to view your team's full schedule."
Here's what you saw if you went to the MLB.com schedule page as he suggested: A blank screen, but for a frowning cartoon baseball, and the message, "The 2020 60-Game MLB schedule will be announced in the near future and published on this page." You could close your eyes and almost hear commissioner Rob Manfred chastising you for caring.
Some teams spilled their specifics during the hour. Some, including the Red Sox, waited until MLBN went off the air at 7, by which time we'd largely gleaned the opening details: July 24, at Fenway Park, against Baltimore at 7:30 p.m. — home starts will be 20 minutes later this year to help NESN, a kind gesture right in line with "we saved you time this summer by trading your favorite player to the Dodgers."
Clearly, little guidance was given, but we ultimately got where we needed to be. The schedule's out: Thirty teams, all with 60 games stuffed in a span of 67 days. (Boston's longest run without an off-day at the moment is 17 games, three below the bargained max.) Quite the metaphor, isn't it? As bad as this all seems, we can all dream it'll work. Oh, how we want to. We'll get baseball, basketball, hockey, football, and everything else. All the things we want.
But oh, are they making it hard to suspend the disbelief needed to get there.
A half-dozen teams on Monday either cancelled their workouts or delayed them because MLB's testing lab in Utah couldn't cope with the July 4 weekend. When Washington GM Mike Rizzo, who pulled his affected team from the field, rightly declared such issues with the testing process put the entire 2020 enterprise at risk, Manfred reportedly had the Roger Goodell-ian response to rip him for not protecting the shield.
Nick Markakis opted out of playing for Atlanta after talking to teammate Freddie Freeman, a vibrant 30-year-old whose battle with coronavirus Freeman's wife described as "body aches, headaches, chills and a fever … he is someone who rarely gets sick and this virus hit him like a ton of bricks." Kris Bryant of the Cubs, whose 38-year-old pitching coach Tommy Hottovy needed a month to fight off the virus and lost 18 pounds in the process, admitted he feels neither safe nor comfortable.
"It's kinda tough to be confident in something that hasn't proved to be foolproof," Betts said Monday when asked about his current confidence in the MLB testing policy.
"There's still some reservation on my end," Giants catcher Buster Posey said on Saturday when asked if he'd play this season. "I think I want to see kind of how things progress here over the next couple of weeks."
"We want to play. It's going to come down to how safe we're going to be," all-world Angels star Mike Trout said, responding to the same question. "I love baseball, but I have to do what's right for my family."
Trout's wife, Jessica, is due with their first child in August. The league's MVP and reigning superstar opting out of the season, or bolting midstream, is an incredible scenario to consider. It's not an impossible one, however: We saw it Monday, when Major League Soccer MVP Carlos Vela — his wife also pregnant — announced he was skipping the league's grand return tournament.
While baseball and hockey finalize their plans, we're seeing how quickly those can be torn asunder in real time. FC Dallas was forcibly withdrawn from the MLS is Back extravaganza after a widespread coronavirus outbreak leveled the team; the club didn't do "what was necessary to be virus-free and ready to play," longtime soccer writer Grant Wahl reported, and might not be alone in that. Five NBA teams have had to close their facilities prior to going to Orlando for that league's return, though the league's bubble set up at Disney will theoretically prevent similar outbreaks in virus-addled Florida.
There have been successes, of course. The National Women's Soccer League's Challenge Cup is drawing record ratings. The PGA Tour is playing through sporadic infections fan-free. Baseball has come back to South Korea, Japan, and Taiwan; "there's been a clear adaptation of protocols in other environments," declared superagent Scott Boras, who detailed conversations with immunologists in declaring his confidence the sport can safely return here as well.
Those protocols here, however, had Washington's Sean Doolittle tested for coronavirus on Sunday morning when he'd not yet learned the result of the test he took Friday. Later that day, two of his teammates were announced as positive, further confirming the decision three other teammates had made in passing on the season.
"We haven't done any of the things that other countries have done to bring sports back. Sports are, like, the reward of a functioning society," he said. "If there aren't sports, it's going to be because people are not wearing masks, because the response to this has been so politicized. We need help from the general public. If they want to watch baseball, please wear a mask, social distance, keep washing your hands."
He certainly wants to play. We certainly all want him to as well, and his request hardly seems like too much. I mean, who couldn't manage something as simple as those basic requests?
Well, baseball couldn't handle something as simple as a holiday weekend, or a schedule release. Which makes it a lot harder to suspend that disbelief, and think we're really just two and a half weeks from complaining about pitching changes and Subaru summer ads like nothing even happened.